Anyone familiar with the Oak Island mysteries, or the long-running History channel reality television show, The Curse of Oak Island, will surely know a thing or two about the Lagina brothers; Rick and Marty Lagina. Using different methods in collaboration with various global experts, the two have for many years been attempting to solve the mystery of Oaks Island which refers to stories that there is buried treasure and other unexplained objects on the location. Oak Island is located in Lunenburg County, on the south shore of Nova Scotia, Canada.
Marty has gained fame by appearing on the treasure hunt show which has been airing since January 2014. The success of the show has not only made him famous but also allowed him to become rich as his net worth has improved tremendously since then.
How Marty Lagina Acquired His Massive Net Worth of $120 Million
As of 2020, Marty Lagina's net worth has been reported to be $120 million. He has been able to amass this much wealth as a result of him appearing on TV among other things. It would interest you to know that the popular treasure hunt TV show which has enriched the adventurer did not just happen out of nowhere. It was rather born from Marty's passion for treasure hunting which started right from when he was a child.
During his early years, Marty's favorite book was Reader's Digest and it was here that he and his brother learned about the Oak Island mystery which they dreamed of solving sometime in the future. While Marty is somewhat skeptical of whether something was ever buried on the island, the compelling clues he generated alongside his brother and their team of explorers have made him believe that major work was carried out on the island prior to the discovery of a place known as the "Money Pit" in 1975.
The Lagina brothers acquired Oak Island sometime in 2006. A while later, they were approached by Prometheus entertainment who offered to document their progress through a reality television series that turned out to be History Channel's The Curse of Oak Island. Rick and Marty Lagina sought the assistance of Dan and Dave Blankenship who are treasure hunters and have been permanent residents of the island since the '60s.
The show was first aired in January 2014 on History Channel in Canada before it was later distributed by A&E Networks. It has been a huge success and has brought the Lagina brothers to the limelight. They set themselves apart from all others that have tried to find treasure on the island through their use of global experts and very sophisticated machinery.
In addition to garnering them fame, the reality series which has gotten up to its 7th season has also been paying Marty quite well over these years. It helps that the cost of the search is not left for him to carry alone and so he does not get to spend a lot of money in acquiring the highly sophisticated equipment used on the show during the course of the treasure hunt.
Outside of his role on The Curse of Oak Island, Marty Lagina has had his hands in a few other things that have contributed to his wealth. By profession, the television personality is an engineer. He is also an entrepreneur who has established a wine business and an energy firm known as Heritage Sustainable. His energy company is faring well in Michigan State where it aims to produce 60 wind turbines that will be located in Missaukee, Michigan. When this project is completed, Heritage Sustainable will become the biggest producer of energy in the state. His vineyard, on the other hand, is also thriving as an excellent provider of different types of red wine.
Marty Has Featured In Other Television Shows
Marty Lagina has made a name for himself on The Curse of Oak Island. The Michigan native has, however, featured in other adventure-themed reality shows like The Curse of Civil War Gold which premiered on the 6th of March, 2018. The show aims to find treasures in the United States that could be traced down from the Civil War.
History has it that after war broke out in 1865, the President of the Confederate States, Jefferson Davis, was arrested by Union soldiers before he could escape from the country. These military men recovered gold and silver worth millions of dollars which Davis was trying to smuggle to his home via railway. Further revelations also have it that a large chunk of this treasure was loaded on a train car that was intentionally sunk into Lake Michigan. This sunken treasure is therefore what The Curse of Civil War Gold aims to discover.
Marty appeared in the first season of the reality show and has 13 episodes to his credit. His son, Alex Lagina, later joined the show in 2019 and so far he has been seen in 10 episodes. The series is also aired on History channel like Marty's other show and it has its executive producers as Kevin Burns, Joe Lessard, Kim Sheerin as well as Jennifer Wagman, a staff of History Channel.
See Also: Who Is Rodney Carrington? Here are All The Facts You Need to Know
Marty Lagina's Wife is Also An Engineer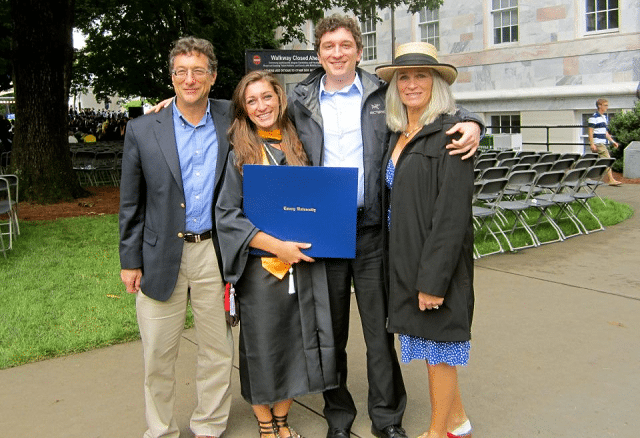 In addition to his successful business ventures and treasure hunt career, Marty Lagina can also boast of having a very successful marriage. He is married to Margaret Olivia Lagina who was his longtime girlfriend before they exchanged marital vows.
Olivia graduated from Reuters College with a bachelor's degree in geological engineering. She has worked with Wiser Oil Co. as well as her husband's company in Michigan. Together, the amazing couple have welcomed two children to the world. The first is a son named Alex Lagina while the second child is a daughter named Maddie Lagina. The family resides in Traverse, Michigan.
Just like his father, Alex studied Mechanical Engineering at the University of Michigan. After his graduation, he began to manage his father's wine business. In addition to appearing on the civil war gold show, Alex has also appeared in a few episodes of the Oak Island treasure hunt show.