Over the years, Martha Stewart has established herself as one of the most talked-about businesswomen and TV personalities whose string of businesses span across different areas of interest, including broadcasting and e-commerce. She has gained enormous popularity as a hard-working businesswoman and TV personality and you may already know much about her life but do you know Martha Stewart's children?
The subject of Martha Stewart's children has been a highly discussed one among fans, especially because of the woman's increasing popularity which has led to an equally increased interest in knowing about her private life.
Martha Stewart's Background
Before we talk about Martha Stewart's children, it is important to take in some important details about the woman's life and background. Born on August 3, 1941, in Jersey City, New Jersey, Stewart, whose full name is Martha Helen Stewart, moved to Nutley, another New Jersey town with her family when she was three years old. It is noteworthy that from an early age, she already showed that she's a very industrious person who wanted to work and get things done.
When she was just 10 years old, she began to work as a babysitter for a family. It was around this time that she also began to model and gained some recognition. She even got featured in a television commercial for Unilever and went on to star in some other TV commercials, as well as in different magazines.
After she graduated from the Barnard College of Columbia University with a double major in History and Architectural History, Martha Stewart, who had already developed a passion in being a businesswoman, went on to establish very successful businesses, encompassing different ventures including e-commerce, as well as publishing, merchandising, and broadcasting. She is also an author who has written many bestselling books and has won a lot of praise for her work. As a TV personality, she has hosted two syndicated television programs; Martha Stewart Living and Martha.
Apparently, Martha Stewart has achieved a lot of success as a businesswoman who is also into entertainment. But what about her private life? Who is her husband and who are Martha Stewart's children? Le's find out.
Who Are Martha Stewart's Children?
Martha Stewart has one child, a daughter. The businesswoman's daughter is named Alexis Stewart, whom she had with her former husband, Andrew Stewart. Sources have revealed that Martha married Andrew in 1961. The couple lived together peacefully as husband and wife until 1987 when they separated following some differences they had. They finally divorced in 1990.
Alexis is Martha's only child and this is why she is really fond of her. Over the years, Martha has formed a really sweet bond with her daughter and both women complement each other.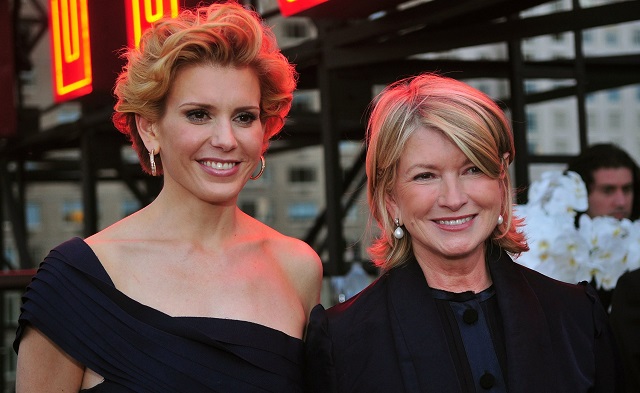 How Old Is Martha Stewart's Daughter?
Martha Stewart's daughter, Alexis was born on September 27, 1965, some four years after Martha and Andrew's wedding. She was born in Manhattan, New York and attended high school in Putney, a town in Vermont. After high school, she gained admission to study English at Barnard College, Columbia University from where she graduated with a bachelor's degree in English in 1983. It is noteworthy that Martha Stewart also attended Barnard College.
Following her graduation, Alexis Stewart went on to forge a career as a media personality who has gained some respect around the United States for her work on TV and radio.
Read Also: Who Is Jon Taffer, What Is His Height & Does He Have A Daughter?
What Does Alexis Stewart Do?
Like we have hinted, Alexis Stewart is a media personality. She is admired for her work as a television host and radio personality and has appeared on different programs and talk shows. She co-hosted the popular two-hour daily radio talk show titled Whatever with Alexis and Jennifer along with Jennifer Hutt. The show first aired on Sirius Satellite Radio and later went on to air on the Hallmark Channel on TV.
During each episode of the Whatever with Alexis and Jennifer talk show, Alexis and her partner, Jennifer Hutt usually talked about different things, including trending issues in pop culture, as well as personal relationships. The show gained a lot of following, giving the two women serious exposure as media personalities of note.
Alexis Stewart also appeared in another TV show titled Whatever, Martha. The show was also co-hosted by Jennifer Hutt. Alexis also has a blog on which she writes every now and then.