Over the course of human history, a lot of men and women have left a lasting legacy in different fields of human endeavour. In that regard, there are very few legacies bigger than that of Hugh Hefner, the American publisher who revolutionized the idea of sex in the modern world through his publication, Playboy Magazine and also made the silk robe an iconic attire. You'd struggle to find a man who has done more to push nudity into mainstream media as much as Hugh Hefner. Marston Hefner is one of four children born to his iconic father, and although he is a long way from carrying on his father's legacy, he has had some accomplishments of his own, including having a published book.
Growing Up as Hugh Hefner's Son
One of the more reserved offsprings of the Hefner family, Marston Hefner was born sometime in 1990 in Los Angeles, California. At the time, his father was married to his mother, Kimberly Conrad and he grew up in the Playboy Mansion, where he spent the first eight years of his life.
Much of his education history is unknown but while he hasn't taken after the sexual freedom lifestyle of his father, he shares his passion for social causes and during his time as a student, he was a leader of the Human Rights Student Task Force.
As for other aspects of his life, Marston Hefner, who maintains his reserved lifestyle by staying away from the media has been involved in a couple of endeavours such as being a writer. He has published a book titled Bleed, under the name, Marston Glenn.
His other notable endeavours also include gaming, a fact he is quite proud of, as shown by his decision to have 'Writer and Gamer' on his social media profile on Twitter.
Did The Playboy Mansion Affect Marston's Relationship With Women?
When you have grown up in a home swamped with nude women and pictures of sexually appealing girls, your childhood is definitely not going to be like that of every other kid.
So far, Marston has only been known to be in a relationship with Claire Sinclair who, in keeping with family tradition, is also a playboy playmate. They dated back in 2012, the couple called it quits after a domestic violence incident led to the end of their relationship. He was arrested by the authorities and released after a $20,000 bail was paid.
The incident also led to Marston Hefner being sent to the domestic violence program for 52 weeks and was placed on a three-year restraining order from Claire. Since then, little has been mentioned about Marston in terms of relationships.
Marston Hefner's Family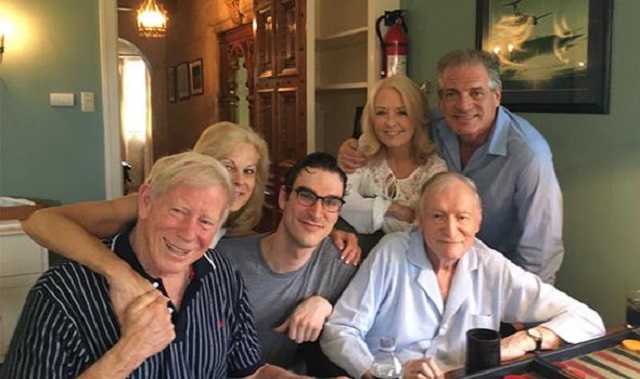 As far as iconic families go, Marston Hefner is a member of one and it started with his parents, Hugh Hefner (father) and his mother, Kimberly Conrad, who was also a Playboy Playmate of the Year. The marriage between the two was his father's second marriage and they remained married for 21 years between 1989 and 2010.
Through his parents, he has a brother, Cooper Hefner, who at some point served as Chief Creative Officer of the Playboy Enterprises and later Chief of Global partnerships. He left the company in December 2019 to enlist in the United States Airforce.
Other siblings include half-sister and brother from his father's first marriage, Christie Hefner and David Hefner. Although he hasn't taken to the Playboy lifestyle unlike his other siblings, Marston Hefner maintains a solid relationship with his family members.
 Martson Hefner's Relationship with his Father
Martson's dad married Kimberley on July 1, 1989, at an event that was held at the Playboy Mansion. At the time of their wedding, Hugh Hefner was 63 and Kimberly Conrad was 26. For a child born to a father who built a fortune from a business of advertising sexuality, Martson, in most interviews, tries hard to sound like someone who had a normal childhood.
For the first few years of his life, he lived with his parents in the Playboy Mansion, the mythical home of American male sexuality. As a teenager, bumping into half-clad and naked models around the house was a norm until his father and mom separated in 1998 to be officially divorced in 2010.
In 1998, Martson moved out of the mansion to live with his mum at a building just adjoining the mansion. This was his mother's way of protecting him and his siblings from the wild parties and the ever boisterous life at the mansion.
Of all the kids Hugh had, he had the most hands-on relationship with Martson as regards his upbringing. Even after moving out of the mansion, he'd make out time to have quality time with him. He once showed up dressed in batman costume to convince his young son he was batman. Somewhere in the mansion, the young Martson had a room filled with children's toys.
As he grew older, he'd visit his father's famed mansion across the road every Thursday night for backgammon night – a sacred time for father and son to catch up on everything. Because of the old man's busy schedule, they'd have to plan ahead to schedule time to go out.
Not much is known about Martson's involvement with the Playboy Enterprises after his dad's passing. His brother Cooper has been the one who's most involved in the family business. Even he has moved on to pursue a career in the military.
How Much of The Family Wealth Is Due to Martson?
At the time of his death, Marston Hefner's father – Hugh Hefner, had an estimated net worth of $50 million, which was in line with the comfort and affluence that defined Marston's life growing up.
After Hugh's death, Martson was poised to inherit a fraction of some of his father's wealth, which included the sale of the Playboy Mansion for $100 million.
So far, the exact figure inherited by Marston Hefner hasn't been determined and along with his position as a writer, he is believed to be worth a few million dollars.