There is no doubt that Marlon Mack has all it takes to make it big in the National Football League. The American football running back had, since his college years at the University of South Florida, distinguished himself as an explosive playmaker every football team would love to have. The Africa-American only joined the NFL in 2017 but he has garnered so much respect and recognition for his efficient and productive style of play.
Marlon Mack Biography
Marlon Mark was born as Marlon Devon Mack, on March 7, 1996. He grew up in Sarasota, Florida, where he attended Booker High School. There, he displayed his football talent, joining his school's football team and making big wins.
The young player has not yet released any information about his parents and siblings but in an interview with a sports news reporter, he revealed that his work ethics, as well as his successful career, is a reflection of his parents' hard work. While his mother made sure he did well in school, his father pushed him into football. As a proof of their support for their son's football career, Marks parents have made it a duty to witness most of his games.
Below are some interesting facts about the football running back of the Indianapolis Colts.
Career beginning and rise to fame
With the Booker High School Tornadoes, Mark recorded 1,527 rushing yards and 19 touchdowns as a senior and totaled 1,666 yards from scrimmage with 22 touchdowns on offense. He also recorded 100 tackles and intercepted four passes on defense.
Marlon joined the University of South Florida for his college career and played college football from 2014–2016. As a freshman in 2014, he emerged the AAC Rookie of the Year. In his sophomore season, Marlon recorded 1,381 rushing yards on 210 carries and 9 touchdowns. He ended his college career in his junior season with 1,187 rushing yard, 15 touchdowns, and 174 carries. In all, he broke his college all-time record with his 3,609 rushing yards, 498 receiving yard, and 33 touchdowns in just three seasons.
He's USF's 1st running back to be drafted in the NFL
At the NFL draft of 2017, Marlon became a player for the Indianapolis Colts after being selected as the 143rd overall pick in the 4th round of the year's draft.  He was, thus, the University of South Florida's first running back to be drafted and the 15th running back drafted in 2017.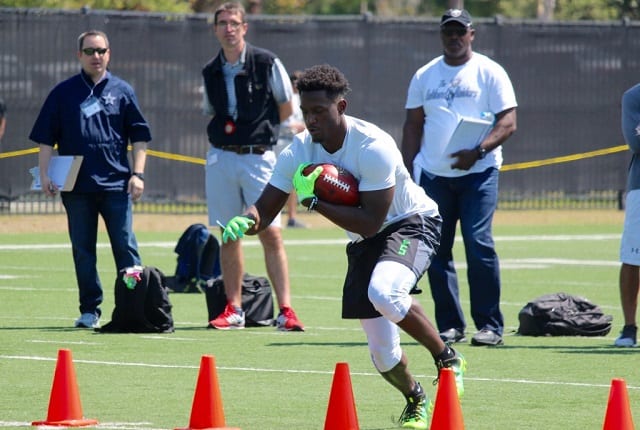 Making his professional debut in the Colts' season-opener against the Los Angeles Rams, Mack scored his first career touchdown and recorded 10 carries for 24-yards. He then completed his rookie season with 58 rushing yards, 93 carries, 3 rushing touchdowns and zero starts in 14 games. He also recorded 21 receptions for 225 receiving yards and one touchdown.
Moving higher in his career, Mack became the third player in the history of the Indianapolis Colts to have multiple games with at least 125 yards rushing and 2 touchdowns in one season. He earned this after recording a season-high 139 rushing yards with 27 carries and 2 rushing touchdowns during a 23-0 win against the Dallas Cowboys in the 15th week of the 2018 football season.
Mark Marlon's pro career stats
Following his performance in the 2018 season, particularly his season-high 27 carries for 139 rushing, Mark became the first since 2015 to run for 100 yards and the second player all season to rush for over 100 yards against Dallas. As of 2018, Marlon's career stats show he has recorded a grand total of 288 rushing attempts for 1,266 rushing yards, with 12 rushing touchdowns, and 38 total receptions.
Among other things, Marlon Mark is admired for his patience. While he is generally regarded as a good return man with a solid tailback, it is believed that he would be a better player if his energy level is a bit more.
His salary and net worth
When Marlon Mack signed a four-year contract worth $2,819,648 with the Colts on May 18, 2017, it handed him a signing bonus of $419,648 with a base salary of $704,912. Unlike his salary, it is hard to place a figure on the total value of his wealth.
Marlon Mack's height, weight, and  body measurements
The Indianapolis Colts' player is 5 ft 11 inches tall with a bodyweight of 213 lb. His arm length is 32 inches while his hand is 9 inches.