Age/Date of Birth:

27 years old (7 March 1996)
Height:

6 ft 0 in (1.83 m)
Ethnicity/Race:

Black
Nationality:
American
Wife or Girlfriend:
N/A
Parents:
Father: Marlo Mack
Mother: Demetris Woods-Mack
Net Worth:
Under Review
There is no doubt that Marlon Mack has all it takes to make it big in the National Football League. The American football running back had, since his college years at the University of South Florida, distinguished himself as an explosive playmaker every football team would love to have. The Africa-American only joined the NFL in 2017 but he has garnered so much respect and recognition for his efficient and productive style of play.
Marlon was born Marlon Devon Mack, on March 7, 1996. He grew up in Sarasota, Florida, where he attended Booker High School. There, he displayed his football talent, joining his school's football team and making big wins. In one of the few interviews the footballer has granted, he revealed that his work ethic, as well as his successful career, is a reflection of his parents' hard work.
While his mother made sure he did well in school, his father pushed him into football. As proof of their support for their son's football career, Mack's parents have made it a duty to witness most of his games. Below are some interesting facts about the football running back of the Indianapolis Colts.
Career Beginning and Rise to Fame
With the Booker High School Tornadoes, Mack recorded 1,527 rushing yards and 19 touchdowns as a senior and totalled 1,666 yards from scrimmage with 22 touchdowns on offense. He also recorded 100 tackles and intercepted four passes on defence.
Marlon joined the University of South Florida for his college career and played college football from 2014 to 2016. As a freshman in 2014, he emerged the AAC Rookie of the Year. In his sophomore season, Marlon recorded 1,381 rushing yards on 210 carries and 9 touchdowns.
He ended his college career in his junior season with 1,187 rushing yards, 15 touchdowns, and 174 carries. In all, he broke his college record with his 3,609 rushing yards, 498 receiving yards, and 33 touchdowns in just three seasons.
Key Takeaways 
Marlon Mack began playing football in high school.
He had his college career with the South Florida Bulls of the University of South Florida from 2014 to 2016.
He emerged the AAC Rookie of the Year as a freshman in 2014.
Mack broke a college record to become South Florida's all-time leading rusher.
He left college as a Birmingham Bowl Champion and a 3-time First-Team All-AAC.
He's USF's 1st Running Back to be Drafted in the NFL
At the NFL draft of 2017, Marlon became a player for the Indianapolis Colts after being selected as the 143rd overall pick in the 4th round of the year's draft. He was, thus, the University of South Florida's first running back to be drafted and the 15th running back drafted in 2017.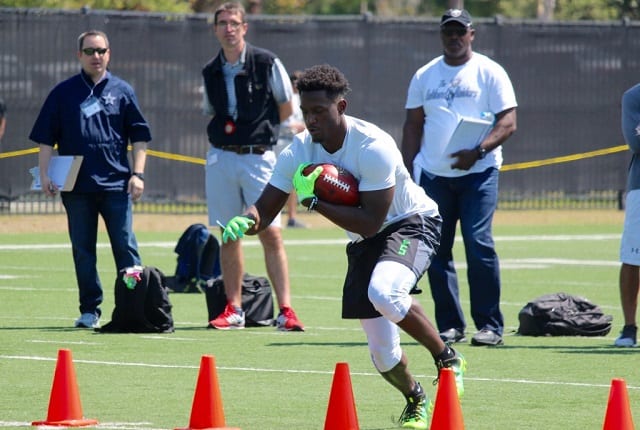 Making his professional debut in the Colts' season-opener against the Los Angeles Rams, Mack scored his first career touchdown and recorded 10 carries for 24-yards. He then completed his rookie season with 58 rushing yards, 93 carries, 3 rushing touchdowns, and zero starts in 14 games. He also recorded 21 receptions for 225 receiving yards and one touchdown.
Moving higher in his career, Mack became the third player in the history of the Indianapolis Colts to have multiple games with at least 125 yards rushing and 2 touchdowns in one season. He earned this after recording a season-high 139 rushing yards with 27 carries and 2 rushing touchdowns during a 23-0 win against the Dallas Cowboys in the 15th week of the 2018 football season.
Key Takeaways
Mack entered the 2017 NFL Draft after his junior college season.
The Indianapolis Colts got him drafted as the 143rd overall pick in the fourth round.
He was the first back to be drafted from the University of South Florida.
The running back played his first NFL game against the Los Angeles Rams.
Marlon didn't start any of the 14 games he played in his rookie season.
Marlon's Pro Career Stats Thus Far (2017 – 2020)
The footballer began his second season as his team's starting running back. Following his performance in the 2018 season, particularly his season-high 27 carries for 139 rushings, Mack became the first since 2015 to run for 100 yards and the second player all season to rush for over 100 yards against Dallas.
He finished the season with 908 rushing yards and managed nine touchdowns in addition to 17 receptions for 103 yards and a touchdown. Among other things, Marlon Mack is admired for his patience. While he is generally regarded as a good return man with a solid tailback, it is believed that he would be a better player if his energy level is a bit higher.
A Breakdown of His NFL Career Stats as of 2020 
Receiving touchdowns – 2
Rushing average – 4.4
Rushing touchdowns – 20
Receptions – 55
Receiving yards – 440
Rushing yards – 2,383
The Running Back Has Earned Over $4.2 Million in On-field Pay
When Marlon Mack signed a four-year contract worth $2,819,648 with the Colts on May 18, 2017, it handed him a signing bonus of $419,648 with a base salary of $704,912. The pact made provision for restricting bonus so he has been able to earn more than the worth of the rookie deal he made.
What He Has Earned Each Year Since He Joined the NFL
2017 – $884,648
2018 – 555,000
2019 – 645,000
2020 – 2,133,000
Marlon suffered an injury, a torn Achilles, in Week 1 of the 2020 season and it ruled him out for the rest of the season. He was subsequently placed on injured reserve and his future with the Colts is uncertain. While there is no doubt that he deserves to get another contract and a better one, he's most likely headed for free agency.
The Colts' general manager Chris Ballard hinted at this. Acknowledging that the running back deserves to have his pact with the Colts extended, Ballard expressed that he's uncertain if Mack would get another deal with the franchise.
A Look at Marlon Mack's Height, Weight, and Other Body Measurements
The Indianapolis Colts' player is 6 feet tall with a bodyweight of 210 lb. His arm length is 32 inches while his hand is 9 inches. If the body features of a player contribute in any way to on-field performance, then Marlon has been enjoying that advantage as his body measures are ideal for a running back.
Comparing His Body Measurements to Other Running Backs of The Colt
Marlon Mack

Height – 6 feet 0 inches
Weight – 210 lb
Arm Length – 32 in
Hand Size – 9 in

Jordan Wilkins

Height – 6 feet 1 inch
Weight – 216 lb
Arm Length – 30 1⁄8 in
Hand Size – 9 3⁄8 in

Paul Perkins

Height – 5 feet 11 inches
Weight – 208 lb
Arm Length – 31 5⁄8 in
Hand Size – 9 in

Darius Anderson

Height – 5 feet 11 inches
Weight – 195 lb
Arm Length – N/A
Hand Size – N/A

Benny LeMay

Height – 5 feet 8 inches
Weight – 220 lb
Arm Length – N/A
Hand Size – N/A
The Footballer Has a Charity Organization Called Marlon Mack Foundation
Marlon is very public-spirited and passionate about promoting the welfare of humanity. This inspired him to create his foundation through which he hopes to transform the lives of many youths via enabling academic achievement sustainability while empowering leadership.
Mack believes education is important and through his foundation, he wants youth to be able to access the training and education they need to be successful and make a meaningful and long-lasting impact in their communities.
Profile Summary
First Name:
Marlon
Last Name:
Mack
Also Known As:

Marlon
Sex/Gender:

Male
Profession:

Football running back
Famous For:
Indianapolis Colts
Colleges/Universities Attended:

University of South Florida (2014–2016)
Educational Qualifications:

N/A
Religion:

Unknown
Birthday & Zodiac

Age/Date of Birth:

27 years old (7 March 1996)
Zodiac Sign:
Pisces
Birth Place:

Sarasota, Florida, United States
Nationality:
American
Ethnicity/Race:

Black
Country of Residence:

United States of America (USA)
Physical Attributes

Height:

6 ft 0 in (1.83 m)
Weight:

210 lb (95 kg)
Eye Colour:

Black
Hair Color:

Black
Other Body Measurements:

N/A
Relationships

Marital Status:

Single
Spouse/Partner:

N/A
Family and Relatives

Father:

Marlo Mack
Mother:
Demetris Woods-Mack
Children:

N/A
Siblings:
N/A
Other Relatives:

N/A
Net Worth
Estimated Net Worth:

Under Review
Salary:
$704,912
Source of Wealth:

Football Career