Best known for her relationship with America's 45th president, Donald J. Trump, Marla Maples is an actress and former beauty pageant contestant. Aside from being famously known as Trump's second wife, Maples is also known for her roles in several award-winning movies such as For Richer or Poorer, A Sight for Sore Eyes, Black and White, A Christmas Too Many, Richie Rich's Christmas Wish, and Switching Lanes, to name a few. She is also a television personality who has appeared in shows like Designing Women and Dancing with the Stars. Maples has also co-hosted events like the 1996 and 1997 Miss Universe Pageant and the 1997 Miss USA Pageant.
From a Middle-Class Upbringing to Living a Millionaire Lifestyle
Born on October 27, 1963, in the small town of Cohutta, Georgia, USA, Maples grew up in a modest middle-class family. She is the daughter of a homemaker and former model, Laura Ann Locklear, and her husband real estate developer Stanley Edward Maples. Her middle name is Ann.
As a teenager, Marla Maples was very active both in academics and in social activities. She went to Northwest Whitfield High School in Tunnel Hill, Georgia, where she joined the school's basketball team. She was also made the secretary of her class before she was crowned homecoming queen in her senior year.
Before Maples became a nationally recognized name via her marriage to Donald Trump, she achieved modest fame through beauty pageantry. She won Miss Resaca Beach Poster Girl in 1983, and in 1985, won the Miss Hawaiian Tropic. The year before that, she finished runner-up in the Miss Georgia USA pageant.
Exposed to the glamour of beauty pageantry and celebrity life, Maples headed to the University of Georgia after high school and studied performing arts. After graduation, she moved to New York City to pursue her acting career.
Acting is One of Marla Maples' Major Sources of Income
Considering her affiliation with Donald Trump, it would be easy to presume her entire wealth comes from her relationship with him and the subsequent divorce settlement. But while that is true for a lot of socialites, it is not for Marla Maples. One year after her Miss Hawaiian Tropic victory, she debuted as an extra in the film, Maximum Overdrive. In 1987, she played an unnamed mother in Funland.
Marla continued to build her acting career simultaneously with her beauty pageantry. She appeared in a series of TV shows like P.S.I. Luv U, Executive Decision, The Big Easy, Clueless, and more. Through the 90s to the 2000s and 2010s, she continued to work as an actress. Not only did she work onscreen, but she also worked on stage. She appeared in plays like Love, Loss, and What I Wore and Switching Lanes. So far, she has more than 27 acting credits to her name, all of which have helped her amass her net worth of around $20 million.
Public Speaking and Celebrity Influencing Are Other Sources of Income
While public speaking is not the first title one would associate with Marla Maples, it is one of the sources of her wealth. Thanks to her wellness movement, she has drawn interest from several bodies who wish to hear insight on women, spirituality, and wellness. She has spoken at the London Speakers Bureau, the Global Summit on Science, Spirituality, and Environment, and the talk show, The View.
As part of her health and wellness movement, she also released an album titled The Endless in August 2013 which earned a Hollywood Music in Media Award.
Outside of public speaking, Marla has also made money speaking on lower media forms like radio. She has a radio show called Awakening with Marla hosted on Contact Talk Radio. Other forms of media that have contributed to her net worth include ad campaigns for No Excuses Jeans and paid personalized celebrity videos on Cameo.
Marla Maples is Also an Entrepreneur
One other way Marla Maples makes money and enriches herself is business. She has a travel venture called SoulShine Journeys. The company offers trips to customers seeking spiritual cleanse. The company, which operates out of Majorca, provides faith healers, shamans, and yoga instructors to those looking to 'take what they need to discard and move on to their greater good.'
Her Marriage to Donald Trump and the Millions She Was Paid in the Divorce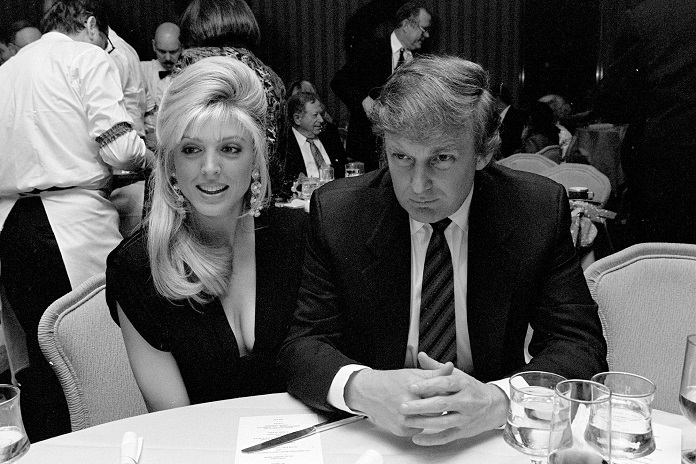 While Donald Trump was married to his first wife, Ivana, he began a relationship with Marla. The two met in 1989, when she was 26 years old, two years before Trump and Ivana divorced. Ivana had discovered that Trump was attempting to bring Maples on a family vacation on a ski slope in Aspen, Colorado. After a bit of confrontation, Trump then chose to be with Maples over Ivana.
The pair went on to enjoy a well-publicized relationship that produced a daughter, Tiffany Ariana Trump, on October 13, 1993. The couple later married in December of that year and were together until they separated in May 1997. Their divorce was finalized on June 8, 1999.
Marla Maples reportedly received a very sizeable sum of around $2 million from her husband following the end of their marriage. It is not exactly clear if she earned more in cash or property as a confidentiality agreement bounds the terms of their prenup and settlement.
Marla Maples' Love Life After Her Marriage Ended
Marla Maples has been in a relationship with a good number of influential men. Before Donald Trump, she reportedly had a thing with singer and songwriter Michael Bolton. Two years after her divorce, she entered into her next relationship. She had moved to Southern California to continue with her TV career when she began dating American film and TV producer Michael Mailer from 1998 to 2001. There were reports that she subsequently dated Indian actor Anand Jon and that their relationship lasted from 2004 to 2007.
After her relationship with Anand Jon ended, Marla entered into a new relationship with American Triathlete Andy Baldwin. Their relationship lasted for one year from 2007 to 2008.
Her Latest Relationship Was With Donny Deutsch
Marla Maples is currently in a relationship with Donald Deutsch. He is a TV host and former advertising mogul who gained fame for being a staunch critic of Donald Trump's presidency. She has been seen with him at a Polo Bar in Manhattan. However, although there is no official confirmation, it appears the relationship is over as of November 2019. In an interview with the New York Times, she suggested she was single, and currently open to starting new relationships.