Marjorie Elaine Harvey is an American fashion blogger and wife of comedian Steve Harvey. You'd be forgiven for not knowing much about her personal endeavors as much of her popularity is tied to her husband's larger than life persona. Steve is one of America's most celebrated comedians and hosts the popular The Steve Harvey Morning Show, Family Feud, and Celebrity Family Feud.
Marjorie who is also known for creating the fashion blog Lady Loves Couture. Aside from having a very large family Majorie and her husband are also known for their half-serious-half-joking conversation with the public, especially during Steve's shows.
Marjorie Elaine Harvey's Early Life And Career Growth
Marjorie Elaine Ridge-Woods was born on the 10th day of October 1964. She is the daughter of Doris BriCareer. Not much is known about her family background as well as her childhood years. However, she spoke about growing up with her family including her father and younger brother whose names are not known. Marjorie attended the University of Memphis but dropped out due to poor grades.
Marjorie had always had interests in fashion, style, and show biz, so after she dropped out of college, she decided to chase her dreams and follow her passion. She chose to go the path as a fashion blogger. Marjorie created her own blog, Lady Loves Couture, where she talks about beauty, fashion, and styles. Topics on her blog range from food recipes, style tips to etiquette guidelines.
In her bid to know more about fashion from different cultures, Marjorie travels to different countries in the world to attend fashion shows, like the popular Milan Fashion Week. Venturing further into her fashion business, she created her own online shopping websites known as Marjorie Harvey's closet and Marjorie Harvey handbags. 
Outside her fashion and blogging business, Marjorie became very popular on various social media platforms, thanks to her various activities on these platforms.
Her First Two Marriages Were To Men Of Questionable Character
Marjorie's first marriage was to Jim Townsend. Few years after their marriage, Jim ran into problems with law enforcement agents. The FBI and DEA had been investigating him for drug-related offenses and arrested him in 1992. There were suspicions that Marjorie herself was involved in the husband's shady deals, she also came under investigation but nothing was nailed to her.
Townsend was found guilty and sentenced to life in prison. Majorie severed her relationship with Jim five years into his sentence. After serving 26 years of the jail term he was pardoned by the then-President Barack Obama in 2017. Upon release, Townsend was rumored to be planning on releasing an autobiography in which he threatened to air his dirty linen in public, he said its content would shed more light on Marjorie's role in his cartel. He is yet to release the memoir and most likely was just calling a bluff. Townsend and Marjorie have two kids together, Morgan and Jason.
Marjorie's second marriage was to Donnell Woods. The pair got married in 2000. A few years into the union, the FBI came knocking again, after trailing Woods for a while, they opened up an investigation into his illicit activities and found him guilty of drug smuggling. Before the investigations were done, Marjorie was off to marry Steve Harvey. Woods and Marjorie have a child together – a daughter named Lori.
Marjorie Elaine Harvey's Marriage To Comedian Steve Harvey
Marjorie married her husband, Steve Harvey, in 2007. The couple met for the first time in 1990, at a comedy club in Memphis and they started dating shortly afterward. According to Steve, the first time he set his eyes on her, he was smitten with love. He went as far as telling her that he was going to get married to her one day.
Due to the exigencies of life, it was not possible for them to begin a serious relationship at the time. Distance and the fact that they were both involved with other people at the time meant they remained friends until they reconnected in 2005.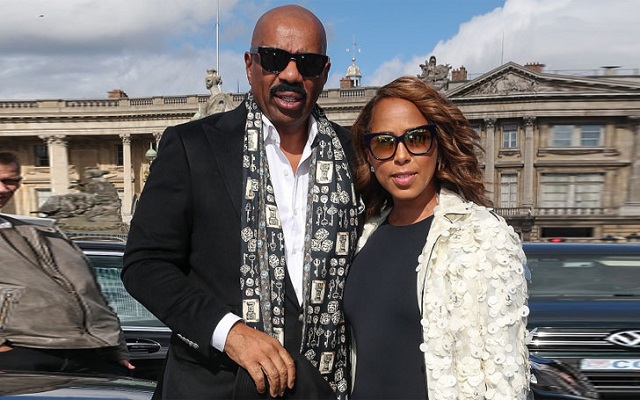 In June 2007, he settled down with Marjorie who according to him, has made him a better man.
According to Steve, after his previous marriage ended, he was convinced by his bodyguard to ring up Marjorie and take her out on a date. He told Harvey that in all his years working for him he had never seen him as happy as he was during the few times he was with Marjorie. Steve concurred, and the rest they say is history.
Marjorie said during an interview that part of the reasons for their separation was majorly due to their long-distance relationship. Steve, on the other hand, had admitted that he had a love at first sight with Marjorie. The marriage between the two was quite a private one despite their age gap of about eight years. Their marriage is over a decade old even though they have known each other considerably longer.

As for Steve, his marriage to Marjorie is his third. The West Virginia born comedian was first married to Marcia Harvey with whom he had three children—a son named Broderick Harvey Jr and twin daughters Brandi and Karli. His second marriage was to Mary Shackelford with whom he had a son named Wynton before they divorced in November 2005.

Harvey's household is one big family. Steve and Marjorie have done an excellent job fussing all the kids from their previous marriages into one blended family. Steve adopted three of her kids all of whom now bear the Harvey last name.

On one of Steve's birthday's Marjorie surprised her husband with a Bentley, in response to the Rolls Royce and a mansion he gifted her on her own birthday.

Marjorie Elaine Harvey's children from her previous marriage, Morgan, Jason, and Lori are readily seen sharing special family moments with Steves other kids Brandi, Karli, Broderick Jnr, and Wynton. Altogether, the couple has seven children under their care. The family resides in Chicago, Illinois, US.

Fact Check: We strive for accuracy and fairness. If you see something that needs updating,