There are no better love stories than those told by two partners who have shared over four decades of their lives together as husband and wife. When Star Wars star Mark Hamill met Marilou York, they had no clue they were meant for each other let alone spending decades together. They met like two ordinary people from different professions and today are celebrated stars. Unlike what is often perceived about celebrity marriages, Mark and his wife's love life is complete proof that even Hollywood love can stand the test of time. Here are facts to know about the star actor's wife Marilou York.
Who is Marilou York and How Old is She?
Born in the United States of America on February 11, 1955, is Marilou York, an American citizen reportedly an only child to her parents Jean Apple and Doyle Frederick York. Her parents passed away in 2009 and 2001, respectively. While nothing much is known about her childhood years, there are reports that she first attended the Carmi Township Halls High School located in Carmi, Illinois after which she enrolled at Parkland College for her college career. She eventually graduated in 1975 with a degree in Dental Hygiene.
Who Are His Wife and Kids?
Marilou York and her husband got married on December 17, 1978, and their union has been blessed with three beautiful children: a daughter named Chelsea Elizabeth and two sons Nathan and Griffin. Nathan, the oldest of the three is an artist and illustrator, he was born during the time his father was filming The Empire Strikes Back in the U.K. Nathan has also tried some acting roles, he portrayed two uncredited roles in Star Wars: Episode I – The Phantom Menace, and took a voice role in a 2011 animated film, Weasel Town. Griffin, on the other hand, establishes his profession as a martial arts teacher and Chelsea, the youngest of them all works in the public relations department at the family company known as Amazing Invisible Inc.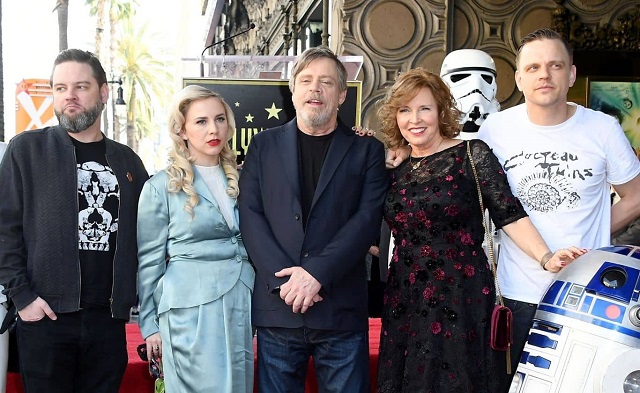 She met her husband in a dental clinic 
Marilou York worked at a dental clinic as a dental hygienist at the time of meeting her husband for the first time. The American actor Mark said his first meeting with Marilou was in a waiting room where she walked in looking very sexy with her pair of jeans and a white coat and when he commented on her beauty, she totally ignored his words but asked him to join her in the doctor's office as he was the next patient to be attended to. Afterward, he asked her for a date and she agreed and Mark as an actor that he is, took her to watch a movie and the rest was history.
Mark and Marilou broke up briefly during which the actor dated actress Anne Wyndham. He returned to York shortly afterwards before they got married privately in Malibu, Los Angeles, California
Marilou York never went for honeymoon with Mark Hamill
Marilou lost the chance of experiencing the ecstatic feelings of honeymoon with her newly wedded husband as he was in the movie Star Wars: Episode V – The Empire Strikes Back. He appeared in the film as  Luke Skywalker and he shared the screen with the likes of Harrison Ford, Billy Dee Williams, and Carrie Fisher.
Her career as a movie producer
Marilou York practiced her profession as a dental hygienist for so many years before diving into movie production. She began her new career as a producer in 2004 when she co-produced Comic Book: The Movie with her husband Mark. The storyline of the straight-to-video film revolves around Don Swan a fan of a comic book who is at war with a fictional studio. Mark Hamill is the Donald Swan and he shares the screen with actors like Billy West, Jess Harnell, and Daran Norris, to mention a few. While it is not known if the performance of the film in the market was impressive or not, her role in the production of the direct-to-DVD mockumentary marked a good start for her emergence in the entertainment world.
See Also: Kennya Baldwin – Bio, Net Worth, Facts About Stephen Baldwin's Wife
What is her Net Worth?
Having been in two profiting career, Marilou is believed to have garnered quite a reasonable amount for herself. Aside from her career as a dentist and movie producer, Marilou also serves as the chief financial officer (CFO) of the Amazing Invisible Inc., a company founded by her husband Mark Hamill. While her annual earning is still not yet revealed, the celebrity wife and mother of three has her net worth estimated at $5 million. Her actor husband who is also a writer associated with two successful companies has his own net worth estimated at $18 million.