Sports stars are often known to have a string of girlfriends but very few of them have seen their personal life become a career journey of its own like that of Aaron Rogers, the Green Bay Packers star quarterback. He has had a list of girlfriends that includes high profile personalities like Oliver Munn and Marie Margolius.
In this article, we explore the life of Marie Margolius, whose career as a soccer player involved years of playing at the college level for Harvard University and a professional career stint in Sweden. We also explore her relationship with the famed quarterback and every other interesting information you need to know about her. Read on to learn more.
Marie Margolius Age and Bio
Marie Margolius has been involved with sports, especially soccer for a majority of her life. She was born on the 26th of October, 1993 in Acton, Massachusetts to parents Celeste McGahan and David Margolius as one of four children, with Marie being the last child.
Her basic education was completed at Acton-Boxborough Regional High School where she began to play soccer competitively as the team's captain. Her excellent soccer abilities, combined with her brilliance academically got her into one of America's leading universities, Harvard University, where she continued to play soccer competitively while she earned a bachelor's degree in History of Science.
Before she resumed as a student of the University, Marie Margolius spent time at the London School of Economics and Political Science, where she took a summer course.
Her career at University level saw her finish with a record of four goals scored in seventeen games, a decent record for a defender and she was also made the team's captain.
Marie Margolius college exploits also earned her a place in the 2014 NEWISA Division I All-New England First Team. Outside of soccer, Marie worked as a fixed income analyst for Morgan Stanley during her time in the school.
Having gotten some experience across a range of professions, the world of options was opened to Marie Margolius and she decided to continue with her career as a soccer player, heading over to Sweden where she played professionally for a brief period of time for Ope IF over the course of six games, during which recorded two goals and four assists.
Since she hung up her boots as a professional soccer player, Marie Margolius has traded the field for a glass office, working for entities like LinkedIn and ESPN.
She reportedly began her office career by joining LinkedIn as a BLP Global Sales Associate and worked out of San Francisco before she joined ESPN, where she currently works as an executive assistant at ESPN Films, based in New York.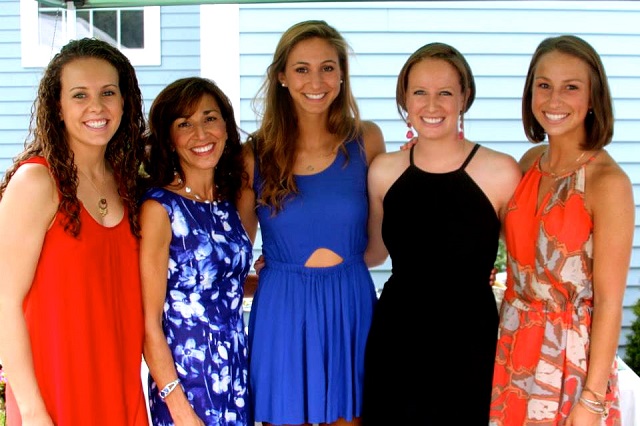 Relationship with Aaron Rogers
In a relationship history that has included names like Destiny Newton, Jessica Szohr, and Hilary Scott, Marie Margolius and Aaron Rogers' status as a couple first became apparent to the public when they spotted out together in a restaurant in August 2017.
The date which was reported by a source in the restaurant located in Manhattan suggested that the couple at the time were in an early stage of their relationship and did not appear intimate over the course of the date.
With very little evidence to show a relationship between the two after the date, the popular belief is Aaron Rogers and Marie Margolius were never in a formal relationship.
See Also: Alex Morgan – Bio, Husband and Soccer Career
While Marie Margolius' current relationship status remains unknown, Aaron Rogers is currently in a relationship with Danica Patrick, who is also a former sportswoman, having competed in American professional racing.
Net Worth and Salary
Marie Margolius' professional journey has involved playing for a couple of years as a professional soccer player and she has also worked for ESPN while also engaging in other ventures. As a result, Marie has been able to accrue a total net worth of $3 million and is believed to be earning as much as $77,000 in annual salary from ESPN.
Other Facts About Marie Margolius
She once wrote an article on girls empowerment titled Empowering Girls to Excel: How Sports Can Bridge the Confidence Gap.
Her siblings are two brothers named Garry and David and a sister named Amy.
She considers her experience as a professional soccer player to have been invaluable to her career as an office professional.