Finding love and keeping a romance alive in Hollywood can be really hard and Mariah Carey and Nick Cannon's union was no different. While not every famous couple is destined to fail, it may be needless to point out that Hollywood undeniably doesn't always have the best track record in terms of longterm relationships.
Many high-profile couples go the distance, but not everyone in the entertainment is so lucky to enjoy a lasting relationship. Whether it's due to cheating allegations, lifestyle changes, or even their romance running its course, celebrity relationships often face challenges that most do not. Unfortunately for these over-the-top couples, breakups are rough especially when they happen in the public eye.
Pop diva superstar Mariah Carey and television personality Nick Cannon were once the 'it couple'. The pair were such an adorable couple and despite their busy schedules, they always found the time to put on a full-blown wedding each year to renew their vows on their anniversary. But the relationship involving two of the entertainment world's biggest stars sure had its own ups and downs. The two A-lister's road to divorce was certainly a rocky one, with many public twists and turns. Their separation left many hearts broken and it is still considered one of the biggest break-ups and most heartbreaking splits of this era.
While there are plenty of wild stories concerning the former Hollywood power couple, there is perhaps a bit of good news amid the heartbreak. Explore all the juicy details about Mariah Carey and Nick Cannon's romance.
Who is Mariah Carey?
Mariah Carey is a Grammy Award-winning singer, songwriter, record producer, and actress. The New York native who began her entertainment career at the young age of six is today considered one of the most prominent singers and songwriters of this age. The ultimate pop queen boasts of mega-hits such as Shake It Off, Touch My Body, Vision of Love, One Sweet Day, and We Belong Together.
During the 90s, Carey who was known for her five-octave vocal range was a top recording artist and sold over a quarter of a million records every week. Remarkably, the vocal virtuoso's 1990 eponymous debut album sold over 15 million copies globally and eventually became a nine-time platinum-certified album.
In addition to her 1991 Grammy Award, Carey's trophy shelf includes the Legend Award which she received in the year 2000. She was also named one of the top two in the 2012 list of '100 Greatest Women in Music' by VH1. Mariah Carey has a net worth that is currently estimated at $520 million.
For her love life, Mariah Carey has an interesting dating history. The Grammy Award-winning singer has been married and divorced twice. Her first husband is Tommy Mottola whom she married in June 1993. The singer and the music executive officially parted ways in March 1998. Their union produced no kids. It was thereafter, that Mariah Carey dated and eventually married Nick Cannon.
Who Is Nick Cannon?
A San Diego native, Nicholas Scott Cannon is a comedian, rapper, and actor. The Nickelodeon star who was introduced to the entertainment industry from the young age of 11 is best recognized from All That and movies such as Love Don't Cost a Thing, Drumline, Goal II: Living the Dream, Roll Bounce, Men in Black II, Monster House, and many more. Cannon has been nominated for several prestigious awards in the course of his career. Notably, he boasts of the NAACP Image Awards (from Up All Night), as well as two Film Festival Award (2001, 2006).
As a TV personality, Cannon has hosted big shows such as Wild 'N Out, The Nick Cannon Show, America's Got Talent and The Masked Singer. Nick is also a singer known for hits including Parents Just Don't Understand and Gigolo. As a businessman, Cannon remains the chairman of the Nickelodeon network's 'TeenNick', a position he has held since 2009. He also serves as the Chief Creative Officer for Radioshack. Nick Cannon currently enjoys a net worth that is estimated at $50 million.
Besides Mariah Carey, The Wild 'N Out star has also been in various high profile relationships. In the past, Cannon has been romantically linked to stars such as Christina Milian, Meagan Good, Jasmine Sanders, and Kim Kardashian.
How Did Mariah Carey and Nick Cannon Meet?
Mariah Carey and Nick Cannon first crossed paths in August 2005 where the comedian presented the singer with a surfboard at the Teen Choice Awards. The exes first began as friends before their bond turned romantic. Interestingly, Cannon defied naysayers who told him Carey was out of his league and worked hard to get the singer's attention. The TV host and comedian eventually won Carey's heart by playing hard to get after he turned down her offer for him to star in her music video.
After officially dating for six weeks, the pair got married in April 2008 in a secret ceremony on Carey's private island in the Bahamas. Three years later and exactly on their wedding anniversary date, Cannon and Carey welcomed twins: son Moroccan Scott and daughter Monroe.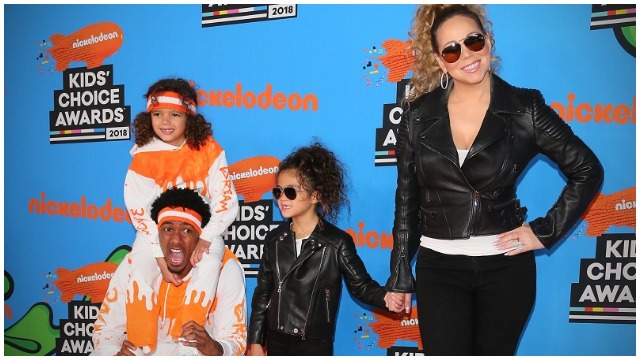 Despite their 11-year age difference, Nick Cannon and Mariah Carey seemed a perfect fit for each other. However, after six years of their marriage, the Hollywood power couple parted ways in 2014 and their divorce was finalized in 2016.
What Led To Their Divorce?
Nick Cannon and Mariah Carey were Hollywood's power couple from 2008 until 2016. Early in 2014, rumours were rife that there was trouble in paradise for the A-list couple but they initially shut down the speculations publicly claiming everything was fine. But later in mid-2014, Nick Cannon came clean and confirmed that he and the vocal virtuoso had separated a few months earlier. After a lengthy separation and months of turmoil, Nick Cannon ended hope for reconciliation after he filed for divorce in December 2014. The actor and the legendary singer's divorce was finalized in November 2016.
Mariah Carey and Nick Cannon have never opened up in detail about the reasons behind their split, but initial rumours held that it was based on infidelity. First, it was speculated that Carey was cheating on Cannon with the rapper, Nas. But that claim did not hold water for long as the legendary singer later performed a cover of Don't Explain by Billie Holiday where she changed a lyric to "I know you cheated, motherf***er." More so, the poor quality of that performance onstage further stoked the flames and left many speculating that Carey was making reference to infidelity on Cannon's part.
The closest inkling the public has gotten from the exes into the circumstances surrounding their split is from Nick Cannon. According to the TV host and comedian, their separation stemmed from the fact that they were growing apart and no longer moving forward as a couple. On Mariah Carey's part, the singer revealed that she never thought she'd ever divorce the father of her kids but life eventually happened to them.
Inside Mariah Carey and Nick Cannon's Lives After The Split
Despite their divorce, Cannon and Carey have maintained a cordial relationship. Unlike most other celebrity splits, the former lovebirds have so far handled their separation in an extremely respectful and respectable manner. Since they parted ways, the pair have maintained a close relationship though there's no romance between them anymore.
Their strong love for each other and great mutual respect for one another has also made co-parenting much easier for both parties. Carey and Cannon's children were just toddlers at the time of their separation and both parents made sure to put their children's feelings first as a healthy co-parenting strategy. It is also apparent that their decision is paying off as both of the twins have a very happy relationship with both their mom and their dad.
See Also: Angelina Jolie vs Brad Pitt: Who Makes More Money Now After Their Divorce
Irrespective of their marriage breakdown, Mariah Carey and Nick Cannon still share unconditional love and a great relationship. Particularly, Nick has at various times categorically stated that he will always have a special bond with his former wife, Carey who is one of his best friends in life. There is no bad blood between the exes and they continue to coexist very conveniently for the sake of their children. In addition to the love and respect they share, the exes are also very vocal about supporting one another. Notably, when Carey revealed her struggle with bipolar disorder, Cannon had only kind words for his ex-wife, hailing her strength and reaffirming his unflinching support.
Mariah Carey and Nick Cannon have since rekindled their love lives and dated other people. After their separation, Carey began dating James Packer. In fact, the legendary singer and the Australian billionaire businessman were briefly engaged in January 2016 but they separated later in October that same year. Thereafter, Mariah Carey carried on a relationship with her backup dancer Bryan Tanaka in 2017. But they broke up after a few months and the We Belong Together singer has not been romantically linked to anyone else since then.
On his part, Nick Cannon has also been linked to several other stars since his divorce although some of these affairs were never confirmed. Notably, Cannon was speculated to have dated Amber Rose in 2014, and the next year, he was linked to Winnie Harlow, Heidi Klum, and Sherise Cromwell. Cannon also welcomed another son, Golden "Sagon" Cannon with his ex-girlfriend, Brittany Bell in 2017.