There are a few things that Hollywood is notorious for, and one of those is divorces. No matter how strong a relationship or marriage seems on the surface, it tends to suffer the unwanted curse of hitting the rocks and since Margot Robbie got married to her husband, Tom Ackerley, fans of the actress have held their breath, hoping their marriage is one of the few exceptions of long-running marriages in Hollywood. 
In this article, we answer if the couple is still together, along with details about how they met and how it bodes well for the future of their relationship. Check it out below.
Here's How Margot Robbie and Tom Ackerley Met
Margot Robbie was still a young actress looking for her breakthrough when she met Tom Ackerley in 2013. The two of them met on the set of Suite Francaise, which Robbie starred in a supporting role as Celine Joseph and he worked as an assistant director. 
While filming, they formed a bond, along with a couple of other members of the film's crew, leading them to lease a three-bedroom space in London where they filmed. 
Soon, a roommate/co-worker relationship turned into a romantic relationship that initially created its own conflict but later blossomed into a serious relationship that led to marriage. 
Three years after they began dating, they got married in Byron Bay, Australia in a very private ceremony that had no unauthorized camera and wedding guests were transported to the venue from various pre-informed discreet locations by a bus. 
To date, only a couple of pictures have been released from the wedding, including a famous introductory picture where Margot Robbie is seen kissing her newly wedded husband with an erect middle finger and a wedding ring on. 
Is Margot Robbie Still Married to Tom Ackerley? 
To fans of the Suicide Squad and Birds of Prey actress, the answer is yes, Margot Robbie is still married to Tom Ackerley. The Australian actress is not known for putting her personal life in full view of the public but she has revealed a lot more about her marriage to the producer in both interviews and social media, enough for us to think she is happily married to her husband. 
Margot Robbie has been married to Tom Ackerley since 2016, in a private ceremony that was so secret, that the few attendees at the wedding did not know they were attending a wedding. That tends to happen when you receive instructions about showing up in a location like you are in an episode of The Blacklist. 
For a woman who once acknowledged a non-interest in getting married, Margot Robbie has admitted to enjoying the state of being married to Tom. 
Since they got married, the two of them appear to be growing in love with each other with every passing day and if the comments of Margot Robbie is anything to go by in regards to how much commitment they have to make their marriage work, such as making sure they never spend more than two weeks apart, regardless of whatever project they are working on in whatever part of the world. A comment that should put the mind of Robbie-Ackerley fans at rest. 
Do They Have Kids? 
A time tested way to cement one's married status is to have kids. It gives the couple extra incentive to make their marriage work. For now, even though Margot Robbie has been married to Tom for more than three years, they are yet to birth any child. 
That is not to say that she or the couple doesn't want one, but fans who want to see little Margot Robbies running around might have to wait a while. The actress acknowledges a desire to have children, enough to have big Christmas dinners but much later in her life.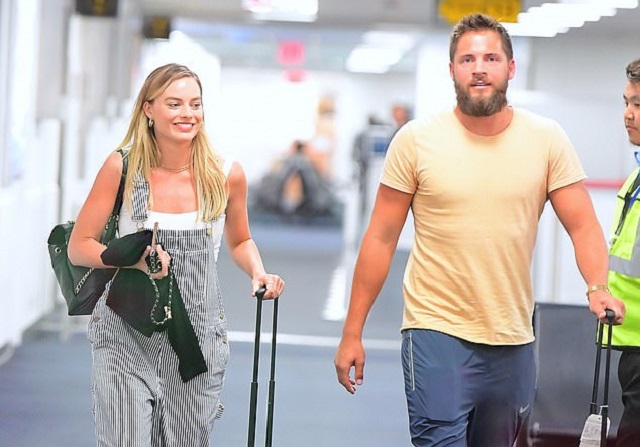 However, while the couple is yet to become parents to a human child, they are parents to two dogs, one of which is a pit bull. You can see their canine family members on Margot and Tom's Instagram accounts, @margotrobbie and @alpha_meows. 
See Also: Are David Chang And His Wife – Grace Seo Chang Still Married?
Another non-human baby Margot and her husband share is their production company, LuckyChap Entertainment. Through the production company, they have produced several projects, most notably, I, Tonya, which fetched a couple of Oscar Awards, including a Best Actress nomination for Margot. 
With more projects in the pipeline, Margot Robbie and Tom Ackerley are poised to remain married for a long time because in Hollywood, couples that work together, tend to stay together.