Big Marc! Big Spain! Big Burrito! La Tanqueta (the tank)! Hear a crowd yelling any of these names anywhere any day and you are certain Marc Gasol is playing basketball somewhere in town. The Spaniard Marc Gasol is an NBA professional who currently wears the number 33 jersey for the Toronto Raptors. Until signing for Raptors in February 2019, Marc had been playing for the Memphis Grizzlies since 2008. He lasted for a good eleven seasons at Grizzlies.
The center 7′ 1″ has also done well for his country as a regular member of the Spanish men's National Basketball Team since 2006. He was part of the team that won Gold Medal for Spain at the 2006 FIBA World Cup held in Japan. That was even long before his NBA debut.
At the NBA League, Marc Gasol's career has been one of the most eventful you can find. Drafted 48th by the Los Angeles Lakers in the 2007 NBA draft while he was still playing in Spain, Marc has been an All-NBA team member two times in his eleven years in the league. He has also been an NBA All-Star for a record three times. And there are more and more that you need to know about the NBA big shot which you can find in this article.
Who Exactly is Marc Gasol?

Born on January 29, 1985, Marc Gasol hails from the Spanish Catalan Region. We do not have any detail about his parents or their names, but we know he spent his growing up years in Barcelona. We also know about an elder brother to Marc, Pau Gasol who plays in the NBA League. Indeed, Marc has played alongside Pau at the Grizzlies and at the Spain Men's National Basketball Team.
Eventually leaving Spain in 2001, Marc Gasol traveled to the United States of America where he had his high school education at Lausanne Collegiate School Memphis Tennessee. He soon became so notable on the high school basketball team that, in the 2003 season, he was named "Mr. Basketball" for division two. Marc earned that recognition after averaging 26 points, 13 rebounds and 6 blocks per game during the season. At Lausanne, Marc Gasol was also popularly known as "The Big Burrito". Official records on the NBA website holds that Marc never attended college.
Marc Gasol Professional Career And Awards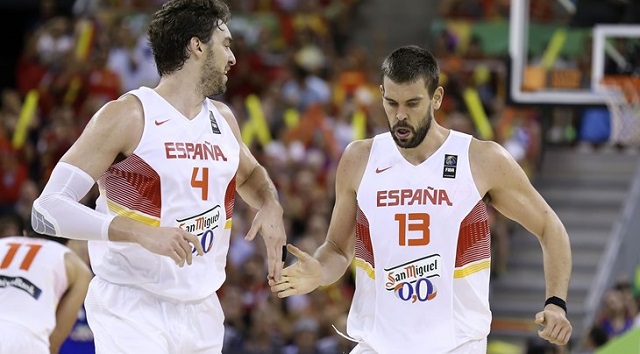 Marc Gasol's professional career took off as soon as he graduated from high school. First off, he went back to his home country, Spain, to play for FC Barcelona's basketball team in the Liga ACB. After spending three seasons with FC Barcelona, Marc moved on to Club Basquet Sant Josep based in Girona in Spanish Catalonia. His exploits at Girona earned him The ACB Most Valuable Player award in 2008.
But, just when the ovation was high, Marc Gasol departed from Liga ACB. He had been successful in the 2007 NBA Draft where he was drafted 48th overall by the Los Angeles Lakers as already mentioned. So, in 2008, he signed for the Memphis Grizzlies in a unique contract where the Lakers traded Marc's draft rights to the Grizzlies in a deal that also saw Marc's brother Pau transferred from Grizzlies to Lakers. Following this contract, Marc Gasol played for the Grizzlies from February 2008 to February 2019.
During his days at Grizzlies, Marc Gasol earned an NBA All-Star Award for a whopping three times (2012, 2015 and 2017). In 2013, he was the NBA Defensive Player of the Year and a member of the All-NBA Second Team as well as NBA All-Defensive Second Team. Then, in 2015, he was a member of the All-NBA First Team.
Marc Gasol has also done well for his country, he was part of the Spanish team that won gold at the 2006 FIBA World Cup held in Japan as earlier mentioned. He has also won gold on two occasions at The European Basketball Championship (Eurobasket) with the Spanish men's National Basketball Team. This is aside two Olympic Silver medals (2008 and 2012), one silver and two bronze medals he won in the Eurobasket and others.
Who is The Wife Cristina Blesa
Marc Gasol tied the knot with wife Cristina Blesa on July 7, 2013. At the time, he was 28 while his wife was two years younger. The ceremony held at Can Riera de la Pineda's estate in Girona, Spain.
Salary And Net Worth
Marc Gasol signed a two year deal with the Toronto Raptors in February 2019. It is reported that in the first season of the deal, Marc will go home with a pay package of 24,119,025 USD and will receive 25,595,700 USD in the second season.
Among other contracts Marc Gasol has signed in his career, we take special note of the $58 million deal he signed with Memphis Grizzlies in 2011. It was also reported that, between 2017 and 2018, Marc earned $24 million from playing and endorsements. From all of the above, his net worth is reported to currently stand at $50 million.
Height And Weight
Marc Gasol's officially listed height is 7 feet, 1 inch or 2.16m and his stable weight is listed as 255lb or 116 kg. He stands so tall and huge that people naturally associate him with 'bigness' hence his nicknames. Indeed, one of these 'bigness' nicknames – Big Burrito – has stuck on Marc since his high school days.