Marc Anthony and Jennifer Lopez's marriage was a match between the best singers of all time. The pair were an iconic power couple that became phenomenal while their union lasted. Anthony and Lopez who were one of the Latin world's most popular couples particularly struck a chord in the hearts of Latinos.
The couple made headlines not just because of their celebrity romance but also because of their amazing talents which they merged together to produce emotional hit songs that became fan favorites. Lopez and Anthony allowed us to witness their affection for one another on the red carpet and on the big screen and even went further to dominate Latino households with their soulful vocals.
But Hollywood can be a tough place to maintain a relationship and the couple's romance literally played out in the public eye. Their breakup had plenty of drama but has been unlike most other famous splits. While there have been lots of twists and turns as to the real cause of the superstars' separation, these facts below are far from speculations. But before we delve into that, here is what we know the celebrities for.
Who is Marc Anthony?
The New York City-born crooner is a two-time Grammy Award-winner. Having broken dozens of Latin music industry records, Marc Anthony is considered one of the most famous Latin salsa singers of all time. The Boricua superstar is recognized for hits such as Te Conozco Bien, Vivir Mi Vida, Nadie Como Ella, Ahora Quien, and many more. Fans may also recognize his English hits including Rain Over Me, I Need to Know, and You Sang To Me.
Jennifer Lopez's ex-husband has been married twice and is a father of six. He was first linked to Debbie Rosado. Together, the ex-lovers welcomed a daughter, Arianna in 1994 and also adopted a son, Chase Muniz. Anthony's first marriage was with former beauty queen Dayanara Torres. The singer and the 1993 Miss Universe winner who got married in the year 2000 had two sons together: Christian and Ryan Muniz. But the couple's union only lasted for four years. Marc Anthony shares two children with Jennifer Lopez.
Who is Jennifer Lopez?
A woman of many talents, Jennifer Lopez is one of the most recognized women in the world. The New York-born Latino multi-hyphenate can sing, dance, act, design and so much more. As a hip-hop and R&B superstar, J-Lo is best recognized for her hits including Love Don't Cost a Thing, Waiting for Tonight, Jenny from the Block, and If You Had My Love. More so, her 1999 debut album sold over 20 million records globally while her 2001 eponymous album was certified platinum four times.
J-Lo's screen credits are also as popular as her songs. The all-round entertainer made a name for herself in the 90s film Selena. Her other hit movies include Maid In Manhattan, Shades of Blue, The Wedding Planner, and Hustlers. She can also be recognized as the voice of Shira in the hit animation Ice Age.
In addition to singing, dancing, and acting, J-Lo has also been a judge on the eleventh season of the popular reality TV show, American Idol. As an entrepreneur, J-Lo also designs everything from bedding to shoes and also makes perfumes. In fact, the Latino singer also makes headlines for her style. Whether it is her hairstyles, hair color, and makeup, Lopez's fashion sense is often inspirations for DIY beauty tutorials.
Jennifer Lopez is also famed for her high profile relationships. Notably, the mother of two has dated rapper Sean Diddy Combs, (also known as Puff Daddy or P Diddy), Drake, and Ben Affleck. J-Lo has been married thrice and has gone through several disappointments. Her first husband was Ojani Noa whom she married in February 1997 but divorced nine months later. Next, she married Cris Judd in September 2001 but their union barely survived a year. J-Lo and Cris parted ways after 11 months before she moved on to her third husband Marc Anthony. Interestingly, though married thrice J-Lo has never wedded in a church.
How did Marc Anthony and Jennifer Lopez Meet?
Marc Anthony and Jennifer Lopez's romance has been a long and storied one. The singers first met in 1998 while Marc Anthony was performing the Broadway musical The Capeman. They soon formed a connection and reportedly started dating casually for a brief period of time before calling things off. J-Lo and Anthony apparently later got back together and six months after, they tied the knot in a secret ceremony at Lopez's home in 2004. Their union wasn't formally announced but the speculations were confirmed when the media spotted the exes with matching wedding rings. The superstars welcomed twins Emme Maribel and Maximilian "Max" David on February 22, 2008.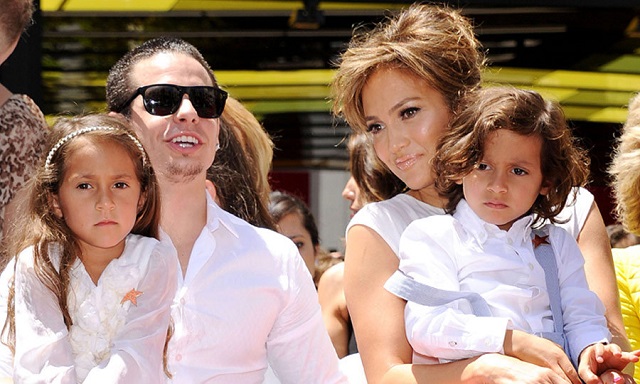 The couple became a formidable force in the entertainment industry as they performed together on several occasions. Notably, Anthony and Lopez shared the stage at the 2005 Grammy Awards which marked the beginning of many more professional collaborations. Cumulatively, the former couple has no less than four epic duets together including No Me Ames, Por Arriesgarnos, Escapémonos, and Olvídame Y Pega La Vuelta. They also had a very successful tour together and shared the screen in the movie El Cantante. Like his ex-wife, Marc Anthony also has some screen credits in movies, TV shows and on Broadway. The Latino singer is also a fashion designer. Together, Marc and Jennifer had a clothing line for Kohl's department stores.
Anthony and Lopez's connection lasted nearly a decade before coming to a romantic end in 2014, marking J-Lo's third divorce and a second for Marc. Interestingly, their children Max and Emme seem to have inherited their entertainment genes and are both passionate about the art. Their famous parents are also willing to support any of them who wishes to pursue a career in showbiz as long as it's a personal choice.
Why did They Divorce?
Superstars Marc Anthony and Jennifer Lopez were a power couple for ten years. The two New Yorkers of Puerto Rican descent were married for seven years (2004 to 2011) until they announced their separation breaking the hearts of fans, the Latin America community and the music industry as a whole. Lopez and Anthony finalized their divorce in June 2014, with J-Lo having primary custody of their twins.
The news of the power couple's split was so shocking and people tried to find out the reason for their divorce. For instance, it is believed by some that Marc had jealousy issues and was also a little too controlling. Consequently, their marriage was strained after Lopez had to put up with Anthony's controlling ways for a long time. But no strain was visible when the couple performed together on the finale of American Idol barely two months before their separation.
Despite several efforts to peg it on something sensationalistic, Marc and J-Lo insist the real truth was the fact that their marriage just stopped working. Thus, they made a joint decision to end it. Marc Anthony and Jennifer Lopez were both upset and devastated by the split but they continue to have a healthy relationship and co-parent their twins, Max and Emme.
Marc Anthony and Jennifer Lopez's Post-Marital Relationship 
After their split, Lopez quickly moved on in late 2011 and began dating Casper Smart. However, the singer and actor called it quits five years later amid cheating rumors. In February 2017, J-Lo found love once again in the arms of former MLB player, Alex Rodriguez. The singer and athlete got engaged in March 2018 after two years of dating. J-Lo's fiancé romantically engaged her with a stunning 15-carat emerald-cut diamond ring. With wedding plans in the pipeline, the mom-of-two who appears to be aging backward is undoubtedly going through one of the best moments of her life, both personally and professionally.

As for Marc, the singer confirmed that he had truly moved on in November 2014 when he married model Shannon de Lima. But the pair eventually called it quits and finalized their divorce in February 2017. Marc Anthony has not been romantically linked to anyone else since then.

While it may have been easier to fan the flames of resentment, disappointment, and anger following their split, being exes has presumably worked best for Marc Anthony and Jennifer Lopez. The two New Yorkers of Puerto Rican descent have maintained a healthy relationship post-split, unlike many celebrity exes who tend to split up and never speak again. Since the breakup, they have been generally cordial with each other and now make a marvelous pair, a result of conscious hard work from both parties.

See Also: How Did Mariah Carey and Nick Cannon Meet, What Led To Their Divorce?

Anthony was reportedly devastated when they split, and though their post-divorce relationship took some time to iron out, they've gotten to a place where they can successfully co-parent. For years now, Lopez and Anthony have been closely co-parenting Max and Emme spending birthdays and other family milestones together.

Even post-breakup, the friendly exes have literally freaked out fans by reuniting on stage. Particularly, the two performed together on stage for the first time since their divorce at a Hilary Clinton fundraiser. They also fanned the reuniting rumor flames after sharing a kiss during a performance at the Latin Grammys. Also in 2016, Lopez and Anthony reunited for a Spanish-language album. The two stars continue to team up for work and their relationship simply makes people happy regardless of where they stand today. Marc and J-Lo will always be part of each other's lives not just because of their common backgrounds and love for music but also for the sake of their kids.

Fact Check: We strive for accuracy and fairness. If you see something that needs updating,