Manny Pacquiao Net Worth is $200 Million
Pacman as he is popularly known is without-a-doubt one of the wealthiest athletes today. His earnings put him in the league of Tiger Woods, Roger Federer, Lebron James and many others. Manny began boxing in 1995 and has maintained good form over the years. He is regarded as one of the best "pound-for-pound" boxers.
Manny Pacquiao Net Worth: Bio
Born Emmanuel Dapidran Pacquiao in Kibawe, Bukidnon, Philippines on December 17, 1978, Manny Pacquiao goes by several nicknames. The most common include; Pacman, The Mexicutioner, Destroyer, and many others. The Filipino boxer is also a politician, actor, semi-professional basketball player, singer, as well as a film producer. He was educated at Education Notre Dame of Dadiangas in Southwestern University and is married to Maria Geraldine "Jinkee" Jamora. He has sired four children (Emmanuel Jr., Princess, Michael, and Elizabeth).
Despite his modest height of 1.69 m (5 ft 6 inches) and weight of 65.317 kg (144lbs), Manny "Pacman" Pacquiao is among the most resilient and entertaining boxers ever. He has fought 65 matches, won 57, drew 2 and lost 6. This is quite inspiring from a boxer who also holds the record for being the only boxer to have held 7 titles from different weight categories/classes.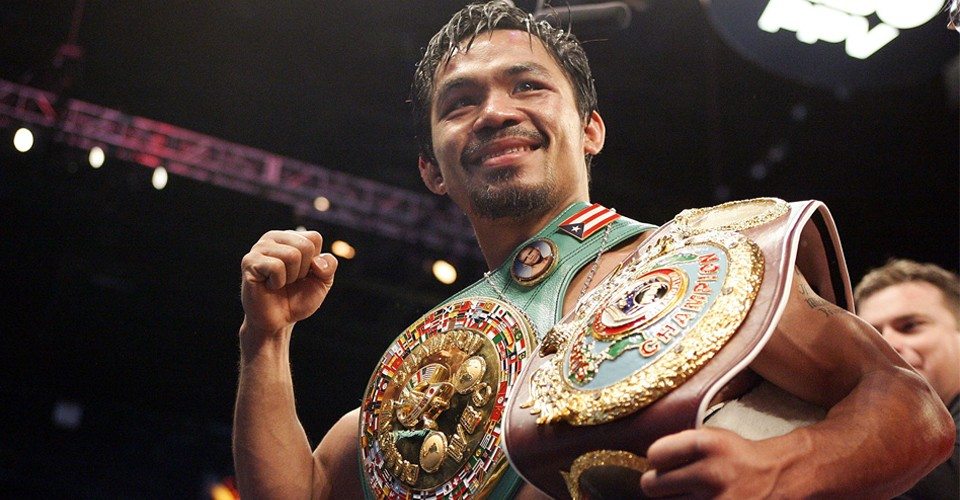 To achieve his legendary boxing status as well as massive wealth, Manny Pacquiao has faced all kinds of boxers. He shocked the boxing world by flooring some boxing greats including the likes of Miguel Cotto, Shane Mosely, Juan Manuel Marquez, and Oscar De La Hoya.
What makes him standout is his consistency and agility which sees him maintain his composure in the ring for the maximum twelve rounds. However, one of his biggest losses took place on the 6th of June 2012 when he lost to Timothy Bradley. This happened when he was in his peak and led to speculations that the fight may have been fixed. Following the loss, MP took a one-year hiatus from the ring.
Manny Pacquiao Net Worth and Career Earnings
Manny Pacquiao's Net Worth has been growing over time courtesy of his many wins and growing popularity. His fight with Miguel Cotto and Joshua Clottey earned him $35 million and catapulted him to the top of the list of wealthy athletes of the time. Forbes ranked Manny Pacquiao as one of the most paid athletes in 2009 and 2010. Going by the list; he had earned a total of $42 million placing him in position #8.Other career earnings from the boxer are as follows:
Other career earnings from the boxer are as follows:
– $2 million (defeated Erik Morales on January 2006)
– $1 million (won against Oscar Larios on July 2006)
– $3 million (defeated Erik Morales in November 2006)
– $2 million (won against Jorge Solis on April 2007)
– $2 million (defeated Marco Antonio Barreraon October 2007)
– $11 million (won against Oscar De la Hoya on December 2008)
– $12 million (defeated Ricky Hatton on May 2009)
– $35 million (won against Miguel Cotto on November 2009)
– $35 million (defeated Antonio Margaritoom November 2010)
– $20 million (won against Shane Mosely on May 2011)
– $20 million (defeated Juan Manuel Marquez in November 2011)
– $20 million (won against Timothy Bradley on June 2012)
– $30 million (defeated Juan Manuel Marquez in December 2012)
– $30 million (won against Brandon Rioson November 2013)
– $20 million (defeated Timothy Bradley in April 2014)
– $20 million (won against Chris Algieri in November 2014)
Manny Pacquiao Net Worth: Mayweather Bout, Endorsements
Manny Pacquiao's fight against Floyd Mayweather will go down in history as one of the most anticipated most watched and high-earning boxing match. The two boxers were initially supposed to fight on the 13th of March, 2010 but the bout never took off. Finally, they met on May 2nd, 2015 at Madison Square, Las Vegas. This fight was highly hyped all over the world. Despite losing to Floyd Mayweather after the full twelve rounds, Manny is believed to have taken home between $130 and 150 million, a figure that no doubt swelled his net worth.
Outside boxing, Pacman has sold two million copies of his music album, earns a salary as a Member of Parliament in the Philippines and has produced several movies. He has also earned from endorsements with brands such as Nike, Hennessy, Hewlett-Packard and Wonderful Pistachios. Unfortunately, some of the endorsements were cancelled when he took a year-long break after losing to Juan Manuel Marquez. But, his bout with Floyd Mayweather saw a handful of them return.
Other Interesting Topics: 
beyonce net worth, steve wozniak net worth, tyga net worth 2015, mariah carey net worth, jerry seinfeld net worth, vanilla ice net worth, big sean net worth, eddie murphy net worth, jamie foxx net worth, stan lee net worth, the game net worth, russell simmons net worth, ellen net worth, tim cook net worth, stephen hawking net worth, shakira net worth, ice cube net worth, jeff gordon net worth, robert herjavec net worth