There has always been a buzz about Mac Miller's net worth but until his death on September 7, 2018, the rapper's career was also pervaded with references to his run-in with drug abuse. A bright light in his family and to his friends, and fans, Mac, whose original name is Malcolm James McCormick, tragically kicked the bucket a the age of 26, from an apparent drug overdose.
While his family and the music world at large are yet to come to terms with the unexpected loss, there's no doubt that the rapper left an indelible mark on many people. Mac Miller's net worth shows that he also won hearts following the innovative ways in which he built his fanbase and fortune. Though he started on an independent label, the recording artist unarguably had a successful music career. Moreover, Mac's recent Grammy nomination proves that he is still loved, even in death.
What Was Mac Miller's Net Worth?
Mac Miller was hailed for his business acumen during his career and it did not come as a surprise that he left behind a sizeable fortune in the wake of his death. The rapper definitely made a mark on the music scene and amassed his wealth from record sales and tours.
How Mac Miller Achieved His Net Worth
Mac Miller was a teenager when he got the conviction that he wanted to become a professional musician, and he dedicated the rest of his life in pursuit and actualization of that dream. While we can presume that the rapper earned his wealth from his career as a musician, not all of it came from music. He also made his money through television and stock trading. Here is a more in-depth look at each means.
His history-making debut album Blue Slide Park which was released in 2011 under Rostrum Records was the first independently distributed album to top the Billboard 200 chart. In addition to being a chart-topper, about 75% of its proceeds were shared between Miller and Rostrum, given that the successful album didn't have the backing of any major record label at the time.
Miller's subsequent albums – Watching Movies with the Sound Off (2013), GO:OD AM (2015), and The Divine Feminine (2016) were even more successful, clinching top spots on the Billboard charts. In 2014, the late rapper left Rostrum for Warner Bros. Records which offered him a mouth-watery deal. Miller dropped his last album Swimming in August 2018 and like its predecessors, the project also earned a top spot on the Billboard 200 Chart.
Mac Miller's net worth after his death is pegged at over $9 million. The figure of the late rapper's estate as determined from his probate case apparently shows he was worth much more before his tragic demise. Miller's valuable assets include personal property, savings, royalties, money market accounts, stock, cash on hand, master recordings, as well as the right of publicity. While the estimate did not include any possible real estate property, expensive collectible, and artwork, it factored in other personal possessions such as expensive electronics, furniture, clothing, jewellery, a custom guitar, and a BMW 5-series.
Malcolm McCormick also struck a chord in the hearts of many through his philanthropic efforts. In his lifetime, Mac was known to have given back to the community by making huge donations to various charities and foundations. He was also credited as an executive producer of Hi, How Are You: A Short Film, following his $50K donation to the movie's production.
A Breakdown of his Income Sources
Music Sales
Mac Miller released his first music project in 2007 at the age of 15. He released the mixtape, But My Mackin' Aint Easy under the stage name, Easy Mac. It was not a commercial success, but it established him as a professional musician, and after two years, he followed up his first music project with two mixtapes, The Jukebox: Prelude to Class Clown and The High Life, under the stage name, Mac Miller.
The two mixtapes took him further as a commercial rapper, earning him two awards at the 2010 Pittsburgh Hip Hop Awards and making him a constant fixture in local hip hop shows. In the same year, he signed his first recording contract with Rostrum Records, and he also released his fourth mixtape, K.I.D.S, which was his first nationally recognized mixtape.
Other than bringing him national recognition, the mixtape was also a decent commercial success, with more than 1.1 million downloads and 1.5 million streams on DatPiff. Two music videos released for the mixtape have gotten more than 50 million views each, and the resulting music tour in promotion of the mixtape was sold out in every location.
K.I.D.S became the beginning of commercial success for Mac Miller and the accumulation of his $9 million net worth. He followed it up with his fifth mixtape, Best Day Ever, which featured the single, Donald Trump, and peaked at number 75 on the Billboard Hot 100, selling more than one million copies in the US alone. The mixtape itself was also commercially successful, peaking at number 26 on the US Billboard 200, with more than 17,000 sold copies.
Before he released his first studio album, Blue Slide Park, Mac Miller released an EP, On and On and Beyond, which sold more than 10,000 copies on the US Billboard 200, peaking at number 55. His first album, Blue Slide Park, which he released in November 2011, sold 144,000 copies in its first week and has sold more than 500,000 copies.
Since Blue Slide Park, Mac Miller grew his net worth by releasing four albums, eight mixtapes, one EP, and more than 35 singles. In total, Mac Miller has sold more than 800,000 albums as well as several thousand singles.
Television Show Appearances
Aside from music, where Mac Miller made more than 50% of his net worth through album releases, singles, and shows, he also made money through television. He made his debut TV appearance on the show, Single Ladies, appearing in two episodes in 2011. However, his significant income through TV came through the reality show, Mac Miller and the Most Dope Family, which aired on MTV2 across six episodes. Other credits to the rapper's name include Scary Movie 5, Loiter Squad, Ridiculousness, Punk'd, and a couple of others.
Stock Investments
In addition to television and music, Mac Miller's $9 million net worth came from stock investments, such as 200 Facebook shares. He also made money through brand endorsements from companies like Mountain Dew, Zumiez, Lacoste, Footaction, and a couple of others.
Following his death, according to his will, the bulk of his $9 million net worth was given to his brother, including more than $4.4 million in his bank account. He gave the rest of his wealth to his parents.
Does Mac Miller Still Make Money After His Death?
Malcolm McCormick is survived by his parents and brother. Back in 2013, he created a trust, thereby, setting up an attorney to handle the estate. According to estate documents, Mac Miller's net worth is expected to be shared between his family and close friends. For now, it is unclear exactly how much goes to each of the beneficiaries and how much the rapper receives in royalties. However, there's no doubt that Mac's family will receive the majority of the assets left, including his $5 million cash in the bank, while the rapper's close friends will be given some of his personal possessions.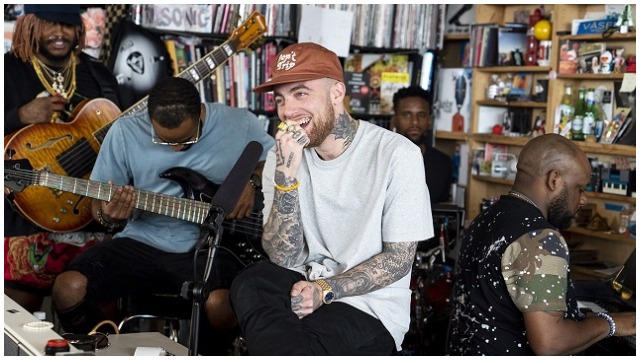 Though it is uncertain if the late rapper's right of publicity and legacy will increase over the years, it's apparent that Miller left an indelible mark on the music scene and was adored by many. In his lifetime, Mac had a large fanbase that included friends and colleagues. After he tragically passed away, many stars such as Chance the Rapper, Travis Scott and lots more held a tribute concert for the artist. In addition to the concert and huge murals of Mac which blanketed the music world after his demise, Miller's legacy has also earned him a posthumous Grammy nomination.