The American entertainment industry has never been short of talented individuals and if it continues to be the standard for entertainment companies around the globe, will never be short of talented individuals. In its vast catalog of actors and actresses is the actress, Lori Singer, who has been in the industry for over 30 years and is known for famous works like Footloose and Fame.
Lori Singer has forged an illustrious career as an actress, carving a filmography that many aspiring actors and actresses would be proud of. Although she is not an extremely busy actress, Lori's body of work spans through movies and TV shows, some of which has earned her award recognition.
In this article, we take a closer look at her background, career and everything else you need to know about the actress.
Lori Singer – Biography
Lori Singer joined the world on the 6th of November, 1957 in Corpus Christi, Texas as the child of parents, Jacques Singer and Leslie Singer. She was born into a musical family, which includes a father who is a music conductor, and a mother who is a concert pianist. Other members of her family include her brother, Marc Singer, who is also an actor and perhaps the most popular member of the Singer family, Bryan Singer, who is her cousin, and a renowned film, television director and producer.
She began her training in music instruments when she was a child, with a special focus on the cello. She debuted as a soloist at the age of thirteen and has grown up to perform at various venues, including iconic venues like the Carnegie Hall and the Royal Albert Hall.
For her education, she attended the famous school, Julliard, where she continued her lifelong training as a cellist and incorporated the art of acting.
Although she is no longer a frequent face onscreen in movies or TV, she continues to appear in a variety of venues as a cellist.
Movies and TV Shows
After years of studying acting, Lori Singer finally made her appearance for the first time onscreen in the television movie, Born Beautiful as Jodi Belcher.
She was an unknown name at the time, but that changed after she was cast in her second project in the same year, in the show, Fame, where she played the character, Julie Miller. Although the show lasted just a year, with Lori appearing in 38 episodes, she got her breakthrough via the show and became a known actress.
Lori Singer further cemented her place in the consciousness of mainstream movie audiences when she starred alongside Kevin Bacon in the movie, Footloose as Ariel in 1984.
With her name fully solidified as a movie star, Lori went on to appear in other movies like Trouble in Mind, The Man with One Red Shoe, The Falcon and the Snowman, Summer Heat, Warlock and a couple more others.
In the 90s, she returned to television and appeared in the TV show, American Playhouse, Storm and Sorrow, and the movie Equinox, where she played the character, Sharon Ace. She also appeared in Sunset Grill and F.T.W.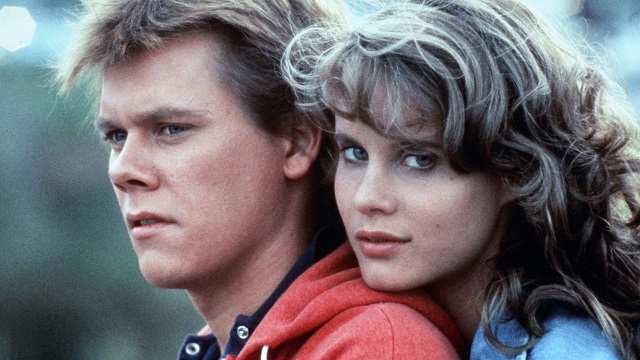 When the new millennium arrived, Lori Singer, who had begun to appear sparingly in Hollywood projects following the completion of her role as Sydney Bloom in the show, VR.5 and the movie, Bach Cello Suit #4: Sarabande, did not appear in any project in the first decade of the 2000s with the exception of a feature-length movie, When Will I Be Loved and the short movie, Little Victim.
In the second decade of the 2000s, she has continued to make sparing appearances across both movies and TV shows including Experimenter (2015), an episode of Law & Order: Special Victims Unit (2011) and a few more others.
Over the course of her career, Lori Singer has won the Golden Globes, The Television Academy Honors and an award from the Venice Film Festival.
See Also: Embeth Davidtz: 5 Facts You Need To Know About The Actress
Personal Details of Lori Singer
Just like her filmography, Lori Singer has had a minimalized relationship history compared to that of her peers. She has only been married once, to a lawyer named Richard Emery, a renowned legal personality who is one of the founders of the law firm, Emery, Celli, Brinckerhoff & Abady LLP.

How they met remains a mystery but they eventually got married sometime in 1980 and remained married until 1996, divorcing after sixteen years together as a couple.

During their time together, Lori Singer had her only child, Jacques Rio Emery, who was born in March 1991. While most people would have gotten married in the period of time since the divorce, including her ex-husband, Emery who has married a woman named Melania Levitsky, Lori remains a single woman.

Fact Check: We strive for accuracy and fairness. If you see something that needs updating,