The college admissions scandal that became another totem for Lori Loughlin's fame brought so many questions, particularly among those who weren't familiar with the actress. One of those questions is her net worth, with many curious to know how much Lori Loughlin has to be able to afford $1 million in bribery for her daughters.
In this article, we detail everything you need to know about the Full House actress' wealth, including how large it is, how she made it, and where she spends it, outside of bribing college officials.
How Rich is Lori Loughlin?
Lori Loughlin has a net worth of $20 million, according to Celebrity Net Worth. While she is indeed not the richest actress in Hollywood, she has built a considerable amount of wealth for herself over the course of four decades working in show business.
Combined with her husband, Mossimo Giannulli, who has a net worth of $80 million, made from his establishment of the fashion company, Mossimo, Lori Loughlin is a part of a family fortune of $100 million.
Her share of the fortune comes from a successful career as a model, actress, and producer. Below is a look at how each profession contributed to her net worth.
Modeling and Acting
Lori Loughlin began her career in show business at the age of 11, after she had developed an interest in acting when she was a child.
However, before she began to live her dream as an actress, she worked as a model, specifically a print model. It is difficult to tell how much she made as a model, but she worked as one for four years before she got her debut appearance as an actress at the age of 15 in the TV movie Too Far to Go.
She got her first significant role in 1980, in the show The Edge of Night, playing the character, Jody Travis over the course of four years in 147 episodes.
Lori Loughlin made appearances in several other projects, from films to television, such as Back to the Beach, Empty Cradle, The Night Before, and a couple of others before she got one of the most defining roles of her career and a significant contributor to her net worth.
She began playing Rebecca Katsopolis in Full House in 1988, and she played the character in 152 episodes across seven years. She reprised the role in the Netflix show, Fuller House, a show she was starring in before the scandal broke. Other long-running projects that have helped Lori Loughlin to her wealth include In Case of Emergency, 90210, When Calls the Heart, and several others.
So far, she has appeared in more than 80 films and TV shows, an extensive filmography that has not only made her rich but also fetched her a couple of awards and nominations like the Teen Choice Awards, Daytime Emmy Awards, and Prism Awards.
Producer
Aside from earning several paychecks for her work in front of the camera, Lori Loughlin has also made her $20 million net worth from her work behind it. She is a producer and made her debut as s producer for the show, Summerland. However, her most prominent work as a producer is the film series, Garage Sale Mystery. She has produced more than 13 of them since she produced the first Garage Sale Mystery: All That Glitters in 2014.
Other produced works include more than 40 episodes of When Calls the Heart and Every Christmas Has a Story.
Lori Loughlin's Net Worth since Fuller House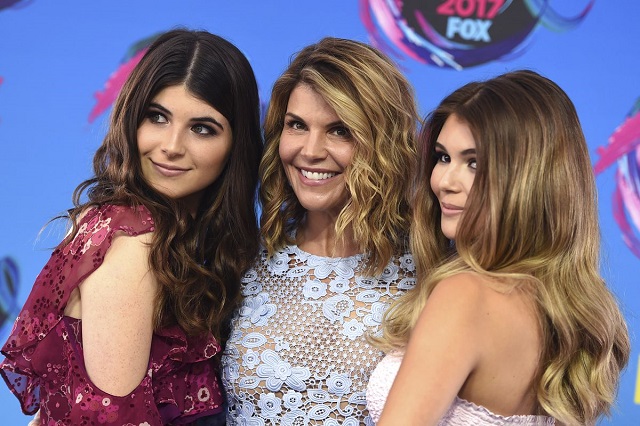 While Lori Loughlin had made a name for herself before joining Netflix's Fuller House, her exact net worth before she began to reprise her role as Rebecca Katsopolis is unknown. However, what we do know is that the Netflix gig was a significant contributor to her overall net worth.
Her exact salary on the show is unknown, but co-star Jodie Sweetin earned $26,000 per week on the show, and even though Lori has a smaller role on the show compared to Jodie, she earned a significant amount over the course of her 13 episode appearances on the show.
How Does Lori Loughlin Spend Her Money?
Lori Loughlin spends her money on the things you would expect a woman with her fortune to spend on. Real estate, courtside seats at basketball games, luxurious vacations, luxury cars, and a robust wardrobe are just some of the things Lori Loughlin spends on.
She and her husband live in a mansion worth an estimated $35 million. The mansion is located in Bel Air, and they have been living there since 2015 when they bought it for $14 million.