For nearly four decades, the ever-gorgeous Lori Loughlin has delighted audiences with her performances on television and film. Whether she's displaying her dramatic chops or her comedic talent, Lori is always a delight to watch. Beyond her acting career, she has also found incredible success as a producer and model. She has one of the most robust portfolios in Hollywood thanks to the lengthy and distinguished career she has had as an actress. Lori has been featured in over 70 feature films, television series, and made for TV movies, all of which have helped her become something of a household name. Lori's most notable appearances include roles in the hit television sitcom Full House, and its sequel Fuller House, as well as When Calls the Heart, 90210, Summerland, The Edge of Night, Garage Sale Mystery, The Night Before, Hudson Street, and Back to the Beach.
The blonde beauty is one of the most popular faces in Hollywood, so every aspect of her life attracts attention from fans, paparazzi, and the media. Lately, Lori Loughlin's relationship has come under a lot of scrutinies, mostly because of the cheating scandal controversy that she has been embroiled in. We've put together everything there is to know about Lori Loughlin's weird and alluring marriage to Mossimo Giannulli and where their union currently stands.
How Did Lori Loughlin and Mossimo Giannulli Meet?
The Summerland star met the fashion designer and entrepreneur in 1995, in a Los Angeles restaurant. They became instantly drawn to each other and knew from that very first meeting that they were meant to be together. At the time, Lori was still married to her investment banker husband Michael R. Burns, but their marriage was headed for divorce. According to Lori, nothing went wrong in her first marriage, she just felt in her gut that Michael wasn't the one for her, so she divorced him in 1996, after a 7-year marriage. Interestingly, Mossimo was also wedded to someone else when they met, but he broke things off.
Lori and Mossimo began dating despite their domestic situations at the time, and they took their love story to the next level two years after they first met.
They Had a Very Unusual Wedding
Glitz and glam is a huge part of any wedding, especially celebrity weddings, but Lori and Mossimo didn't have any of that. They were simply talking about how lowkey they wanted their wedding to be when they decided to just elope and get married without fuss. Lori and Mossimo tied the knot on Thanksgiving Day in 1997, wearing sweatpants and ski hats, with only the groom's best friend and a minister in attendance.
Afterward, they went for Thanksgiving dinner with their respective families and broke the news to them. Who needs a big wedding when you have love, right?
Lori and Mossimo celebrated their wedding anniversary on the wrong date for 20 years. Yeah, the accomplished actress revealed during an interview that she and her husband had been celebrating their anniversary wrong for 20 years before they realized their mistake. They only discovered the error after Lori had dinner with fellow actresses Marilu Henner and Candace Cameron. Henner has hyperthymesia, a condition that allows her to remember practically everything that has happened every day of her life, and it was she that pointed out that Lori had the dates all wrong.
Lori's Turkey Day wedding had taken place on November 27th, but they had been celebrating their anniversary on November 25th, the date on their marriage certificate.
See Also: Is Diane Lane In a Relationship Now After a Failed Marriage to Josh Brolin?
Is Lori Loughlin Still Married to Mossimo Giannulli?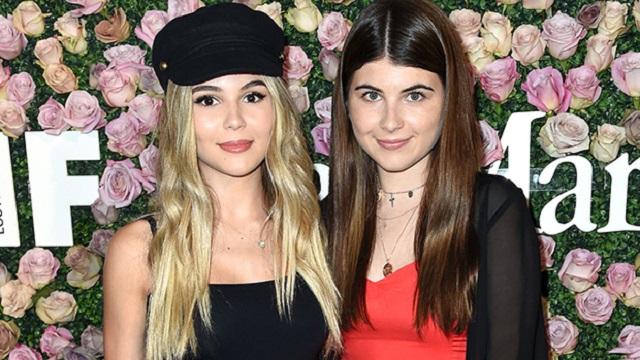 Since news of a college cheating scandal broke, Lori Loughlin and her husband Mossimo Giannulli have been having a hard time in their marriage in addition to facing money laundering, mail and wire fraud, and bribery charges for their involvement. Rumors have been going around claiming that the couple had split up or were planning to separate. However, this has proven false.
Lori is still married to her husband Mossimo Giannulli, and she has no intention of leaving him, nor him her. The couple has been married for nearly 22 years, which is a rare feat for a celebrity marriage and they are still committed to keeping their vows to each other. As far as the lovebirds are concerned, it's not over until death do them part. They are standing by each other through these trying times. Lori and Mossimo have two beautiful daughters, Bella Rose and Olivia Jade Giannulli.