In the history of American entertainment, there has been a good number of relationships that have made both the public and members of showbiz take a skeptical stance. One of such is that of Lori Harvey and Diddy. There are a few reasons the world hasn't gone all-in on their relationship, it spans from their age difference to their relationship history. But it all doesn't seem to matter for the couple, even in the light of the rumors about Lori being pregnant for Diddy. Amidst all the speculations that have been made, below is everything you need to know about what has been going on between Steve Harvey's daughter and the American rapper.
Background Details of Lori Harvey and Diddy
Before getting into the nitty-gritty of this complicated relationship, it is important to familiarize ourselves with those involved, let's start with Lori. She is a model who has walked for fashion brands like Dolce & Gabbana and Pretty Little Thing. She is the stepdaughter of iconic comedian and TV host, Steve Harvey. Lori was born on the 13th of January 1997 in Memphis, Tennessee. Her mother is Marjorie Elaine Harvey.
While she is currently in a relationship with P. Diddy, Lori Harvey has been in a relationship with a number of famous personalities such as Memphis Depay, a soccer player whom she was briefly engaged to in 2017. She has also been linked with Trey Songz, and most importantly, she reportedly dated Diddy's son Justin Combs. This is another reason many are uncomfortable with her being in love with Diddy.
Diddy, on the other hand, is a well-known American personality; if you follow hip-hop or business news, you don't need to be told who he is. He is one of the richest hip-hop personalities in the world and he made a majority of his wealth through his career as a producer and a rapper.
Also known as Sean Combs, he owns a record label (Bad Boy Entertainment) and has released five studio albums, 72 singles, with several of them going platinum or gold. As a businessman, he is the head of Comb Enterprises which comprises of a range of businesses like the restaurant, Justin's. He also owns a clothing line (Sean John), TV network (Revolt TV), and a major stake in Ciroc vodka among others.
As for relationships, Diddy who was born in November 1969 has never been married but has been in two major relationships, one with Kimberly Porter between 1994 and 2007 and another with Cassie Ventura between 2006 and 2018. He is also the father of six children.
Is Lori Harvey Pregnant for Diddy?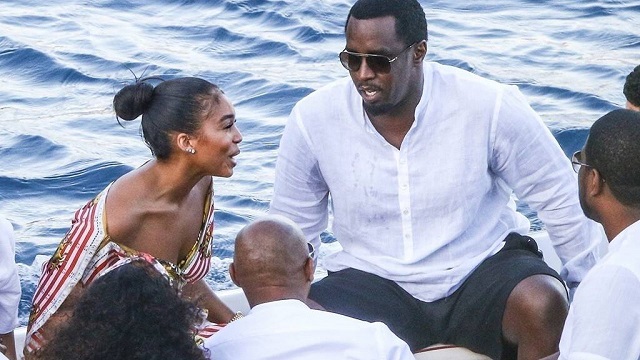 Earlier in March 2019, rumors of Lori Harvey and Diddy began to swirl as paparazzi and fans spotted them together at choice locations in Miami. While the rumors were denied, their appearances in public together began to lend credence to the fact that they are dating. It certainly didn't help that they were once seen wearing matching outfits.
As time passed, more evidence of a possible relationship between Lori and Diddy came to light. For most people, all doubts were cleared when the rapper was spotted on a vacation with Steve Harvey and his family.
Considering the massive age difference of 27 years, along with the fact that Lori Harvey used to be in a rumored relationship with Diddy's son, there are a lot of reasons to be skeptical about their relationship but it doesn't appear to matter to either of them, so much that pregnancy rumors began to swirl.
A return from a vacation to Mexico by Lori Harvey and Diddy sparked pregnancy rumors when Diddy was spotted rubbing her belly a few times. So far, despite attempts at confirming the validity of the assumption, neither party has made a statement to deny or confirm the rumor.
See Also: How Steve Harvey Built His Media Empire and a Net Worth of $160 Million
For all we know, Lori Harvey might truly be pregnant or that gesture may simply have been a reaction to a conversation about a big lunch or stomach ache. One thing is for sure, if it turns out to be true, we will know in the next few months.