Few American presidents have been able to come to power with the buzz and excitement that Barack Obama generated. The 44th President of the United States, who was born to a Kenyan father and a Kansas mother, achieved the ultimate American dream by rising to the very top through hard work and perseverance, thus giving hope to the common man. His story was even more compelling because unlike most other occupants of the highest office in the land, he was not a veteran, had never held executive office, had no financial war chest, or a famous last name. All he was armed with was his story and a promise of hope. Two terms of four years later, the Obama Presidency has been able to leave a legacy that will be discussed for years to come.
What will the Barack Obama Presidency Be Remembered For?
LGBT Rights
The Obama presidency saw a massive increase in LGBT rights and freedom as he was the first serving U.S president to support same-sex marriage. As president, he repealed laws that prevented openly gay and lesbian people from serving in the United States Army. He also signed an executive order against the discrimination of federal contractors on the basis of sexual orientation.
Health Care
Perhaps the biggest legacy of the Obama administration is his affordable health care act which has since been dubbed Obama Care. This piece of legislation gave health insurance to about 20 to 24 million Americans who were previously uninsured. The plan has, however, come under heavy criticism because of the spiraling cost of deductibles. Many Americans have also raised concerns about the overall cost and see it as too much expansion of government.
Green House Emissions
President Barack Obama also worked aggressively to combat climate change and reduce carbon emissions. During his time in office, there was a 12% reduction in Greenhouse gas emissions in the U.S. On the international scene, he struck agreements with the Chinese to mutually work to reduce emissions. He also enacted a regulation to reduce the country's reliance on coal as a source of energy.
Cushioning Effects Of the Global Financial Crisis
Obama came into office just as the world was grappling with the financial crisis of 2008. He is credited with helping jump-start the economy with his $787 billion economic stimulus package. Though slow, the economy bounced back with improvement in job numbers and general output.
Foreign Policy
The Obama presidency had a mixed bag of foreign policy successes, depending on what lens you view it from. His Iran deal, which was opposed by Isreal and congressional Republicans, got the Middle-Eastern country to commit to limit its nuclear program and allow foreign inspectors into the country in exchange for a reduction in sanctions. Obama is also credited with the crackdown and killing of Osama bin Laden.
Farewell and Retirement Into Private Life
Barack Obama's presidency came to an end on January 20, 2017, when his successor was inaugurated. He bid farewell to the nation and implored it to be cautious and its protect democracy. Clearly emotional, Obama highlighted his achievements of the last eight years, ranging from health care reforms to marriage equality, as he further promised that his work wasn't finished.
While speaking before an uncontrollable crowd of supporters, Obama was constantly interrupted with screams of "I Love you Obama." There were also bursts of "four more years" chants.
After speaking of his achievements, a teary-eyed Obama lauded his wife and children. His voice quaked as he described his wife's service, praising her for taking up a role she didn't ask for and making it her own with grace, grit, style, and good humor.
Just like her husband, Michelle Obama also articulated a more candid view of her time in the White House in a scaled-back version of her own farewell. She became emotional during her final set of formal remarks at the White House. With her voice quaked and eyes welling with tears, she told a crowd of educators: "I hope I made you proud."
Read Also: 15 Richest American Presidents Who Made The Most Money In History
The Michelle and Barack Obama Love Story: A Tale of Chicago Romance
The Obamas were a distinct departure from the very conservative Bushes, and the scandal rocked Clintons. They are probably the most glamorous and most widely-loved couple to have ever graced the White House since the Kennedys, holding a spell-like charm on the American public.
During the Obama presidency, the first couple ensured that they were incredibly stylish, exuded charisma, and had genuine happiness that was infectious. They were in love and were never ashamed to show it off. PDA's were the norm, and America fell in love with their love. Their kids were never far away with the exception of a few indiscretions. Regardless, the family of four teamed up to show what a modern, well-grounded family should look like.
How It All Began
Barack and Michelle's love story began in 1989 when they met at the Chicago law firm, Sidley Austin. Barack was a young Harvard summer intern who Michelle was asked to serve as his adviser. The young man then asked her out on a date but she repeatedly declined. She would, however, later accept his offer and they went sightseeing and saw a movie at the Harper Theatre in Chicago. 
The duo went on to date for the next three years before getting married on October 3, 1992. They later had two daughters; Malia and Sasha.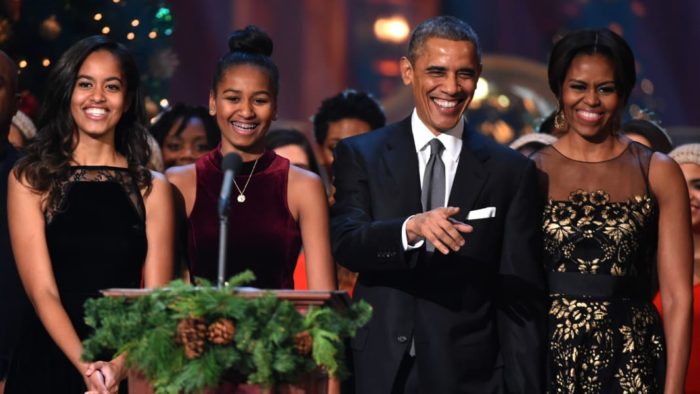 The Secret to Their Longevity
Strong communication, trust, and respect are some of the things that have allowed the love between the pair to blossom. Obama has been on record saying his desire to enter politics did not go down well with Michelle initially. After much persuading, she agreed to it on the condition that he would give up smoking, which he later did.
Barack credits her for her strength, as she was at one time the breadwinner for the family. On the campaign trail, the couple's intellectual compatibility was evident for everyone to see as she was always the one he would sound off his ideas on and she would subject them to rigorous intellectual analysis before he faced an opponent. In his memoir, Audacity of Hope, Barack says he is grateful he doesn't have to run against her in an election because she would beat him quite easily.