Criminal Minds might be the show that Lola Glaudini is most known for, but aside from it, she has starred in far bigger and iconic shows such as The Sopranos and Agents of Shield. Lola is part of a long list of actors and actresses who found a sweet spot in Television, appearing in multiple episodes of a show and making a name for themselves in the process.
For her, that show was Criminal Minds, and she was set to star in it far longer than she did until she left abruptly in a manner that has caused many fans of the show to wonder why she left. The answer to this, along with other juicy information about her life, career and how she got to where she's now are answered below.
Synopsis of Lola Glaudin's Background and Career
Lola Glaudini is a notable actress and perhaps it was inevitable for the actress, having been born to the notable playwright, Robert Glaudini – drama was simply coursing in her veins. She was born to the legendary actor on the 24th of November 1971 in Manhattan, New York. Her mother, who was married to Robert at the time, is Nina Diane Kapler. The marriage between her father and her mother makes Lola Glaudini an Italian, Russian Jewish and Ukrainian Jewish.
Glaudini started acting right from her childhood days and even earned her first acting award as a child – a Drama-Logue award for Best Actress for a play, The Poison Tree, which was written by her father. Despite the early start to her life as an actress, Lola still completed her education, up to college level, graduating from Bard College.
Her first onscreen role came in 1996 at the age of 25 when she starred in the film, Without a Map as Anna. It was her debut film on the big screen and she followed it up with a debut on the small screen in NYPD Blue as Dolores Mayo. She played the role between 1996 and 1999, appearing in a total of 22 episodes.
Over the course of her career, Lola Glaudini has outside of acting appeared in a couple of commercials and was named one of Entertainment Weekly's 100 Most Creative People in Entertainment in 2000. As an actress, she has starred in over 55 films and television shows, with appearances in several notable ones like Ray Donovan in 2018, Agents of Shield in 2016 to 2018, The Expanse in 2015, Criminal Minds in 2005 to 2006, The Sopranos (one of her best), where she played an FBI agent named Deborah Ciccerone. In films, she has played roles in The Awkward Moment, Blow, Groove, She's in Portland, and a couple more others. Lola has also produced a short movie titled New Year, which was released in 2006.
Of all her notable acting roles, it's her starring on Criminal Minds that has been the most talked-about even though she didn't stay too long on the series. It all began when Lola left the series.
Why Did Lola Glaudini Leave Criminal Minds?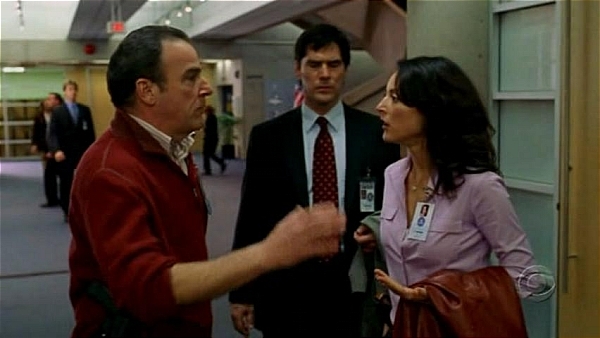 The fictional character of Elle Greenaway from the Criminal Minds (CBS crime drama) was portrayed by actress Lola Glaudini throughout season one and the early part of season two. Before she became part of the Behavioral Analysis Unit (BAU), Lola's character was working with FBI's field office in Seattle, particularly the squad that specialized in profiling sexual offenders – a skill which came in handy when she was eventually assigned to the BAU.
For one year Lola Glaudini's character was relatively successful with the Behavioral Analysis Unit, working harmoniously with her colleagues, contributing her quota to cracking cases, and apprehending the miscreants responsible for those crimes. Her character was thriving from the beginning of the first season till the end; however, the onset of the second season came with some issues that resulted in Lola Glaudini leaving the show and getting replaced by actress Emily Prentiss. Lola appeared in a total of 28 episodes prior to her departure in 2006.
After Lola Glaudini exited Criminal minds, the obvious question on the lips of fans and the general public was why did she leave? According to speculations, the New York-born entertainer took the difficult decision to exit the show because she was reportedly unhappy living in Loss Angeles. The rumors went ahead to state that she was homesick and wanted to move back to the  East Coast. Though these speculations were carried by some media outlets, it may not be anywhere near the truth of the matter as neither Lola nor the officials of the show came up to officially clear the air. Thus we remain in the dark as to the true reasons she had to call it quits with the show.
Review of Her Criminal Minds Character and the Reaction of the Series' Audience 
Though Lola didn't spend a long time on the show, several viewers couldn't stand her character one bit. According to some fans of Criminal Minds, Elle Greenaway was totally biased, always whiny about everything and forever blaming other people for her own errors. Besides, her viewpoint on everything was also biased and she never stopped praising herself for any little achievement she makes.
Many fans actually voiced their annoyance about her role, they took her actions to be totally out of character and her entire arc at the end didn't help matters. According to the viewing public, Elle Greenaway did not handle being the victim well enough which altered her character forever. The way she was portrayed as the victim completely unraveled her.
Fans also perceive Lola Glaudini's character as pretentious, saying she never contributed much to the BAU as a member. We wouldn't be far from the truth if we mention that she was everyone's least favorite team member making people to be prejudiced against her. Many saw her as a character that was not adding any relevance to the Behavioral Analysis Unit. In fact, there are viewers that have confessed to muting their TV sets when she appears on-screen which reveals how deep the dislike runs. It was that bad!
See Also: Alisha Wainwright – Bio, Celebrity Facts and Everything You Need To Know
An Overview of Her Earnings and Net Worth
Lola Glaudini has been able to rack credits in over 50 films and television shows, a lot of which have been successful films and shows, like Criminal Minds and That Awkward Moment, which made over $40 million on a budget of $8 million.
With several recurring roles across many shows, earning an average of $150,000 per episode, along with her earnings from her film appearances, Lola Glaudini has an estimated net worth of $2 million.
Meet Her Spouse – Stuart England
In Hollywood, you don't often get long-lasting relationships or marriages. Couples with lasting relationships exist as part of a minority and Lola Glaudini is one of them. She has been married to Stuart England since 2005.
Stuart England's work as a jewelry designer has not earned him a place in the limelight yet, however, his relationship with the Criminal Minds star places him in the same position as people who have achieved popularity by association. Despite that, the man seems to prefer to stay well away from prying eyes since we cannot lay hands on any personal information about him; besides, he seems to have the support of his wife on this since she rarely reveals facts about him.
England dated Lola for a couple of years before they deciding to exchange marriage vows in front of their family and friends in 2005. Since then, they have shared the joy, companionship, and blessings that come with marital life, including the birth of two children – Valentino England and Montaigne England who are all boys. The two boys are all grown now and love sports; they love to attend sports competitions and show their support to their favorite sports clubs.
The family lives in Brooklyn, New York where Lola Glaudini tries to keep her family away from the spotlight.