Logic is a gifted American rapper known for his rapid-fire flow and avowedly, maybe performatively—nerdy aesthetic. Despite being a high school drop out and coming from a family with parents who were cocaine and alcohol addicts, the rapper has been able to put his talent to good use, achieving remarkable success within a short time of breaking into the music industry.
He became interested in music in his teens and launched his career in music in early 2009 and the following year, he released Logic: The Mixtape and a mixtape titled Young, Broke & Infamous. This was followed by the release of three other mixtapes over a period of three years after he signed with Visionary Music Group. Subsequently, Logic released his critically acclaimed fourth mixtape titled Young Sinatra: Welcome to Forever in 2013 and this paved the way for him to secure a recording deal with Def Jam Recordings. As of September 2018, he has recorded four studio albums to his credit.
In addition to being a rapper, Logic is also a songwriter, record producer, and author. Through his novel Supermarket, the talented young man became the first rapper with a New York Times' number one best-selling book.
Early Life
The American musical artist was born as Sir Robert Bryson Hall II on 22nd January 1990. His birth took place at Shady Grove Hospital in Rockville, Maryland. His mother is white while his father, Robert Bryson Hall, is an African-American from Maryland. People who do not know the story of Young Sinatra, as Logic affectionately refers to himself, would easily conclude that he grew up in the suburbs and was raised in a rich family where dad and mom provided him with everything he wanted but that is very far from the truth.
Growing up on Section 8 housing, in Maryland, the rapper's father was a cocaine addict, his mother was not only a drug and alcohol addict but was also into prostitution while his brothers produced and distributed crack to a lot of addicts, his father not excluded. As a result of the kind of life his family members lived, living in his household was a torment, according to the rapper. There were guns in the house, constant screaming, blood spilling and arguments between his mom and other men.
Worst of it all was the high level of racism he experienced from his mother, who would, in a fully prejudiced way, call him a nigger as a child and even attempted chocking him to death. The relationship between Logic and his father was not any better. He was absent from his life during his childhood but they reconnected when his music career began to grow.
As a result of the unstable environment he was raised in, Sir Robert's education was affected. He was placed in a class meant for children with behavioral disorders sequel to his mother's visit to his school. However, having decided to homeschool him, she withdrew him when he was in 5th grade but it turned out to be a flop. Upon the intervention of social services, Logic went back to school to continue from 8th grade at Gaithersburg High School in Maryland. Sadly, he was expelled in his 10th grade after he started skipping classes and consequently began doing badly, failing every class except English.
Music Career
Logic's interest in rap and hip-hop was kindled when he was 14 years old after he watched Quentin Tarantino's movie Kill Bill: Volume 1. The movie's score was produced by a member of the Wu-Tang Clan hip hop group known as RZA and after watching the movie, young Logic began to listen to the group and fell even deeper in love with hip-hop. A year before this time, he met Solomon Taylor, who eventually became his mentor and inspired him to start writing lyrics over instrumental beats.
In 2009, Robert Bryson Hall performed for the first time under the stage name 'Psychological'. He later released his first unofficial mixtape titled Psychological – Logic: The Mixtape and this paved the way for him to serve as the opening act at different shows across Maryland for popular artists like Pitbull, Redman, EPMD, Ludacris and Method Man. Not long after, the rapper shortened his stage name to "Logic".
Having received the introductory experiences he needed, Logic released his first official mixtape titled Young, Broke & Infamous, on the 15th of December 2010. The mixtape, which was downloaded more than 250,000 times on DatPiff, received positive reviews, established Logic as a fresh talent in the industry and resulted in him being signed by the independent label known as the Visionary Music Group.
This was followed by the release of his second mixtape, Young Sinatra (2011), which was the first of his Young Sinatra trilogy. Released to critical acclaim, the mixtape earned him a good level of exposure on different publications. Following the success of his first two official mixtapes, the rapper's third mixtape, Young Sinatra: Undeniable was released on April 30, 2012. Sequel to the release, he rounded off his first national headlining tour, the Visionary Music Group Tour.
In May 2013, the third installment of the Young Sinatra trilogy was released. Praised by both fans and critics, the mixtape titled Young Sinatra: Welcome to Forever was downloaded more than 700,000 times and was promoted with a headlining national tour, 'Welcome to Forever Tour' which lasted for two months.
On the 15th of April 2013, it was reported that Logic had moved over to Def Jam Recordings under which he released his debut studio album Under Pressure on October 21, 2014. Following the success of the album which contained the critically acclaimed singles Under Pressure and Buried Alive, he appeared for the first time on television on The Tonight Show Starring Jimmy Fallon and thrilled the audience with a performance of the song I'm Gone.
The singer released his second studio album, an experimental album tagged The Incredible True Story, on November 13, 2015. The album has a running storyline that flows through the singles Young Jesus, Like Woah and Fade Away. His fifth mixtape, Bobby Tarantino, which was released on July 1, 2016, on the rapper's Twitter account, included his very first solo Billboard Hot 100 charting single, Flexicution.
On May 5, 2017, the talented young man released his third album titled Everybody, which debuted at number one on the US Billboard 200 and followed it up on September 28, 2018, with the release of his fourth studio album, YSIV. He also plans to release another album named Ultra 85 at a yet to be known date.
Net Worth
Having been active and successful in the music industry since 2009, it is no surprise that the prolific singer and rapper has also made a lot of money doing what he loves to do. He has an estimated net worth of $10 Million to show for his years of hard work. He made a major part of his net worth through his music career and the other from selling his New York Times best-seller novel Supermarket (2019).
Wife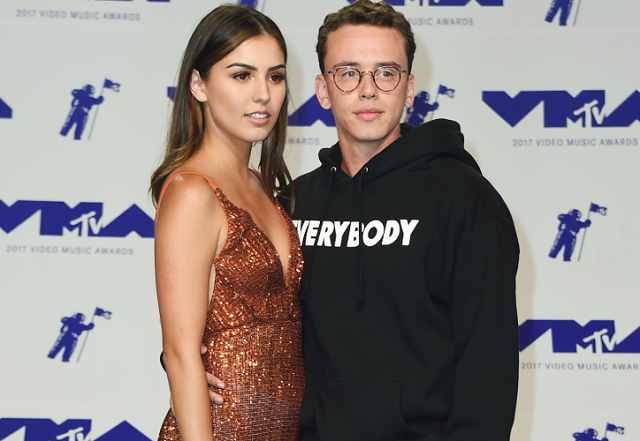 Logic has been married once to a beautiful lady named Jessica Andrea. He dated Jessica, a singer and popular social media personality, for two years before they tied the knot on the 22nd of October 2015. Sadly, their union lasted only two years and a few months before they parted ways.
News of their official separation was broken by Logic on March 20, 2018, and on April 19, 2018, he filed for divorce. That notwithstanding, the two still remain friends and have chosen not to reveal the reason behind their failed marriage.
See Also: Erick Brian Colon – Bio, Age, Height, Facts About The Singer
Quick Facts
Growing up with brothers who produced crack cocaine, Logic says he can also manufacture it accurately.
Just like the rest of his family members, the rapper also smoked marijuana from the time he was 13 and was addicted to cigarette. However, he eventually gave up marijuana and alcohol, except for an occasional glass of champagne, but could not stop smoking cigarettes until around 2014.
In a bid to face his music career squarely, Logic had to end a relationship that had lasted for five years in 2009.
The artist was featured in the XXL magazine's "Top 10 Freshmen List" in early 2013.
Although he believes in God, he is not religious, thanks to his mother whose religious over-zealousness disgusted him to the point that he avoids religious fanaticism.
Fact Check: We strive for accuracy and fairness. If you see something that needs updating,