To a majority of the traffic on YouTube, it is simply a source of entertainment and a place to learn. However, for a select minority, YouTube has become a place of work. A place to express their creativity and provide their audience with fresh content in order to make some money. Since she was introduced to the platform by Lance Stewart, Lizzy Wurst has become one of the top YouTubers on the video sharing website.
The transformation from novice to professional can sometimes be very swift and that has been the case for Lizzy Wurst who now has one of the top channels on the video platform. Her YouTube channel is filled with videos about comedy, lifestyle, pranks, and vlogs. It is a marriage of different interests that has made her an attraction for a wide audience.
To those who might not be familiar with who Lizzy Wurst is, keep reading to learn more about who she is and to learn five interesting facts you about her.
Who is Lizzy Wurst?
The phrase 'you are the worst' is a common compliment or insult among millennials, depending on the relationship with the receiver; however, when someone says 'you are the worst' to Lizzy Wurst, the intention is most likely an affirmation of her growing brand on YouTube and other social media pages.
Born on the 22nd of July, 1998 to Tom Wurst and Maria Wurst, Elizabeth 'Lizzy' Wurst's natural personality has always endeared her to people right from a young age. Before she was swept off in the digital world of YouTube, she attended Delsea High School in New Jersey and was raised along with her younger brother who makes the occasional appearance on her vlogs and other video content.
Sometimes, all it takes to transform our lives is the right knowledge and Lizzy Wurst got her transformative knowledge through her then-boyfriend, Lance Stewart who introduced her to the now-defunct social media platform, Vine, in 2014. Her social media career began on Vine before she made the transition to YouTube in 2016 as did almost every other Vine star.
Since she moved to YouTube in 2016, via her eponymously named channel 'Lizzy Wurst', she began uploading several video contents. She went viral when she uploaded a video of herself trying to eat the world's hottest pepper in 2016.
Today, Lizzy Wurst has over a million subscribers on her YouTube channel and has had over 94 million total video views. As mentioned earlier, her channel features different contents like vlogs, pranks, lifestyle videos, and several others.
She once had breast cancer
Surely, cancer in any form is a terrible disease and no one deserves it. Unfortunately, Lizzy Wurst had to deal with the threat of breast cancer for a moment in her life. In order to combat the possibility of the reemergence and the size of her breast, she went for plastic surgery to reduce her breast size.
She met her ex-boyfriend Lance Stewart in High School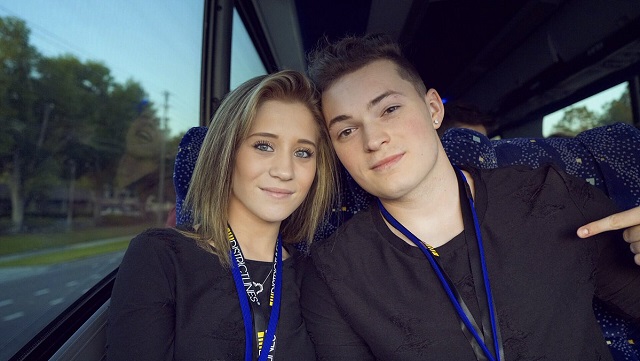 Well, every love story has a beginning and for Lance Stewart and Lizzy Wurst's story, it began in high school. After meeting him physically, although, without an interaction, she did the millennial thing and went searching for his social media account on Instagram where she messaged him and declared she found him cute. The constant interaction in school and on phone eventually led to a romantic gesture where Lance Stewart asked her to be his girlfriend in May 2013 and she replied with a resounding yes.
She has a huge social media following
Lizzy Wurst has a huge following on YouTube and it has reflected across Twitter and Instagram where she has combined followership of over 2m people. On Instagram alone, she has over 1.8 million followers.
She has a net worth of over $200,000
There is no record of Lizzy Wurst attending college but considering how much she is making per year, it might just be an unnecessary experience for the YouTube star. She is currently estimated to be worth over $200,000 and her YouTube channel analysis suggests an average annual income of $85,000.
See Also: Who Is Ricky Berwick, What Disease Does He Have?
Lizzy Wurst is short
Lizzy might standout in social gathering among young people due to her popularity but it will not be for her height. She stands at a short 5 feet and 1 inch with a petite body weight of 59kg.