Buddy Valastro has become one of the most prominent personalities in the food entertainment space of American Television and this is thanks to his show, Cake Boss. Also along with him on the whirlwind ride is his wife, Lisa Valastro, whom he has been married to for more than a decade. 
Compared to her husband, Lisa is not a popular figure but she is one of the regular faces at the family-owned and driven business, Carlo's Bakery, that appears on Cake Boss. In this article, we take a close look at her background, her marriage to Buddy and everything else you need to know about Mrs. Valastro.
Exploring Lisa Valastro's Italian-American Heritage 
Considering how popular the Valastro name has gotten thanks to Cake Boss, it would not be amiss to call Lisa Valastro a reality TV star even though her husband is the face of the show. Having established that fact, it is pertinent to note that Lisa Valastro was born on the 9th of March, 1979 in the United States of America. 
Her birth name is Elisabetta Belgiovine, and her parents are Italian migrants named Gloria Tomacco and Mauro Belgiovine. Gloria and Mauro are both originally from the town of Molfetta, located in the city of Bari, in the southern region of Apulia, Italy. 
When it comes to Lisa's early life and education, not much is known but she is believed to have studied to college level. She subsequently worked for LifeBankUSA, a biotechnology company, before her marriage to Buddy turned her into a reality TV star.
Her Dedicated Passion For Helping Others  
Lisa Valastro made her first appearance on TV in 2009 on Cake Boss. She has since appeared in numerous episodes of the show between 2009 and 2019 and has played a pivotal part in the show's success story. She has also made appearances on other cooking shows such as The Chew, Extra, Kitchen Boss, Rachael Ray, Home & Family, and a couple of others. 
Asides her work on TV, Lisa also keeps busy with many charitable pursuits. She and her husband support several worthy causes especially the welfare of sick children. In November 2018, the couple visited the Children's Hospital of San Antonio and delivered confectionaries to kids and families. Additionally, Lisa and her husband also hosted a fundraiser in Los Angeles in December 2018. The proceeds were also used to benefit the Children's Hospital of San Antonio. 
How She Fell In Love With Buddy Valastro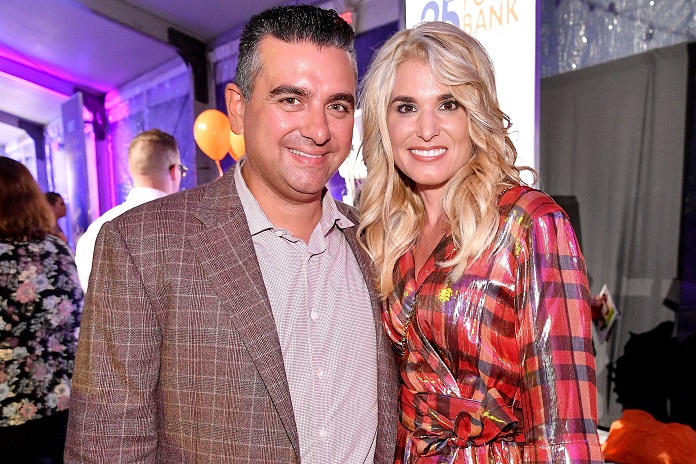 Lisa Valastro is happily married to Celebrity baker and reality TV star, Buddy Valastro. Born on the 3rd of March 1977 in Hoboken, New Jersey, Buddy baked his first cake at the age of 12 and took over his father's bakery at the age of 17. He made his debut onscreen appearance at the age of 28 and has since built an empire comprising of several TV shows and bestselling books. He has also grown his family's business from a one-location shop in Hoboken to a national and international franchise.
Back to the couple's love story, Lisa first met her husband through her best friend who happened to be his second cousin. The two friends often spent time watching Buddy and his pals, and Lisa slowly became attracted to him. She, however, did not act on this attraction until a chance meeting at the club two years later. She was 19 at the time, while he was 22, and they decided to explore their mutual feelings. They started dating and became quite enamored with each other. 
The couple however encountered some problems during the early days of their relationship. Buddy had to put in long hours at his father's bakery and as such, they couldn't spend much time together. Their dates were limited to late-night jaunts at the bakery but Lisa refused to be discouraged. She stuck through it and they tied the knot on the 14th of October 2001.  
Inside Lisa And Buddy Valastro's Multi-Decade Union 
Lisa and her man are now living the good life. Buddy is one of the most celebrated bakers in the world and has built a career that many of his peers can only dream of. His stardom has, however, not come without a price as Lisa now has to share her man with millions of fans all over the world instead of having him all to herself. The lady, however, tries not to take offense at this but rather works on keeping their romance alive. 
For instance, Lisa annually bakes a special cake to mark her husband's birthday. She has sustained this tradition for several years and in March 2019; she baked a three-tiered cake, featuring sprinkles, mini doughnuts, and cookies, to celebrate her husband's 42nd birthday. 
Buddy is also not slacking in the PDA department as he threw a surprise party for his wife in April 2018. In an emotional speech, the Cake Boss star revealed that even though they have had their ups and downs, he could not have achieved much without his wife. He also stated that she meant so much to him and there was nobody else that he loved more in the entire world. 
See Also: Is Cake Boss Canceled Or Is It Still On TV And When Will New Season Be Out?
A Glimpse Into Her Enviable Family Life 
Since they got married, Lisa Valastro and her husband have welcomed four children, comprising of three sons and a daughter. Their first child, Sofia Valastro, is their only daughter and she was born in April 2003. Their second child, Buddy Valastro Jr., was born in 2004 while their third child, Marco Valastro, was born in February 2007. The couple's youngest child, Carlo Valastro, arrived in 2011.
Lisa takes great care to ensure that her husband's fame/busy schedule does not take a toll on their kids. She treats them to sumptuous family dinners each night. These dinners provide an opportunity for them to know what is going on in each other's lives. It also serves as a veritable opportunity for bonding. 
Meanwhile, the Valastro kids have adjusted well to life in the spotlight. Sofia has featured on several episodes of her father's TV show. She is also a budding baker and once went viral for her ice cream cupcake. On the other hand, Buddy Jr. is an ardent fisherman and often shares his exploits with his 160,000 Instagram followers. The third child, Marco, is also quite popular on Instagram while the youngest, Carlo, is content to just appear on his parent's social media feeds.