Since Donald Trump became President of the United States, a slew of names and faces have gained popularity through various connections to him. Michael Avenatti, who became famous after he came out as a lawyer for the adult film star, Stormy Daniels, is one of those who are now widely known because of Trump. Since he got famous, there has been an increase in the attention given to him and those around him, including his ex-wife, Lisa-Storie Avenatti.
His marriage to Lisa-Storie Avenatti is the second one for the famed lawyer and just like his first marriage, it ended in a divorce. Why did the marriage end? Who is Lisa-Storie Avenatti? Learn the answer to these questions and other relevant information about her below.
Lisa-Storie Avenatti's Biography
Lisa-Storie Avenatti was born on the 18th of January, 1969, in California. Other than that, there is no other information about her childhood life, including the identity of her parents or siblings available to the public.
While it is certain she attended high school, we do not know the details of it but we know after graduation, she headed off to college where she bagged her first degree before earning her second, a Master's degree in Business Administration at The Paul Merage School of Business in the University of California.
With a high-level academic background and a ton of experience in her early days in the E-commerce and fashion retail industry, Lisa-Storie Avenatti has been able to build a successful career as a fashion entrepreneur.
She joined the company, Shopping.com in 1997 as the director of business operations, spending two years before she moved on to TheBigStore.com in 1999, in a higher position as Vice-President of International Business Operations.
The news of her talent and excellence continued to spread in the E-commerce world and soon, she was offered another position at PrimeBuyTown.com where she worked as general manager.
After several years of working for various companies in different positions, which included Spot Runner between 2005 and 2007, GSI Commerce between 2007 and 2011, she established her own company, Ikaria Resort Wear in February 2017 where she currently holds the position of Chief Executive Officer.
The company, as envisioned by Lisa-Storie Avenatti, is focused on providing luxurious resort wear. Other than the obligations and responsibilities of her role as CEO of the company, Lisa is also a board member of TRYP Technologies, Inc.
What Is Her Net Worth?
Lisa-Storie Avenatti's storied career in the E-commerce sector has earned her an estimated $1 million in personal net worth. However, her divorce from Michael Avenatti, who is considered to be worth an estimated $10 million, has entitled her to about $80,000 in child support from the lawyer, along with other luxuries like the ownership of a mansion in Newport Beach worth $17 million.
Who Are Her Husband – Michael Avenatti and Other Family Members?
A chance encounter in the first-class cabin of an aeroplane brought Lisa Storie Avenatti in contact with Michael Avenatti. They got acquainted and soon began to date each other. While we do not have specifics regarding when their relationship began, we know that they became husband and wife at a private wedding in 2011.
The wedding was the second for Michael Avenatti, having been married to Christine Avenatti Carlin for 13 years before an unfortunate divorce.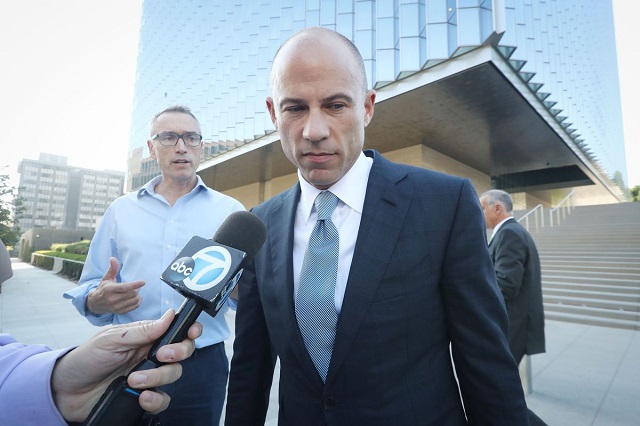 Long before Michael and Lisa-Storie Avenatti got married, they had a child, a son who was born in 2014. After their marriage in 2011, things remained fine in the Avenatti household until 2017 when Lisa-Storie filed for a divorce from the lawyer.
The divorce is believed to have been due to a breakdown of the relationship between the couple as a result of infidelity and domestic abuse on the part of the lawyer. Court proceedings of their divorce revealed both parties threw various accusations at each other but the divorce was eventually finalized in December 2018, giving both Lisa-Storie Avenatti and Michael Avenatti joint custody of their son and settlement on the part of Michael.
After the divorce, Lisa-Storie Avenatti has remained single while Michael Avenatti has been in a relationship with the actress, Mareli Minutti.
Other Facts About Lisa-Storie Avenatti
1. She is a big fan of Hollywood superstars, Angelina Jolie, and Will Smith.
2. Her ex-husband, Michael Avenatti, is a former professional sports-car driver.
3. She has a height of 5 feet 7 inches along with a body weight of 60kg. She also has dark brown hair and black eyes.