The professionally themed social networking platform has come a long, long way. From a largely unknown brand upon its foundation in December 2002, and through subtle inroads, the service has grown into a colossus of sorts. After attaining a one-million subscriber milestone in two years, and 10 million in 5 years, the platform now boasts of over 630 million members in 200 countries and 15,000 employees in its 33 global offices, as well as its headquarters in Sunnyvale California. These and other commendable growth indices are the reasons many have been asking questions about Linkedin's net worth. Let's discuss that while looking at how the outlet makes money for its owners.
How Much Is LinkedIn's Net Worth In 2019?
Microsoft finally acquired Linkedin at the cost of $26.2 billion in December 2016. At this cost, Microsoft was paying a whopping $196 per Linkedin share which, in turn, represented a 50% premium over Linkedin's last closing price on the floor of NYSE. As widely reported, this is also Microsoft's biggest buy ever. When the deal was announced six months earlier, the perception among many analysts (such as the Forbes' contributor Peter Cohan) was that the investment was ill-considered, a waste of money. One of the reasons commonly adduced for this point of view is that the professional social media sector had lost considerable market share over the last fiscal year, leading to investors withdrawing 44% of their funds from Linkedin's market capitalization only months before the acquisition took place.
However, just after two full quarters under the administrative roof of Microsoft, Linkedin moved from being Microsoft's most expensive deal ever to one of its fastest-growing businesses. It pulled in a $976 million revenue in its first full quarter after the acquisition and $1.3 billion in the second quarter. This drew the positive attention of investors back to not just Linkedin but also the corporate social media sector at large. This has therefore increased the worth of Linkedin in the eyes of investors. So, although the company's stock remains stable at $195.98 at press time, there are indications that the overall perceived value of the company itself has received a great boost.
One obvious reason the worth of the company was bound to receive a facelift after the acquisition deal was Microsoft's Midas touch. Investors were expected to bank on Microsoft's profile as a well-grounded company. It was also expected that Microsoft had all it would take (in terms of the fund, manpower, and all) to steer Linkedin out of the doldrums and into profitability. But, what exactly is Linkedin's net worth? While we do not have the precise figures to show to this effect, let us try a different approach to enable you to assess the health of Linkedin and make assumptions about its future: let's see how Linkedin makes money for its owners.
SEE ALSO: How Much Is Facebook Worth in 2019 And How Do They Make Their Money?
How Does Linkedin Make Their Money?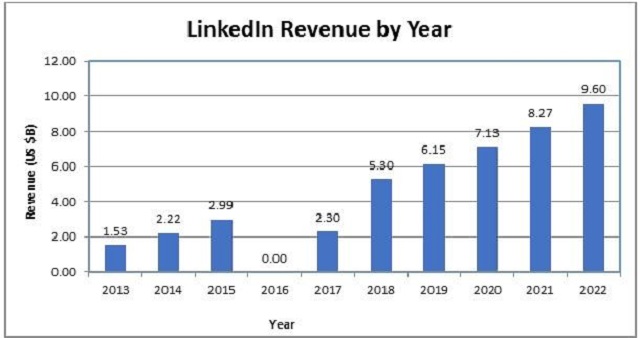 According to Linkedin's latest 10-k Report to the US Security and Exchange Commission (SEC), they make their money via recruitment services, advertising/for-pay research services, premium subscription, and learning services:
Recruitment Services
More than a fair share of Linkedin's worth and yearly earning have accrued from their recruitment services dubbed Talent Solutions, where they help companies to attract quality workforce through a monetized system.
Advertising and For-pay B2B Research Services
Linkedin is particularly noted for its suitability for B2B marketing. So, it leverages on that to sell suitable advertising to the professionals in its network. At the onset, the platform served Google ads. But in 2008, it launched its own Linkedin DirectAds. Their sponsored updates – a content ad platform – was launched five years later. Similar to advertising, Linkedin's over-600-million strong subscriber base also provides an awesome opportunity for B2B market research by marketing professionals and Linkedin has monetized that too.
Premium Subscriptions
The basic membership level on Linkedin is totally free of charge. However, the platform also provides opportunities for members to pay for more enhanced levels of user experiences, such as the ability to send inbox messages or to contact people outside the circle of members' professional networks.
Learning Services
Linkedin is further maximizing its niche by offering an opportunity for professionals to undergo courses on their platform. Dubbed Learning and Development (L&D), these courses are aimed at increasing the market value of professionals through the acquisition of new skills and awareness. Although this is not generally considered a major source of revenue for Linkedin, it has gradually and increasingly garnered market share over the years.

Fact Check: We strive for accuracy and fairness. If you see something that needs updating,