If you were a fan of the U.S mockumentary series, The Office, which aired on NBC from 2005 to 2013, then Lindsey Broad does not need so much introduction as she wowed many of us playing Cathy Simms, the young and attractive lady that stood in for Pam while she was on maternity leave. This is not the only TV series that she has appeared in which has endeared her to audiences around America, she has appeared in several others like 'Til Death, which aired from September 2006 to June 2010.
She also featured in the HBO series titled Hello Ladies, alongside Stephen Merchant and as Karen Rosenberg on Benders, an IFC series that got canceled in 2015. These are just a few of the intriguing facts that are there to know about the Hollywood actress.
An Overview of The Actress' Background
Lindsey Broad was born in the United States, New York to be precise, on the 8th of December 1983. It is noteworthy that despite being a public figure who has featured in several TV series and films, the actress has managed to keep information about her background out of public reach. For instance, the details of where she spent her childhood as well as the identity of her parents and siblings, are currently unknown.
Although very little is known about her early days, we do know that Lindsey attended the Pennsylvania State University where she graduated from in 2006 having bagged a degree in Theatre. Shortly after that, she kick-started her acting career. Apparently, she had always had some interest in being a part of the make-believe world.
How Lindsey Broad Got Into Acting
Lindsey Broad began her acting career back in 2006 when she got a chance to feature in a web series titled The Burg. She continued taking part in this web series through which she worked on growing a fan-base until 2009.
In 2007, while still working on The Burg, Lindsey took up a role in Gossip Girl, a popular American teen drama TV series. In the same year, she was chosen to interpret the role of Rachel in Without a Trace, a police procedural television series. The budding actress proceeded to appear as Lucy Benjamin in Ghost Whisperer, a supernatural TV series in 2008 before taking up another role as Allison Stark in the sitcom 'Til Death.
Despite starring in these TV series, it was not until 2011 that Lindsey Broad finally recorded her big break in the movie industry; she landed the role of Cathy Simms, a flirtatious temp in The Office. She filled in for Pam who was on maternity leave at the time and to the amazement of many, she came back the next season. The sitcom launched Lindsey into a new kind of popularity that introduced her abilities to a wider audience. Her fan-base grew larger and her ability to expertly interpret her script were hailed. To date, she is best known for her appearances in that show.
Since her appearance in The Office, Lindsey has appeared in other television series such as Hello Ladies (2013), Zoo (2015), Benders (2015), Blindspot (2016), Last Week Tonight with John Oliver (2016), and Kevin Can Wait (2016).
Apart from landing roles in television series, Broad has also had appearances in films. The actress has starred in movies such as Get Him to the Greek, a 2010 comedy film. She has also appeared in 21 Jump Street, a 2012 buddy cop action comedy movie; and Don Jon, a 2013 romantic comedy-drama film. Her most recent project is the CW comedy series titled In the Dark, where she is starred as Chelsea.
READ ALSO: Emily Procter Biography, Husband, Children and Family Facts of The Actress
The Love Story of Lindsey and Sean Bradley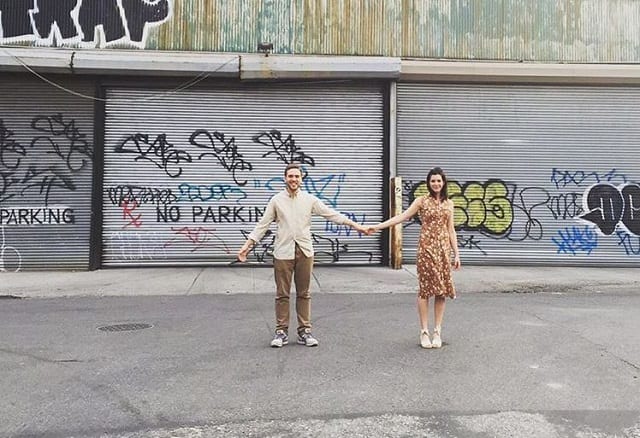 The beautiful actress who stands at the height of 5′ 6½" and weighs about 55 kg has been married to the man of her dreams since July 2014. The duo took an oath to stay together on the 5th of July 2014 in New York City after dating for some years. They are head over heels in love with each other as the actress' Instagram page shows.
Despite keeping details of her background out of public light, the actress is quite liberal with information about how she and her family live. As she is very active on social media, Lindsey loves to share photos of herself and her family spending time together.
Together, the loving couple now has two sons; they welcomed their first son named Teddy Bradley in March 2017 and two years later, precisely in July 2019, the couple welcomed a second son named Harry. Lindsey is a doting mum, she is super fond of her sons and loves to show them off every opportunity she gets.
The actress is in love with dogs, she has two pet dogs that she shows off now and then on social media just like her sons. Unfortunately, she lost one of them named Louise in 2019 and took to her Instagram to mourn the "first great love of her life" as she called it.
Not so much is known about Sean as he has chosen to keep details about his private life off the media, but information from his twitter handle (@seanbradley) suggests that he is a video editor @SiriusXM. He enjoys family time with his wife and kids and shares some of those moments on his twitter handle. In 2018, their son Teddy won the DiaperDerby challenge and he shared the memorable family moment.
Also, sometime in 2019, he made some sort of documentary video about his family and shared it on his YouTube channel called Sean Bradley. Lindsey Broad and Sean lives in New York with their kids and are having a great time together.