For those in the business world, real estate is often considered the most stable and lucrative investment anyone could make and that is often times true. Lindsey Bennett has taken that belief to heart and has crafted a career as a real estate businesswoman, expanding beyond the sale of bricks and mortar into reality television through the show, Desert Flippers.
On the show, Lindsey Bennett does what she is good at, selling houses and she does it along with other skills of hers such as interior designing, working alongside her husband, Eric Bennett to become one of the power couples of the real estate business, a status that has drawn comparison to another established couple, Joanna Gaines and Chip Gaines.
Lindsey Bennett's Bio
Lindsey Bennett was born as Lindsey Rene Schneider on the 25th of May, 1979, somewhere in the United States. Her parents are Constance and Leroy Schneider and she has a sibling named Mike. Growing up, Lindsey was raised in her grandparents' home in Lodi and spent some time in her parents' home in Madison, Wisconsin. Her family was a real estate family, starting from her grandfather who was a house builder.
Her academic history includes time spent at Madison Area Technical College before she headed over to the University of Wisconsin-Madison where she studied at the business school. After completing her education, Lindsey Bennett sought to begin a career in the business that has fed her family for a couple of generations – real estate.
After looking opportunities to get started in Madison, Lindsey eventually relocated to Palm Springs, where she joined her cousins who had established their own real estate business in the area. She began to run her cousins' business office and after a while, she and her husband set out on their own, buying up decrepit homes, fixing them and selling them off.
The manner and success of their work eventually drew the attention of HGTV, a channel owned by the Discovery Cable Channel. The show, Desert Flippers, which follows them as they own, work on and sell of homes in Palm Springs came on the air in 2016 and has been on ever since, with critical and audience acclaim.
On television, aside from her role as a co-host on Desert Flippers, she has also appeared on Brother vs. Brother as a Judge and on Entertainment Tonight. Other than the business of buying and selling off houses, Lindsey Bennett is also a self-taught interior designer and her knowledge of home grooming as helped in growing their business.
Mother (Charlene Kinzler)
The knowledge of the real estate business which has seen Lindsey Bennett and her husband, Eric flip over 100 houses can be said to have been gotten from her mother-in-law, Charlene Kinzler who was a realtor in Madison, Wisconsin for over thirty years. Combined with their own inherent talents and the advice and wisdom of her mother-in-law, Lindsey has been able to craft a successful career in the world of real estate.
Family Facts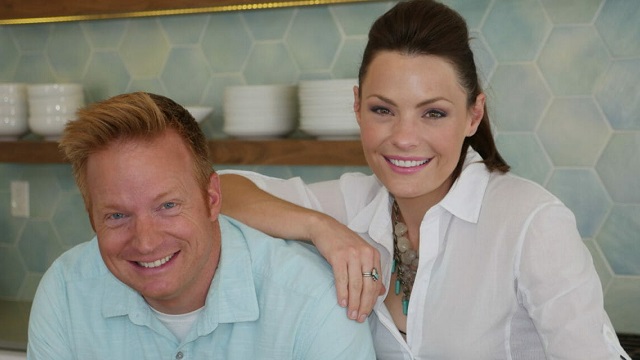 She met her husband while she was interviewing for a job in a Draft House in Verona. Although she did not get the job, it was not a complete waste as the meeting afforded her the chance to strike up a conversation about real estate with Eric Bennett, that soon translated into a business partnership and later, a romantic relationship.
Lindsey Bennett and Eric Bennett got married in 2011 in Lake Monona. The reception was held on a boat called Betty Lou. Since they got married, they have not only grown as real estate business partners but as a family, raising three children who are all sons, namely, Dean, Graham, and Roman.
Both Lindsey Bennett and her husband have four different properties, which include long-term homes in Whitefish Bay and Dane County. Her family reside in Palm Springs but often travel to her hometown in Madison, Wisconsin for vacation.
See Also: Christina El Moussa – Bio, Partner, and Net Worth
Lindsey Bennett's Net Worth
As mentioned earlier, real estate is a lucrative business and it has brought Lindsey Bennett and her family so much fortune. Buying properties at low prices and turning them into habitable beauties before selling them off, Lindsey has been able to build a personal net worth of $1.6 million off of the business.
Another significant contributor to her net worth is the TV show, Desert Flippers where she is believed to be earning a decent sum from the revenue of the show earned through advertising.