Lilit Avagyan is known for a lot of things: for being the wife of former American football running back Reggie Bush, her Kim Kardashian looks, and beautiful dance steps that have helped to earn her a prominent stance among top celebrities.
Avagyan's path to fame was first carved in 2008 when she won the prestigious U.S. National Dance Championship before proceeding to represent her country at the 2013 Latin American World Championships in Australia. However, it is her marriage to Bush in 2014 that brought her more to the limelight, attracting a legion of fans wanting to know all there is about her.
Unraveling Lilit Avagyan's Origin and Early Life
The beautiful Armenian-American was born on November 30, 1987, to her parents Julieta Avagyan and Avag Avagyan who live in their $525,000 home in Chatsworth, California. Avagyan was brought up alongside a sister named Anna Avagyan who is a fitness instructor. Her father is a senior process engineer with International Solar Electric. An American by nationality, Lilit Avagyan is proficient in three languages; Armenian, Russian, and English. Her ethnicity is Armenian.
Records about Avagyan's educational background are not yet known but as per her dancing career, it is a passion she nursed since her early years. Thanks to her parents who were supportive of her choice of profession, little Avagyan started to attend dance classes. She even spent a great portion of her early years (12 years) in Europe, perfecting her steps and skills in dancing, and today, she is a professional dancer with a specialty in ballroom dancing.
Before her presence at the Latin American World Championships in Australia, Lilit Avagyan registered her unique dance steps at different notable events both locally and internationally. She was a guest at the Louis Van Amstel's Ballroom and was a winner of the Rising Star Open dance competition in Florida. The Armenian has even appeared as a guest performer on the ABC-aired Dancing With the Stars.
Even with her specialty in ballroom dancing, Avagyan loves all dance forms and participates in most of them. Her career as a dancer gained momentum when she became a dance teacher. She describes dance as "an amazing and beautiful art" that gives her a different and better view of life.
The Buzz About Her Kim Kardashian-Looks
Lilit Avagyan has found a way of always attracting the right type of attention for herself. Before anything else, it was her skills as a dancer that made her a big deal in the world of entertainment. As stated, she was drawn to dancing since she was a child and has since attained a height many could only wish.
Not only has she taken part in many competitions, but she has also won a good number of them. Lilit made an appearance in JR's 2013 music video, I Hit It First. She did not appear as a dancer in the music video which has amassed more than 16 million views on YouTube.
Her striking resemblance to American socialite, Kim Kardashian West is yet another thing that has generated so much buzz around her. On any given day, the two could pass for siblings.
What is more interesting is that while Lilit is the wife of Reggie Bush, the former NFL star once dated Kim. The two met in 2007 and not long afterward, they started dating. By 2009, they both went their separate ways but they found themselves back together in 2010 only to break up finally in 2011. It was after this that Reggie and Lilt met. Her striking resemblance to Kim has always got people talking about her.
Her Net Worth Compared to Reggie Bush's $35 Million 
As a well-established dancer and dance teacher, it won't be surprising to hear of Lilit Avagyan's millions in net worth. Avagyan is yet to disclose what she currently has a net worth but it is believed that she earns much from her flourishing career. Her husband, Reggie Bush, has his net worth estimated at around $35 million.
In addition to her financial earnings, Lilit Avagyan has a strong presence on social media. Her Instagram account where she posts pictures of herself exercising at the gym and hanging out with Bush is followed by thousands of fans including her husband.
See Also: Who is Alexis Knief -Timothy Olyphant's wife: Her Full Bio and Family Life
Lilit Avagyan's Love Story and Family Life
While there are no so many details regarding how Reggie Bush and Lilit Avagyan met, it is known that it all began in 2011. However, it was until a couple of years later that they started dating. The two got married on July 12, 2014. Their wedding ceremony was held at Grand Del Mar Hotel in San Diego, California.
Prior to their marriage, Bush, who played running back for professional teams like the New Orleans Saints, Miami Dolphins, Detroit Lions, the San Francisco 49ers, and Buffalo Bills, had records of relationship with a couple of celebrities. While in college at the University of Southern California, he reportedly dated Eve Torres, a WWE Diva. Later, he was seen with Kim Kardashian in 2007. In 2010, he was seen with country singer Jessie James.
On her part, the dancer was also involved in a relationship with fellow dancer Grigori Sedrakyan. They were said to have been an item from 2004 until 2011 when they went their separate ways.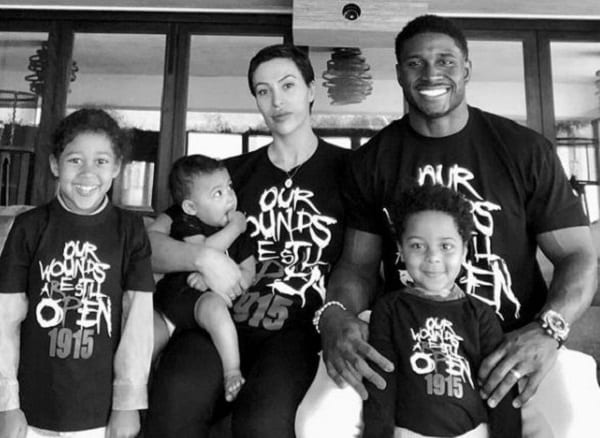 Before their marriage in 2014, Avagyan and her husband welcomed their first child, a daughter named Briseis Avagyan Bush on May 6, 2013. After their marriage, they welcomed two more children, all boys: Uriah Bush born on July 12, 2015, and Agyemang, born September 2, 2017. Lilit Avagyan combines her career as a dancer and dance teacher with her role as a mother and wife.
Details of the Infidelity Scandal that Rocked Her Marriage
Even though they have managed to be together for many years, they do not have what one could say to be the best marriage that is free of controversy. There have been allegations of cheating against the former footballer.
In 2017, he was accused of sleeping and impregnating Monique Exposito who was a Miami night club waitress. At the time of the said affair that led to the pregnancy, Exposito was still married. However, following her pregnancy, her then-husband who has not slept with her around the time she took in, filed for divorce. Monique proceeded to give birth to a son named Preston despite claims that she was offered $3 million by Reggie to terminate the pregnancy.
One would think the scandal was enough to force Lilit to walk away from her marriage but all through the ordeal, she was right by Bush's side smiling. She was said to have told her friends that Reggie told her Monique was the first woman he ever had an affair with outside of marriage and she believed him as well as his promise that it was not going to happen again. Today, the two are still waxing strong in their marriage.