The explosion in the growth of hip-hop in the recent decade has introduced a new generation of hip-hop artists to a global audience, one that has continued to redefine the genre. One of them is Lil Pump, real name Gazzy Garcia who began his career in 2015. Over the short period since he has been in the industry, Lil Pump's net worth has witnessed remarkable growth due to the growing popularity of the genre all over the world.
With hit songs like Gucci Gang and Racks on Racks, he has quickly climbed up the wealth rankings and established himself as a worthy ambassador of modern hip hop. We take a look at Lil Pump's net worth as well as how the artist makes and spends his money.
Lil Pump's Net Worth
Lil Pump's journey to wealth began in 16 years after he was born on the 17th of August 2000 in Miami, Florida. An unstable home contributed to the rough childhood the rapper experienced while growing up – which eventually culminated in expulsion from his high school when he was 16 years old.
At the suggestion of one of his most significant collaborators, Smokepurpp, a producer, he recorded his first track, Lil Pump and released it on the music streaming platform, SoundCloud. After the song's released, he released a few more tracks like Gang Shit, Elementary, Ignorant and Drum$tick, all of which began to attract fans and give him recognition in the Florida underground rap scene.
Before he got his first mainstream success via the release of Gucci Gang, Lil Pump's net worth was already getting a significant boost through concert appearances in and around Florida as well as his record deal with Tha Lights Global which he signed just two months before he clocked 17. The deal with the record label was also in partnership with the major music company, Warner Bros. Records.
However, the deal with Warner Bros. Records eventually got voided because he was a minor when he signed it, which left him open for negotiations in 2018 when the news broke. With a few labels competing for his signing at the time, with financial offers going as high as $12 million, he eventually resigned with Warner Bros for $8 million for his first major payday since he became a professional rapper.
His career profile since signing the deal has only increased with the release of two albums, Lil Pump which he released in 2017 and Harverd Dropout which he released in 2019.
With a few singles going platinum, multiple shows and concerts and modest sales of two albums, Lil Pump's net worth is believed to be $6.5 million, which is not bad for a man who used to live in a motel with his mother.
How Does He Make and Spend His Money?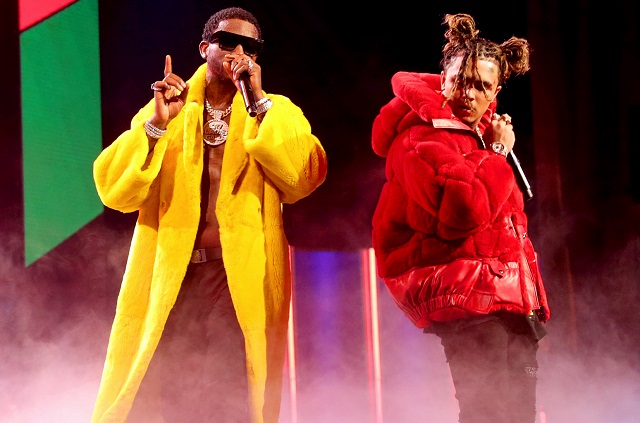 So, with such net worth, how does he make his money? Well, he owes a majority of his net worth to his contract with Warner Bros. which he signed for $8 million.
Other income streams have been earned through the sale of his albums. His debut album, Lil Pump was released on the 6th of October, 2017 and featured other artists like Rick Ross, 2 Chainz, Gucci Mane, and a couple more others. The album debuted at number three on the US Billboard 200, selling as much as 45 thousand units in its first week.
The album received mixed reviews from major critics, with the music website, Pitchfork giving the album a 6.9/10 rating. Despite the mixed reviews, the album performed decently commercially, achieving Gold status by the RIAA in June 2018 after it sold over half a million copies in the United States alone.
His second album, Harverd Dropout also debuted with mixed reviews, scoring a very low 3.8/10 rating from Pitchfork, but it performed marginally better than his first album commercially, selling 48 thousand copies in its first week and debuting at number seven on the US Billboard 200.
Combined with appearances at major concerts and shows, along with private gigs, Lil Pump's net worth has continued to remain on par with his growing music career.
As for what he spends his money on, Lil Pump spends on items like jewelry, buying luxurious cars and generally living a more comfortable life than he grew up in. He once reportedly spent $300 thousand on jewelry.
See Also: What is Lil Wayne's Net Worth and How Does He Make His Money?
Lil Pump doesn't just spend on luxurious items either, he has also spent on a couple of legal cases having run into some problems with the law, famously in Vega, Copenhagen where he was caught with marijuana after a performance.