i
| Age/Date of Birth: | November 14, 1982 |
| --- | --- |
| Height: | 5 ft 5¾ in or 167 cm |
| Ethnicity/Race: | African American |
| Nationality: | American |
| Net Worth: | $2 million |
| Wife or Girlfriend: | N/A |
| Parents: | Torrence Hatch, Sr. and Connie Hatch |
Lil Boosie, now Boosie Badazz is an American rapper and actor. The gangster rapper was once worth $4 million but after he was sentenced to prison in 2009 for drug charges, his wealth gradually dwindled.
However, following his early release on March 5, 2014, Boosie has been highly active in attempts to restore his finances. Here's all you need to know about him, his net worth, and accomplishments.
His Early Life and Career Beginnings
Boosie Badazz was born Torrence Hatch on November 14, 1982, in Southside Baton Rouge, a slum in Louisiana. Baston Rouge is a dangerous and gang-violence ridden neighbourhood in Louisiana. His father who had diabetes and was a drug addict was murdered in the neighbourhood. Boosie then grew up rather unstable with his grandparents in the violent area. It wasn't long before he found himself caught up with drug-related activities and as a result, he got expelled from high school.
As a kid, Boosie was already exposed to rap music which is commonly associated with gangsterism. In 1996, when he was 14 years old, his cousin, Young Bleed who was already an established rapper introduced him to his rap group Concentration Camp which included other rappers like C-Loc, Happy Perez, Boo, Max Minelli, J-Von, Lee Tyme and Lucky Knuckles. Boosie began featuring on tracks of the group members making his debut on C-Loc's 2000 album, "It's A Gamble". After gaining much exposure with the group, Boosie began recording his own music at the age of 17.
Lil Boosie's Music Career Accomplishments
Lil released his debut studio album titled "Youngest of da Camp" on January 27, 2000. Boosie then signed with Trill Entertainment and released his second studio album "For My Thugz" on January 1, 2002. Like the first, it featured artists from his Concentration Camp and was more successful, selling nearly a hundred thousand copies in the United States.
Boosie continued to make music, collaborating often with the likes of Webbie with whom he released several compilation albums like "Ghetto Stories" (July 2003) and "Gangsta Musik" (December 2003). The former sold 16,000 units and the latter was far more successful selling over 320,000 in the U.S.
Gangsta Muzik peaked at #35 on the US Billboard Top R&B/Hip-Hop Albums and produced the hit single "Swerve" which was used as one of the soundtracks in the 2005 drama film "Hustle & Flow" which grossed $23.6 million against a $2.8 million budget. His successes in the rap scene began to attract the attention of big labels like Universal Music Group. In 2005, Lil Boosie signed with Warner Bros. Records.
"Bad Azz" released in 2006 was his third studio album as well as his first under a major record label. The album was followed with "Superbad: The Return of Boosie Bad Azz" (2009) which featured the likes of Young Jeezy.
From the time he began his professional music career in 1996, Boosie Badazz has never slowed down. He has recorded many albums, featured on several songs, and collaborated with many other artists. Below is a list of what he has done so far as a musician.
Studio Albums
Youngest of da Camp is Boosie's first studio album, which he released on August 19, 2000, at the age of 17.
His second studio album For My Thugz was independently released by Trill Entertainment on January 1, 2002.
This was followed by the release of Bad Azz on October 24, 2006, which peaked at number one on the US top rap album chart and at number two on the U.S R$B chart.
Superbad: The Return of Boosie Bad Azz, released on September 15, 2009, took the 4th spot on the US R$B chart and the 3rd spot on the rap chart.
Boosie released his next album Incarcerated on the 28 of September 2010 on Asylum Records.
Touch Down 2 Cause Hell followed on May 26, 2015 and peaked at number two on both U.S rap and R$B charts.
On December 15, 2017, Boosie Badazz released BooPac.
His next album, Badazz 3.5, was released on March 29, 2019.
Goat Talk came following on December 20, 2019.
And on June 12, 2020, the rapper released his latest studio album titled In House.
Collaboration Albums
Ghetto Stories with Webbie released on July 22, 2003
Gangsta Musik with Webbie released on May 25, 2004
Trill Entertainment Presents: Survival of the Fittest with Trill Entertainment released on May 15, 2007
Trill Entertainment Presents: All or Nothing with Trill Entertainment released on November 9, 2010
Penitentiary Chances with C-Murder released on April 14, 2016
Trill Entertainment Presents: Trill Fam – Respect Is a Must with Trill Entertainment released on June 24, 2016
Badazz MO3 with MO3 released on February 14, 2020
Other Achievements
The rapper has released 42 mixtapes so far in his career.
He also has three compilation albums and one extended play to his credit.
He has released 12 singles as a lead artist and performed as a featured artist in 16 singles.
Boosie has also made guest appearances with other artists in more than 80 non-singles.
The rapper has appeared as a lead artist in 28 and as a featured artist in five videos.
Lil Boosie founded his own label Bad Azz Entertainment in 2008 and in 2015 it was re-branded to Bad Azz Music Syndicate.
In addition to being a rapper, Boosie has also played acting roles in a number of films, including Ghetto Stories: The Movie (2010).
Awards and Nominations
Although Lil Boosie has released a lot of musical works since his career kicked off, he has not won any major award for any of them. However, that does not mean that his contributions to the music industry have gone unnoticed, hence his award nominations below.
He was nominated for the BET Hip Hop Award for Best New Hip Hop Artist in the year 2007.

Also in the same year, the rapper's song Wipe Me Down earned him a BET Hip Hop Award nomination in the People's Champ category.
Boosie won two Ozone Awards in 2007 and 2008 for Best Breakthrough Artist and Club Banger of the Year respectively.
In 2014, Boosie was again nominated in two categories for

BET Hip Hop Award for Best Single of the Year and

BET Hip Hop Award for Best Club Banger both for the song Cut Her Off (Remix).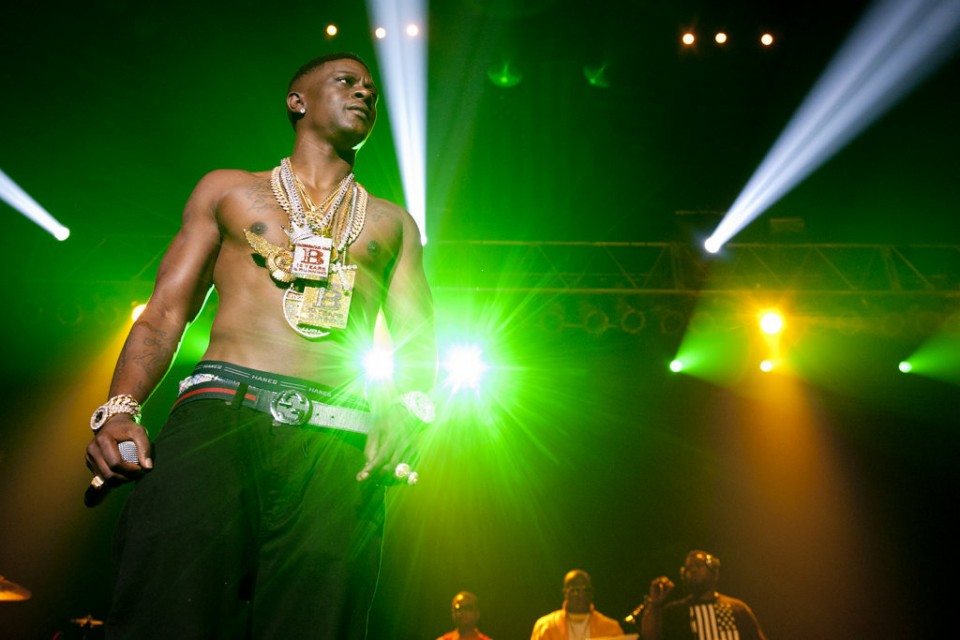 A Breakdown of His Net Worth
Career Earnings
Being a very prolific musician, Lil Boosie has released a lot of songs and has definitely made millions of dollars from his career in music. His first album Youngest of da Camp reached #96 on the Billboard R&B charts and sold around 10,000 copies in the US. However, this was nothing compared to his second album, which sold has sold an estimated 90,000 in the US.
His third album, Bad Azz debuted at number 66 on the US Billboard 200, selling 12,000 copies in the first week while Superbad: The Return of Boosie Bad Azz debuted at number 7 on the US Billboard 200 chart. Interestingly, while behind bars, Boosie didn't quit making music. From prison, he released his 4th studio album Incarcerated which debuted at #13 on the US Billboard 200 chart, and sold 30,000 copies in its first week and later 146,000 copies in the United States, as of May 2015.
Touch Down 2 Cause Hell was positively reviewed by music critics as it made its debut on the Billboard 200 at number three, with 59,000 copies in the United States and later 78,000 copies by the second week. The album is also on sale on Amazon and while the MP3 version is sold for $9.49, the audio CD version is sold for $13.60. The MP3 version of BooPac is also sold for $11.49 while the Audio CD goes for $18.99 on the same platform. The rapper's last two albums, Goat Talk and In House, are both made up of 17 tracks, each of which are sold on Amazon for $2.29 and $0.99 respectively.
Although there is no doubt that Boosie has earned and is still earning good money from his career in the music industry, records of the exact amount he has made from any of his works is unknown.
Other Businesses
Lil Boosie founded his own record label named Bad Azz Entertainment in 2009 and has released several songs under the label. In 2017, the rapper announced the launch of his official clothing line, Jewel House clothing, but whether the brand is still active remains unknown as its website is currently not functional.
The rapper also has a brand of vodka called "Boosie Juice", which comes in two different flavors- Boosie Juice Kiwi Strawberry Vodka and Boosie Juice Watermelon, which are both packaged in a 750 ml bottle and sold for $27.99. Boosie Badazz also has an earphone line known as Boosie Badazz Studio 43 BT HPA, sold for $139. He also plans on being more active in movie production. 
Even though it seems the rapper prefers to keep details of his business ventures private, it is obvious that has been able to bounce back financially as his net worth, which went down to $800,000 following his imprisonment, is now estimated at $3 million, according to Celebrity Net Worth.
Boosie Has Lost Thousands of Dollars 
In July 2016 the rapper revealed that he lost $469,000 to a thief who stole his driver's license and used it to make transactions via his Capital One account. Reports later revealed that part of the money was later reversed.
Again, it was reported in December 2019, that the rapper lost several pieces of jewelry to a burglar who broke into his Bentley SUV near Atlanta. Boosie was having a meal at Pappadeaux Seafood Kitchen when, a police report revealed, two unknown black men broke his rear passenger side window and made away with the valuables.
The criminals reportedly ran off with almost $70,000 worth of jewelry, including the rapper's signature 'Bossman' ring worth $10,000, a rose gold Cuban link chain with diamonds worth $50,000, and a 'super bowl style' diamond ring valued at about a whopping $10,000.
Who Are Boosie Badazz Children?
During an interview with Vlad TV in 2017, Boosie made it clear that he does not believe in getting married because he would not want to split his hard-earned money with his wife through a divorce should in case he cheats on her. According to him, "I don't believe in that split, split s*** and I'm the breadwinner. 'Cause she wasn't getting shot with me on the corner. She didn't teach me how to cook cocaine. She wasn't in the studio with me rapping all those times. … I'm not finna marry a woman and I cheat on her and I got to split millions of dollars with her. Hell no!"
Though not married, the rapper has fathered eight children. His kids are Ivy Ray Hatch, Michael Jordan Hatch, Lyric Beyonce Hatch, Iviona Hatch, Tarlaysia Hatch, Toriana Hatch, and Torrence Hatch, Jr. Boosie had them by six different women including Tracey Taylor, Walnita Decuir, Trivia Weatherspoon, Gerlissa Haze, and two others who have not been identified publicly.
He welcomed his eighth child, a daughter, in 2016 and posted a picture of her on Instagram with the caption, My New Bby Girl."
With the birth of his baby daughter, Boosie moved closer to achieving his ultimate goal of having ten children. In May 2016, he told Vlad TV that he wanted to father three more children. At that time, he already had seven kids by five different women and apparently, one in the oven. Speaking further, he revealed that he had always told his grandmother that he was going to have ten kids and he was bent on keeping to his words.
He bragged about having a good sperm and expressed that he'd freeze it and make twins. "…I think I'm gonna freeze my sperm, and when I find a girl I'm gonna make twins. I'm thinking about that, but I'm looking for somebody to put a baby in right now. I just want somebody who's willing to be a good mother," he said.
Having Multiple Baby Mamas Is Tough
Speaking of the challenges that come with having children by different women, the rapper stated that managing all his baby mamas can be quite difficult and that they sometimes use their kids to compete against each other. According to him, "Because we're not all under the same roof…It's always a task when you have different baby mothers to try and compare their children and be in competitions with their children a lot. It's not the children in competition with the children. It be the mothers wanting to be in competition with making their kids in competition with other children."
While also speaking in an interview with Terri Thomas of 97.9 The Box in January 2020, Boosie said he regretted the fact that his children were birthed by different mothers. Responding to the question of what he would do differently if he had the chance, he said he'd keep his same kids, but just fewer baby mothers. He said, "I feel like I should've skeeted in the same woman and put them all in her…"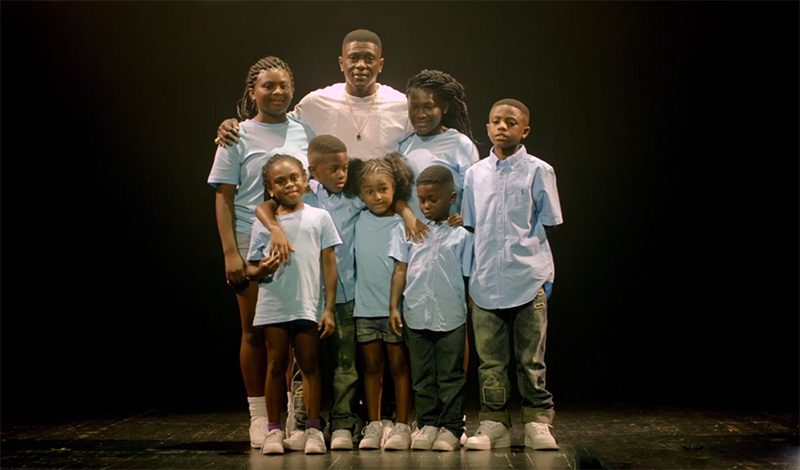 Adopted Children
In addition to his eight biological children, the rapper also has two adopted children fathered by his two best friends Ivy and Bleek who both lost their lives to gun violence. Speaking in this video, Boosie said he adopted the kids in keeping with the promise he and his friends made to one another that if any of them died, whichever of them was alive would take care of his children. The kids know him as their dad and his children also treat them like they are biological siblings.
Parenting Gone Wrong!
In August 2017, the Baton Rouge, Louisiana-based rapper was lashed for sharing on Instagram that he'd get a "bad bitch" to give his son Torrence, who was marking his 14th birthday "some head".
According to the law in Louisiana, it is unlawful to solicit sex workers and also illegal for anyone above 17 years old to engage in sex, including oral sex, with anyone below that age. However, Boosie, who described the sex worker whose services he employed as "super grown," openly admitted to these crimes without blinking. Consequently, someone commented on Twitter that "They should call CPS on this foolish man".
Apparently, nothing was done to the "Set It Off" rapper and as a result, he took to Instagram Live in May 2020 to share very disturbing news of how he allegedly orchestrated a sexual assault on his own son and nephews.
Boosie claims he hired a thot to take his 13 year old son virginity ???? He wrong for doing this?
pic.twitter.com/irEl5MhR9G

— BLACK SPORTSCENTER (@VersaceBoyEnt) May 12, 2020
In the 57-second clip that was subsequently posted to Twitter, Boosie while delivering his expletive-filled rant said, "Hell yeah, I got my f–king son d–k sucked…I'm training them boys right…Ask any of my nephews, ask any of them, ask my son. Yeah, when they was 12, 13, they got [oral sex] . . . That's how it's supposed to be." This led to a lot of people calling for his children to be taken away on the basis of child sex abuse.
Fact Check: Is Lil Boosie Dead or Was It Just A Cancer Scare?
After overcoming the death penalty, Boosie went back to making music and even touring but it wasn't long before he was faced with another obstacle. He was diagnosed with kidney cancer which he announced via social media in November 2015, requesting prayers from fans. The already diabetic Bossie, who at the time didn't have health insurance, had to pay a whopping $90,000 for a surgery where half of one of his kidneys was removed. After the successful surgery, the rapper returned to music.
Meanwhile, following his prison sentence, rumors had it that Lil Boosie died in jail, and through his struggle with cancer, it was also reported several times on social media that he had passed on. Well, those were all lies. Boosie is alive and well.
See Also: TI (The Rapper)'s Children, Family, Music, Film and Businesses
Prison Sentence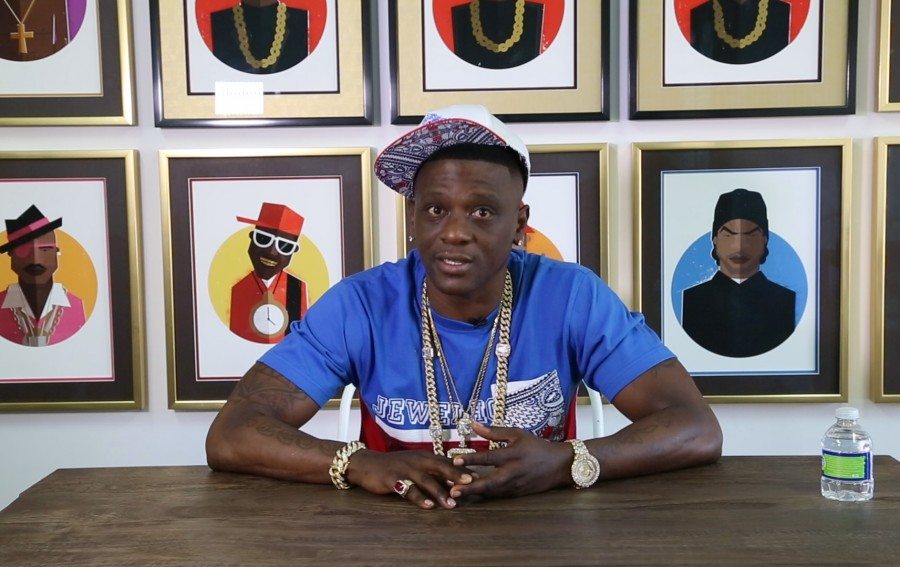 While his music career was improving by the year, the same couldn't be said about his character as he had several run-ins with the law. Boosie was arrested in October 2008 for marijuana and gun possession. After almost a year-long trial, Boosie pleaded guilty in September 2009 and was sentenced to two years behind bars. He was also suspected of several murder cases.
He had a possible death penalty case dancing around him until he was found innocent in 2012. However, his sentence was further extended to 7 years after the court discovered that he had violated probation during his plea trial. After serving five years in Louisiana State Penitentiary, Boosie was released on March 5, 2014.
Boosie changed his name to Boosie Badazz in January 2014 explaining he felt irritated when people called a grown-up man like him with 6 kids "Lil". The rapper, shortly after his release from prison inked a deal with Atlantic Records and has been highly prolific. He has confessed that battling cancer made him cherish his life more and increased his side hustles.
Profile Summary
First Name:
Torrence


Last Name:
Hatch
Also Known As:

Lil Boosie, Boosie Badazz
Sex/Gender:

Male
Profession:

Rapper, singer, songwriter, actor, record producer
Famous For:
His studio album Touch Down 2 Cause Hell (2015)
Colleges/Universities Attended:

N/A
Educational Qualifications:

GED certificate
Religion:

Christianity
Birthday & Zodiac

Age/Date of Birth:

November 14, 1982
Zodiac Sign:
Scorpio
Birth Place:

Baton Rouge, Louisiana, USA
Nationality:
American
Ethnicity/Race:

African American
Country of Residence:

Atlanta, Georgia, United States
Physical Attributes

Height:

5 ft 5¾ in or 167 cm
Weight:

5 ft 5¾ in or 167 cm
Eye Colour:

Dark Brown
Hair Color:

Black
Other Body Measurements:

Chest – 40 in, Arms / Biceps – 15 in, Waist – 34 in
Relationships

Marital Status:

Dating
Spouse/Partner:

N/A
Family and Relatives

Father:

Torrence Hatch, Sr. ( died in 1997)
Mother:
Connie Hatch
Children:

Daughters, Iviona, Ty, Lyric Bey, Tori, and Laila Jean Hatch, and sons, Ivy Ray Hatch, Michael Jordan Hatch, and Torrence Taylor
Siblings:
Taquari Jamar Hatch (Older Brother)
Other Relatives:

Cameron Sutton (Cousin) (NFL Player)
Net Worth
Estimated Net Worth:

$2 million
Salary:
N/A
Source of Wealth:

His music career, acting, bussinesses such as his apparel line, record label, etc