Lil Boosie, now Boosie Badazz is an American rapper and actor. The gangster rapper was once worth $4 million but after he was sentenced to prison in 2009 for drug charges, his wealth gradually dwindled.
However, following his early release on March 5, 2014, Boosie has been highly active in attempts to restore his finances. Here's all you need to know about him and his wealth.
Lil Boosie Bio
Boosie Badazz was born Torrence Hatch on November 14, 1982, in Southside Baton Rouge, a slum in Louisiana. Baston Rouge is a dangerous and gang-violence ridden neighbourhood in Louisiana. His father who had diabetes and was a drug addict was murdered in the neighbourhood. Boosie then grew up rather unstable with his grandparents in the violent area. It wasn't long before he found himself caught up with drug-related activities and as a result, he got expelled from high school.
As a kid, Boosie was already exposed to rap music which is commonly associated with gangsterism. In 1996, when he was 14 years old, his cousin, Young Bleed who was already an established rapper introduced him to his rap group Concentration Camp which included other rappers like C-Loc, Happy Perez, Boo, Max Minelli, J-Von, Lee Tyme and Lucky Knuckles. Boosie began featuring on tracks of the group members making his debut on C-Loc's 2000 album, "It's A Gamble". After gaining much exposure with the group, Boosie began recording his own music at the age of 17.
Music Career
Currently, it is estimated that Boosie's wealth is $800,000. Lil released his debut studio album titled "Youngest of da Camp" on January 27, 2000. The album reached #96 on the Billboard R&B charts and sold around 10,000 copies in the US. Boosie then signed with Trill Entertainment and released his second studio album "For My Thugz" on January 1, 2002. Like the first, it featured artists from his Concentration Camp and was more successful selling an estimated 90,000 in the US.
Boosie continued to make music, collaborating often with the likes of Webbie with whom he released several compilation albums like "Ghetto Stories" (July 2003) and "Gangsta Musik" (December 2003). The former sold 16,000 units and the latter was far more successful selling over 320,000 in the U.S. Gangsta Muzik peaked at #35 on the US Billboard Top R&B/Hip-Hop Albums and produced the hit single "Swerve" which was used as one of the soundtracks in the 2005 drama film "Hustle & Flow" which grossed $23.6 million against a $2.8 million budget. His successes in the rap scene began to attract the attention of big labels like Universal Music Group. In 2005, Lil Boosie signed with Warner Bros. Records.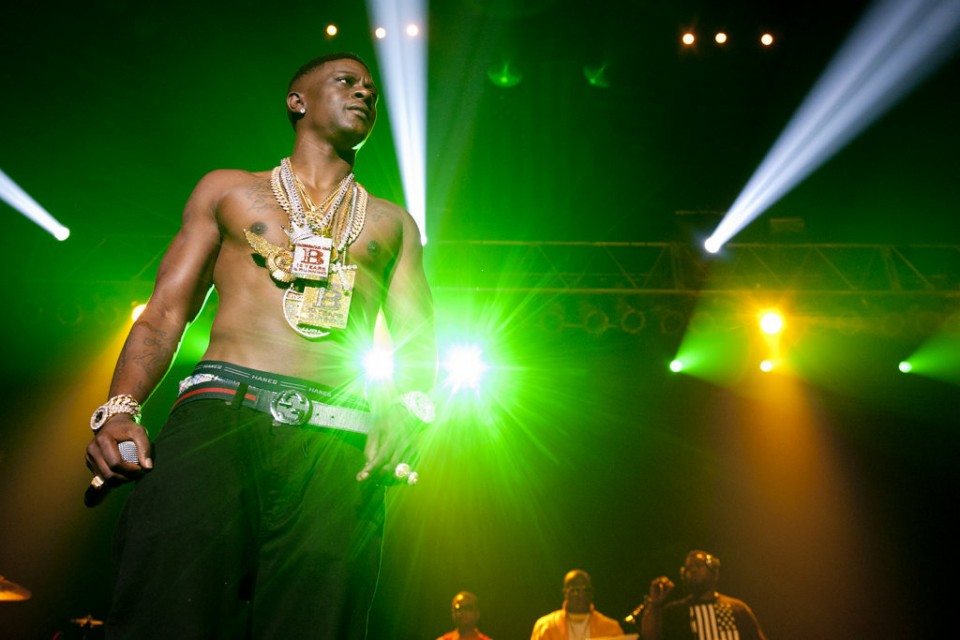 "Bad Azz" released in 2006 was his third studio album as well as his first under a major record label. It debuted at #18 on the US Billboard 200, selling 41,000 copies in its first week. The album was followed with "Superbad: The Return of Boosie Bad Azz" (2009) which featured the likes of Young Jeezy and debuted at #7 on the US Billboard 200 chart.
Lil Boosie founded his own label Bad Azz Entertainment in 2008 and in 2015 it was re-branded to Bad Azz Music Syndicate.
Prison Sentence
While his music career was improving by the year, the same couldn't be said about his character as he had several run-ins with the law. Boosie was arrested in October 2008 for marijuana and gun possession. After almost a year-long trial, Boosie pleaded guilty in September 2009 and was sentenced to two years behind bars. He was also suspected of several murder cases. He had a possible death penalty case dancing around him until he was found innocent in 2012. However, his sentence was further extended to 7 years after the court discovered that he had violated probation during his plea trial. After serving five years in Louisiana State Penitentiary, Boosie was released on March 5, 2014.
Interestingly, while behind bars, Boosie didn't quit making music. From prison, he released his 4th studio album "Incarcerated" which debuted at #13 on the US Billboard 200 chart, and sold 30,000 copies in its first week and later 146,000 copies in the United States.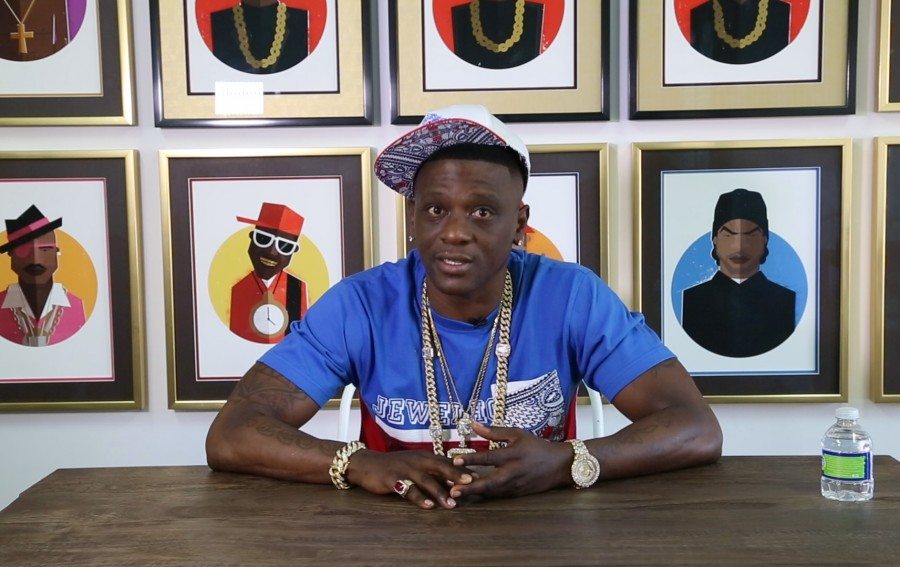 Is Lil Boosie Dead or Was It Just A Cancer Scare?
After overcoming the death penalty, Boosie went back to making music and even touring but it wasn't long before he was faced with another obstacle. He was diagnosed with kidney cancer which he announced via social media in November 2015, requesting prayers from fans. The already diabetic Bossie who at the time didn't have a health insurance had to pay a whopping $90,000 for a surgery where half of one of his kidney was removed. After the successful surgery, the rapper returned to music.
Boosie changed his name to Boosie Badazz in January 2014 explaining he felt irritated when people called a grown-up man like him with 6 kids "Lil". The rapper, shortly after his release from prison inked a deal with Atlantic Records and has been highly prolific.
He has confessed that battling cancer caused him to cherish his life more and increased his side hustles. Badazz owns a clothing label "Jewel House clothing" and liquor "Boosie Juice B&J". He also plans on being more active in movie production. With all these endeavours, Boosie could rejoin the millionaire's club real soon.
In July 2016 the rapper revealed that he lost $469,000 to a thief who stole his driver's licence and used it to make transactions via his Capital One account. Reports later revealed that part of the money was reversed.
See Also: TI (The Rapper)'s Children, Family, Music, Film and Businesses
Following his prison sentence, rumours had it that Lil Boosie died in prison. Again, through his struggle with cancer, it was reported several times on Social Media that he passed on. Well, those were all lies. Boosie is alive and well.
Lil Boosie's Daughter and Son
It was reported sometime in mid-2016 that the rapper welcomed his 8th child, a daughter. Boosie once disclosed that he'd love to have 10 children. He bragged about having a good sperm and expressed that he'd freeze it and make twins.
Apparently, he told his grandma he'd have 10 kids and is only trying to keep his words. His children have different mothers and, the rapper isn't happy his baby mamas are encouraging their kids to compete against each other.
In August 2017, Boosie was lashed for sharing on Instagram that he'd get a "bad bitch" to give his son who was marking his 14th birthday "some head".
Height, How Tall Is Boosie?
The rapper is 1.67 m in height.