Liam and Chris Hemsworth, are they related? That's a pertinent and unsurprising question that is frequently asked in many circles given their common surname and career. The last few years have been very busy for the Aussie actors who have been hard at work, striving to make a name for themselves as part of the most notable actors in Hollywood. But more than their career accomplishments, the facts below give a better insight into the personal lives of the actors and will clarify any misunderstandings about their relationship.
Background Details of Liam and Chris Hemsworth
Born on January 13, 1990, Liam Hemsworth kicked off his acting career at age 17. Though born and bred in his home country, the Australian actor later relocated to the US at age 19 in pursuit of his career. He made his acting debut in 2007 after landing guest roles on Home and Away and McLeod's Daughters. Between 2007 and 2016, the Aussie hunk appeared in other TV shows such as Australian soap opera Neighbours (2007-2009), The Elephant Princess (2008-2009), Satisfaction (2009), The Muppets (2015), and Workaholics (2016).
Liam has also worked on several hit movies. His first credited film role was in 2009's Knowing. He went on to get other roles in flicks such as The Last Song (2010), Empire State (2013), The Duel (2016), Isn't It Romantic (2019) and The Killerman (2019). One of his most notable roles is that of Billy "The Kid" Timmons in The Expendables 2 (2012). Liam was catapulted to superstardom after he landed the role of Gale Hawthorne in the Hunger Games movie franchise.
He even gained more recognition as a result of his on and off romance with Miley Cyrus. The actor and pop star met as teenagers while filming The Last Song. Their relationship was erratic for almost 10 years before they tied the knot in December 2018 in Tennessee. Sadly, after seven months of marriage, the Hunger Games star and former Disney star split in August 2019. Liam Hemsworth filed for divorce in Los Angeles citing 'irreconcilable differences'.
Who Is Chris Hemsworth?
Born on August 11, 1983, Chris Hemsworth made his acting debut in 2002 appearing in a variety of TV shows such as Guinevere Jones, Neighbours, and Marshall Law. He has also appeared in episodes of The Saddle Club (2003) and Fergus PcPhail (2004).
The Thor Marvel star made his big-screen debut in 2009 on Star Trek. That same year, he also appeared in A Perfect Getaway. The role that boosted his career to super-stardom status was that of Thor, the Marvel Cinematic Universe movie released in 2011. Chris Hemsworth has gone on to reprise his role as Thor in seven different Marvel movies including the highest-grossing superhero movie ever, Avengers: Endgame. He has also appeared in Snow White and the Huntsman (2012), Ghostbusters (2016), 12 Strong (2018), and Men in Black: International (2019).
The Avengers star has been happily married to Elsa Pataky since December 2010. The celebrity couple shares three children together and lives in Byron Bay, Australia.
Are Liam and Chris Hemsworth Related?
Besides their surnames, a glance at Liam and Chris Hemsworth is enough to convince anyone that the star actors share the same bloodline. While The Avengers star is the second of three sons born to Craig and Leonie Hemsworth, the Hunger Games star is the baby of the house.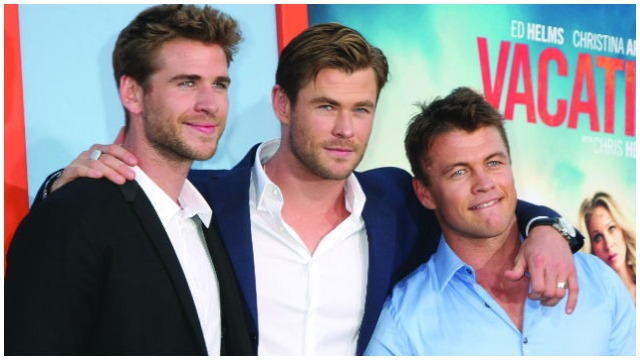 The oldest of the Hemsworth brothers is Luke, who is also an actor. Like his brothers, he featured in the Australian soap, Neighbours. Luke Hemsworth's other popular works are the sci-fi series Westworld and Hickok. He is happily married to Samantha Hemsworth and the couple share three daughters together.

The Hemsworths are a close-knit family but there is an even closer bond between Liam and Chris Hemsworth who admit that they are competitive with each other in the best way. An example of the healthy sibling rivalry between the brothers was during the 2009 difficult audition process for the coveted role of Thor.

Interestingly, both of the 6-foot-3-inch siblings auditioned and Chris almost missed out on the chance of a lifetime to his little brother, Liam Hemsworth. The audition didn't go down well for the older brother who first tried out the process. But after Liam tried out for the same role and did better, Chris was fuelled to push his abilities further. The Thor star later admitted that it was the sibling rivalry that kicked him up to return for another screen test and this time, he successfully pulled through after impressing the filmmakers.

Meanwhile, there were no hard feelings for Liam who was still a teenager and never really hoped for the role because he deemed himself too young for the part. The younger Hemsworth later moved on to nail a starring role in the Hunger Games movie franchise.

The Hemsworth brothers have been each other's backbones during their highs and lows. More recently and in the wake of Liam and Miley Cyrus' dramatic split, the youngest of the siblings traveled back to their hometown of Byron Bay in Australia. From working out to surfing and hanging out on the beach together, Chris lent his big brother shoulder to Liam Hemsworth for healing.

Fact Check: We strive for accuracy and fairness. If you see something that needs updating,