Leila Arcieri is an American actress-model, former beauty queen, as well as an entrepreneur. Being an actress, she has appeared in many films and television series such as XXX, Daddy Day Care, Wild Things 2 and A Perfect Fit but it was her role in the sitcom Son of The Beach that shot her into the limelight.
In addition to her career as an actress, the beautiful lady is also a businesswoman. She is the founder and president of STIR Sweetener, a natural sweetener brand established in 2013.
Leila Arcieri's Early Life
Leila Arcieri was born Leila Carmelita Arcieri on December 18, 1973, in San Francisco, California, to an Italian father and an African-American mother named Anita Van Buyten, who worked for Lucasfilm. Her parents' marriage ended in a divorce when she was two years old and she stayed with her mother, spending a reasonable part of her childhood in a city in Sonoma County, California, known as Sebastopol.
Growing up, Leila Arcieri was extremely shy and in an attempt to overcome it, she joined the cheerleading group in her school when she was in junior high. She was also a tomboy and active in various sports, including football, swimming, rock climbing, volleyball, and kickboxing. After her high school graduation, Leila moved to San Francisco, where she tried her hands at graphic design and photography before she eventually became a make-up artist. At the age of 22, she began a publishing business.
1. Beginning Of Her Success
In 1997, the young woman contested in that year's Miss San Francisco beauty pageant and emerged the winner. Her victory was soon accompanied by series of appearances, both in commercials such as 1-800-COLLECT and Starburst and in music videos with Boyz II Men, Montell Jordan, and Q-Tip. It was such works as these that got her acting career off the ground as it drew the attention of American actor, producer, and screenwriter, Timothy Stack.
2. Her Acting Exploits
Timothy Stack cast the then-upcoming actress as Jamaica St. Croix in his series Son of the Beach that aired on FX from 2000 to 2002. The show is a caricature of the action drama series Baywatch, with much of the comic aspect based on things like sexual double entendres, innuendo, and puns, among others. Also in the year 2000, the actress played the role of Tia in the film Hot Boyz and Tasty in one episode of the series Cousin Skeeter. Before this time, Leila Arcieri had appeared in the 1999 movies Foolish and Beverly Hood, and in an episode of the television series Rescue 77.
From 2001 through 2004, she was seen in the films Higher Ed, XXX, Daddy Day Care, Wild Things 2 and in the short film Double Blade. She also appeared as Crystal in the series "The Face in the Mirror" episode of Jeremiah and from 2004 to 2005, she played the role of Monroe McManus in five episodes of the UPN legal drama Kevin Hill.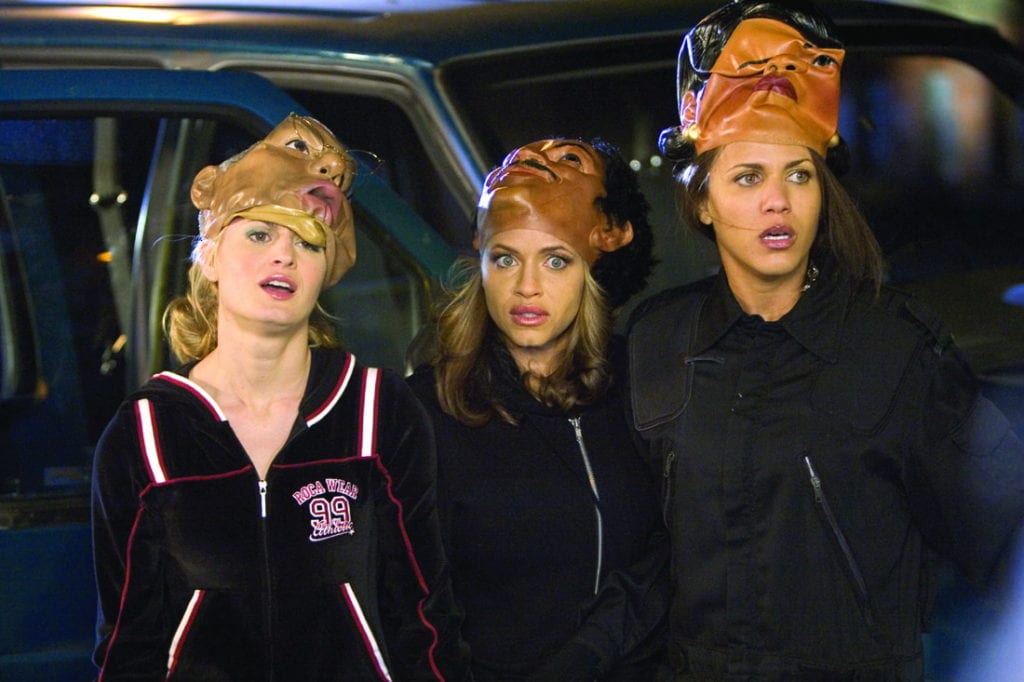 In 2005, she appeared as Sarah in the thriller A Perfect Fit, as Kim Baker in the comedy film King's Ransom and as Jordan King in the short film The Final Chapter: The Death of Xander Cage. She also played the character of Darcy Sullivan in the "City of the Dolls" episode of CSI: NY in the same year.
The following year, Leila Arcieri was cast as Agent Powers in the comedy horror Mammoth, directed by Tim Cox and produced by Plinyminor in association with SYFY (formerly Sci-Fi Channel and Sci-Fi). She also made guest appearances in one episode each of One on One, Las Vegas, and CSI: Miami.
From 2008 to 2009, Leila played the roles of Detective Bathgate, Danielle, Karen and Gloria in Death Toll, Love N' Dancing, Divas, and Brothers respectively. She also appeared in Buffalo Bushido and won an award for Best Actress at the 2009 Brooklyn International Film Festival for her performance in the movie.
Though Leila Arcieri had it going in Hollywood, she decided to take a break after playing Kayla in the 2010 movie Supreme Champion.
3. Leila's STIR Sweetener Business
Following her exit from Hollywood, Leila decided to go full-time into business since she has always had an entrepreneurial spirit. Being a sweet-toothed foodie, even before knowing there was a name for it, she came up with an idea that would help her work around her diet in a bid to stay fit. However, she was not ready to let go of her sweet tooth and consequently, she set out to look for ways to sweeten it without using sugar.
After months and months of researching, Leila Arcieri came up with a blend of ingredients by tasting all kinds of natural plant ingredients from around the world. The blend did not only taste really good but it also had no after-taste. Taking what she learned from her research and what made her taste bud leap for joy, Leila Arcieri combined them into one simple sugar replacement product which has 37% fewer calories than sugar, low glycemic, and a gram of prebiotic fiber per serving among other benefits. Thus, the company STIR Sweetener was born in 2013.
4. Relationship With Jamie Foxx
There were rumors that Leila and the multi-faceted Hollywood entertainer, Jamie Foxx were in a relationship and were so in love with each other that they even got engaged. Reacting to the speculations during a radio interview with Dr. Tabasum Mir, Leila Arcieri said she has been good friends with the actor and they have really not been a lot more than that even though they once toyed with the idea of dating. Reiterating her point, she said they were just great friends and still are.
See Also: Hanna Alström – Bio, Facts, Age, Husband, Movies and Family of The Swedish Actress
5. Social Media Presence
The actress is active on all major social media platforms including Instagram, Twitter, and Facebook. While she doesn't have millions of fans following her, her pages have garnered a few thousand followers.
6. Body Measurements
The actress-turned businesswoman is unarguably beautiful and being listed as #65 on the Maxim magazine Hot 100 in 2005 and as Coors Lite Beer spokesmodel in 2000 proves this. Leila Arcieri is 5 feet 4 inches tall. Her last known weight was 49.4 Kg while her body measurements were bust: 34D, waist:28, and hip:36 inches. She also wears dress size 6 (US), shoe size 8 (US), and has green eyes and dark brown hair.