There are a handful of men in the United States who have up to three sons playing professional basketball and LaVar Ball is among them. He is not only a businessman and media personality but also a personal trainer and former National Football League (NFL) player who began his athletic career playing both football and basketball but later decided to go pro with the former.
Sadly, his dreams of making exploits in football professionally were crashed as a result of an injury which left him with no choice than to retire. LaVar Ball is popular, not for playing football, but for being the father of Lonzo Ball, LiAngelo Ball, and LaMelo Ball, all professional basketball players. He is also very infamous due to his habitual tendency of making controversial comments like when he claimed that he played basketball very much better than Michael Jordan and when he accused Los Angeles Lakers of the NBA of mismanaging his son Lonzo.
All that aside, Mr. Ball is the founder and CEO of Big Baller Brand and the Junior Basketball Association (JBA), which he funds completely with the money he made from his business ventures.
LaVar Ball Bio, Age
Born on October 23, 1967, in Los Angeles, California, LaVar Ball is one of the five sons born to his parents. Due to his height and strong frame, he made the decision to go into sports. So, when he got into Canoga Park High School, Canoga Park, Los Angeles, he joined the school's football team, playing as a quarterback and also played as a forward in the basketball team.
Although he was heavily involved in sports, LaVar Ball did not give serious thought to building a career in it. Consequently, by the time he finished from high school, he enrolled in West Los Angeles College where he majored in Criminal Justice, hoping to become a U.S. Marshal. However, his love for sports still made him continue engaging in athletic activities, focusing on basketball. Even though his experience in the sports was not as much as his football experience, Lavar Ball began playing in the low-tier Western State Conference.
Subsequently, he transferred to Washington State University and there, LaVar joined the Cougars basketball team, playing as a starting forward for only one season before moving over to California State University, Los Angeles. By the end of his college basketball career, he played college football for a year as a tight end at Long Beach City College and thanks to the one-year-experience, he was invited to an NFL tryout and was signed by the New York Jets as a defensive end on May 1, 1994.
However, upon his return to the team on March 7, 1995, he was made a tight end and immediately shipped off to the London Monarchs of the World League of American Football. Playing for the team in the 1995 season, LaVar Ball made no catches but recorded 28 yards in kick returns. Later on, he joined the Carolina Panthers and remained with them until November 1995, though he played no games as a result of an injury which ultimately led to his decision to retire from the sport.
Net Worth
Sequel to his retirement from football, LaVar Ball used his savings to get himself established as a personal trainer in California. After many years, he founded the Big Baller Brand or BBB, a company that manufactures and sells athletic apparel and shoes. Launched in June 2016, BBB has mostly produced signature shoes for Ball's three sons, none of which have been sold below $395.
LaVar also established a basketball league known as the Junior Basketball Association (JBA) in 2017. Announcing the formation of the league, the former football player said it would be under complete funding by his sports clothing company Big Baller Brand. The Balls also has a reality show titled Ball In The Family, which airs exclusively on Facebook.
Family – Dad, Wife, Sons
LaVar Ball is the son of Anderson and Maria Ball. He has six siblings – four brothers named LaFrance, LaValle, LaRenzo, and LaShon and two sisters.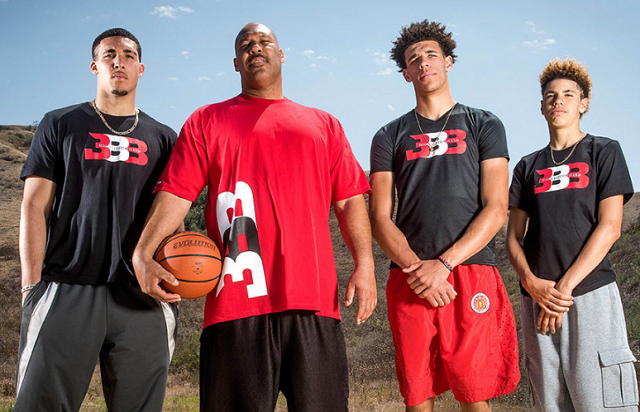 The former basketball player is married to Tina Catherine Slatinsky, who was born on the 11th of December 1967 in Miami, Florida. She was a student of Alta Loma High School where she was part of the football team and also attended California State University, Los Angeles. At the university, she continued her collegiate basketball career with the Golden Eagle Women's basketball team. It was during her time there that she met her future husband, who was also studying there as well. The couple eventually became husband and wife in 1996.
See Also: Alexis Dejoria – Bio, Spouse, Father, Net Worth, All About The American Car Racer
Together, LaVar Ball and his wife have three sons. The first, named Lonzo Anderson Ball was born on the 27th of October 1997 while the second, LiAngelo, was born the next year on November 24th, 1998. Their third son, LaMelo, came on August 22, 2001. Although he never took his basketball talent to the professional scene, Mr. Ball has succeeded in making his sons celebrities in the industry. He started training them not long after the youngest of them turned four and currently, Lonzo, who is the most popular of his three sons, plays for the Los Angeles Lakers of the National Basketball Association (NBA).