It goes without saying that Shaquille O'Neal is one of the biggest names in Basketball. During his playing days when he was a force on the court and after, where he has been working as a businessman, sports analyst, and actor, he has maintained his status as one of the most popular persons on earth and as a result, it comes as no surprise that personalities in his personal life would share in that popularity, one of them being his ex-girlfriend, Laticia Rolle.
Laticia and Shaquille O'Neal dated for four years between 2014 and 2018 in a relationship that was serious enough for rumors of engagement to fly around. Unfortunately, it was not meant to be but Laticia has continued to maintain the curiosity of Shaq fans, who would like to know more about one of The Shaq's ex-girlfriends.
Laticia Rolle's Biography, Age
Laticia Rolle was born in Gardner, Massachusetts on the 11th of February 1989 as one of five children of her parents, Alverez Frederick and Nancy Lee Rolle. She has two sisters and two brothers. She completed her basic education at Worcester Academy before she headed over to Eckerd University in St. Petersburg, Florida where she earned herself a Bachelor's degree in Business Management and Communication.
Armed with a wealth of options to kickstart her career with, Laticia Rolle took on different roles working for various companies, including a marketing firm, a restaurant, and a juice company. However, after years of working in different positions, Laticia set out to carve out a career on her own and became a model, along with starting a lifestyle blog in partnership with one of her sisters, D'Ana. The blog, BluHazl, which is named after their respective eye colors – blue and hazel, is focused on lifestyle tips such as skincare, travel, and makeup tips.
As a model, Laticia Rolle has equally found modest success, working for different brands, ranging from fashion brands to lifestyle brands.
Her Relationship with Shaquille O'Neal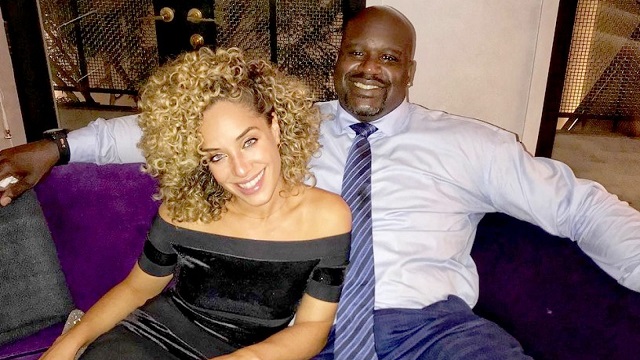 Before Shaquille O'Neal got into a relationship with Laticia Rolle, he had been married to Shaunie Nelson and was in a couple of relationships. Then in 2014, Laticia and Shaq met and began a relationship that soon made tabloid headlines in March 2014 when they announced themselves as a couple.
Their relationship progressed quite nicely for almost four years, and they both came close to getting married, with rumors of an engagement hitting the airwaves in late 2017 when pictures of Laticia wearing a ring surfaced online. Although Laticia Rolle and Shaq denied the engagement, it was widely believed that they were engaged as the ring, which was reportedly worth $5 million, kept appearing on Rolle's hands at various events.
Unfortunately, the uncertainty about their engagement did not matter for long as the relationship came to an official end in March 2018. Since the relationship ended, Laticia Rolle hasn't been known to be in a relationship while Shaq has been rumored to be dating another woman.
See Also: Siohvaughn Funches – Net Worth and Facts About Dwayne Wade's Ex-Wife

What is Laticia Rolle's Height
Compared to her ex-boyfriend, Laticia Rolle is an extremely short woman and that is because her ex-boyfriend has a height of 7 feet 1 inch, which is well above the average height of NBA players. At a height of 5 feet 6 inches, Laticia is above the average height of the American woman and she has a healthy body weight.
Being a model, Laticia maintains a gorgeous look through exercises and workouts. Her well defined and admirable body is complemented with black hair and blue colored eyes. You can see more o her via her Instagram handle @bluhazl.
Other Facts About Laticia Rolle
As a model, she has worked with a couple of lucrative brands such as HUDSON JEANS, The Frye Company and a couple of others.
Laticia Rolle, who is also a lifestyle blogger.
She has an estimated net worth of $2 million. Her ex-boyfriend, Shaq, on the other hand, has a net worth of $400 million.
Some of Laticia Rolle's hobbies include hanging out with her friends, shopping, dancing, and music.
Laticia Rolle first close relationship with basketball was in high school and college, where she played for her school, Worcester and Eckerd University. Although she never went pro, she was named the Most Valuable Player during her time in high school.
Her ex-boyfriend, Shaquille O'Neal is a four-time NBA Champion and he is ranked fifth on the all-time NBA Playoff scoring list.