Google is today at the forefront of the technological revolution as a result of it being unarguably the most popular search engine and online advertising technology in the market. The company, which specializes in Internet-related services and products, was founded in 1988 by two Ph.D. students at Stanford University, California. Larry Page is one of the brains behind the multinational tech giant that was generating about $50 billion in annual revenue by 2012 and had a market capitalization of $397 billion in January of 2014.
Thanks to the unprecedented success Google has been able to enjoy in recent years, it has been listed alongside Amazon, Apple, and Facebook as the biggest technology companies in the world. With that, it is no surprise to see that all the people at the helm of the company, particularly Page who has served as chief executive officer on two different occasions and then as the CEO of Google's parent company Alphabet Inc., have been ranked as one of the richest people in the world. Read on to find out more about his net worth as well as what he does to spend the billions of dollars he has been able to accumulate.
Larry Page Net Worth
Larry Page has for many years now been amongst the richest people on the planet as he became a billionaire at the young age of 35. In 2019, Forbes ranked him as the 12th-richest person in the world as it was reported that his net worth was estimated to be around $51.1 billion. The popular American business magazine further placed him 10th 0n the 2019 Billionaires list.
Page's wealth mostly comes from his co-founding of Google which had revenue of more than $90 billion in 2016. He owns about 6 percent of Google's parent company as well as Class A, Class B, and Class C shares of Alphabet stock. He further has other investments outside his earnings from Google that have contributed to his hefty net worth. He is an investor in Tesla Motors as well as an autonomous air taxi called Kitty Hawk which is described as a novel innovation with tremendous implications for future travel.
Read Also: Go Inside The $10 Million Paisley Park Mansion Where Prince Lived, Played And Died
Things He Spends His Money On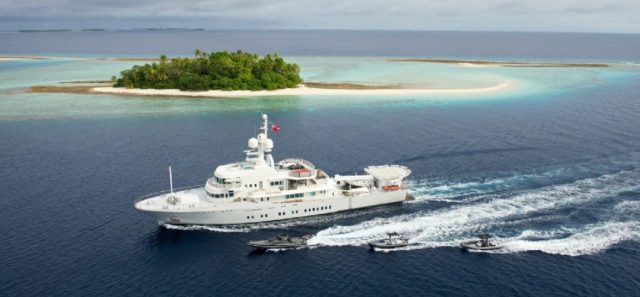 Like every other billionaire in the world with a mouthwatering net worth, Larry Page holds nothing back when it comes to how he spends his hard-earned money. The first huge check he signed was in 2005 when he paid for a 9,000 square feet Spanish Colonial Revival architecture house in Palo Alto, California that is listed on the National Register of Historic Places. The house, which had been on the market for years with an asking price of US$7.95 million, was designed by the founder of the Carmel Art Institute and the former curator of the Stanford Art Museum, American artistic polymath Pedro Joseph de Lemos.

A few years after gaining ownership of the property, Page began purchasing and tearing down properties that were adjacent to his home in order to make room for a large ecohouse. The 6,000-square-foot (560m²) Green Point Certified house was constructed with organic architecture building materials and low volatile organic compound paint. Some other green home amenities available at the home include a roof garden with solar panels, zinc-clad exteriors with plenty of windows, including a wall of sliding glass doors, permeable paving in the parking court and a pervious path through the trees that needs less water to be maintained.

Another significant piece of property in Larry Page's ownership is a 193-foot (59m) superyacht named Senses. The internet entrepreneur parted with $45 million to acquire the superyacht that has extensive ocean exploration capabilities as it was created to explore the world's oceans in comfort. It is equipped with everything from a helipad, to luxury suites, and a gym.

Expensive toys are not the only things that Page spends his money on as he gives out a lot to charity too. In 2013, he revealed that both his left and right vocal cords were paralyzed and that doctors were unable to identify the exact root cause. He later mentioned that due to this, he donated a considerable sum of money, revealed to be in excess of $20 million by an anonymous source, to a vocal-cord nerve-function research program at the Voice Health Institute in Boston, US. That same year, he donated $15 million to aid the effort against the Ebola virus epidemic in West Africa.

Fact Check: We strive for accuracy and fairness. If you see something that needs updating,