Larry Fitzgerald is one NFL player who has experienced much success on the field of play. Widely regarded as one of the greatest at his position, the wide receiver has accumulated numerous individual accolades since going pro. He has also tallied astonishing stats and holds several records, including second-highest career receiving yards, second-highest career receptions, and sixth most receiving touchdowns in NFL history as of 2020.
However, when it comes to his love life, it is a different ball game as one can argue that Fitzgerald has not made much progress in that area. Even though the revered wide receiver is the father of two children, he has never been able to make it to the altar. This fact has raised a few eyebrows but the Arizona Cardinals star couldn't care less as he goes on living his best life; a life funded by his hard-earned wealth.
Falling in Love With the Game of Football
Larry Fitzgerald owes his fortune to his football career and it is only fitting that we look back at how it all started. The eminent wide receiver was born on August 31, 1983, and grew up in Minneapolis, Minnesota. His father, Larry Fitzgerald Sr., worked as a sports reporter and editor at the Minnesota Spokesman-Recorder, while his mother, Carol Fitzgerald, was a volunteer and social activist who founded an African-American AIDS Task Force in their hometown. She ran the organization until she passed away in 2003 from a cancer-induced brain hemorrhage. Larry's parents were one of the major supporters of his career and they pushed him to be the best he could be in every aspect of his life.
Larry attended the Academy of Holy Angels, where he played high school football, before going on to the University of Pittsburgh. While there, he proved himself to be one of the best college players in the country. The Minneapolis native finished his freshman year with an impressive 12 touchdowns and 69 receptions over 1,005 yards. He then improved to 22 touchdowns and 92 receptions over 1,672 yards in his second year, the best numbers in the Big East Conference. This feat fetched Larry several honors, including the Chic Harley Award, Walter Camp Award, Biletnikoff Award, Paul Warfield Award, and All-American honors, and many clamored for him to go pro. He harkened to the voice of the people and dumped the NCAA for the NFL in 2004.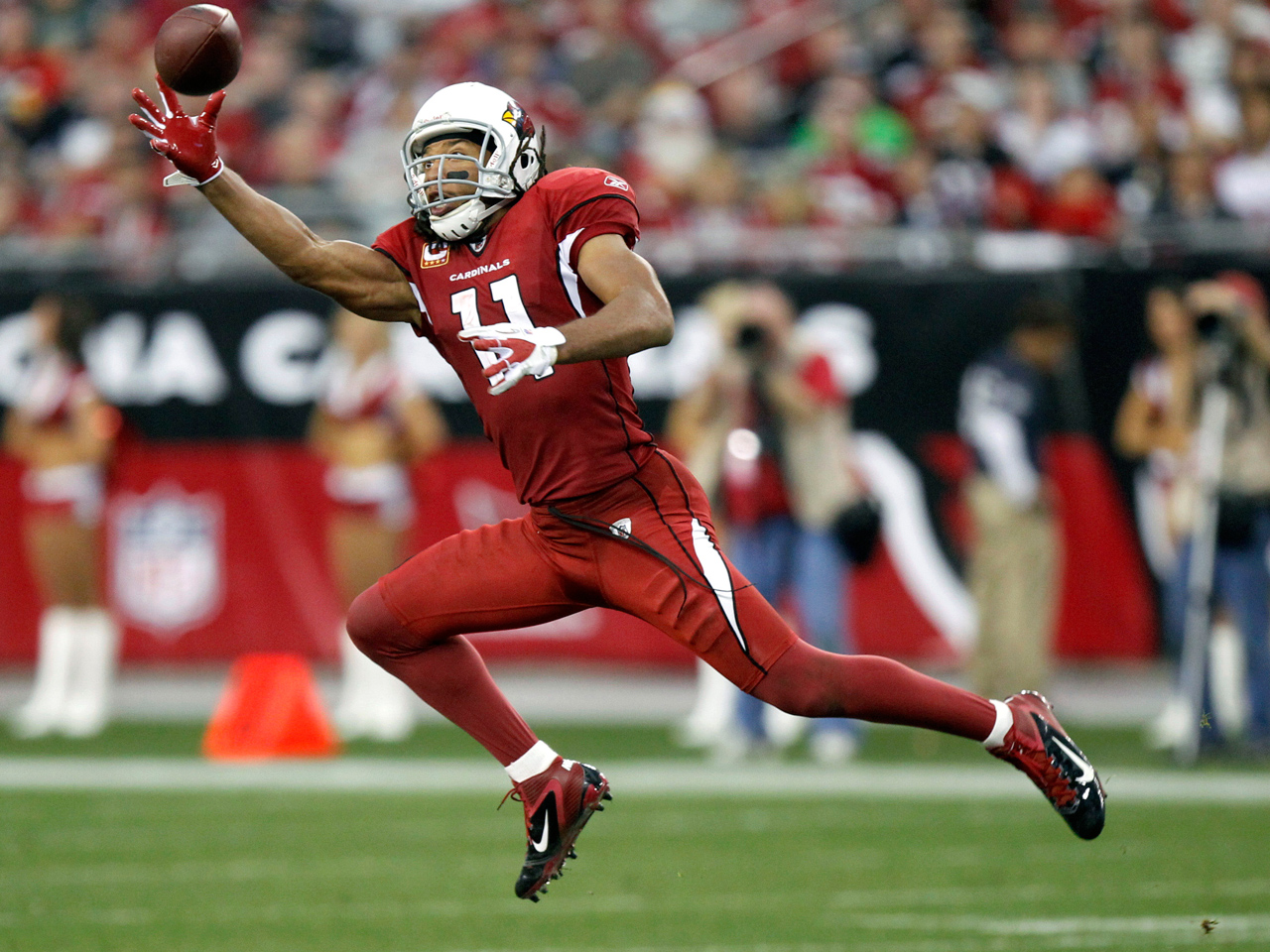 The Financial Benefits of His Career Exploits
A player of Larry's caliber and status is worth his weight in gold. He is easily one of the greatest wide receivers to ever grace the game of football, and this reputation does not come empty-handed. The Minneapolis native has been able to accumulate a mouth-watering fortune currently estimated at $97 million. This wealth did not come about overnight but was slowly and steadily built up by the owner from several sources including his Pro career.
Penning Record-breaking Contracts in the NFL
Larry Fitzgerald's professional career began in 2004 after he was drafted by the Arizona Cardinals as the third overall pick in the NFL Draft. He has remained with the side since then and has written his name in the history books of the team.
As of 2020, his NFL career stats boasts of 120 receiving touchdowns, 17083 receiving yards of 12.4 yards per reception, and a massive 1,378 receptions. This amazing performance has among other things, seen him take part in the Pro Bowl 11 times and he was named Pro Bowl MVP in 2008.
Even though Larry is yet to land his team the Super Bowl trophy, he has nevertheless led them to several playoffs as well as a berth in Super Bowl XLIII in 2008. The franchise is therefore grateful to him and has rewarded him with several juicy contract extensions throughout his 16 years term with them. The most valuable one, however, remains an eight-year deal in 2011.
The deal, which was worth $120 million, was the second-largest contract ever handed out to a non-QB as well as the fifth-largest overall contract in NFL history. The contract paid Fitzgerald as much as $16 million each year and featured $10 million in signing bonuses. If one calculates all the salaries that Larry earned from this contract as well as other ones that he has signed with the Cardinals, it means that he has made as much as $190 million in salaries since joining the NFL.
Endorsement Deals and Ownership Stake in Phoenix Suns
Asides from the contracts he has signed with his team, Larry Fitzgerald is also the beneficiary of several endorsement deals. The wide receiver boasts of an unbeatable combination of prolific talent as well as charismatic personality and as such, many brands have tapped him to represent them including the likes of Nike, Lenovo, EAS, Nokia, and PowerCube. Larry also serves as a spokesperson for the University of Phoenix (which is where he eventually completed his degree). The role is a paid one and the player has been at it since 2016.
Finally, another lucrative source of income for the NFL star is basketball. Larry Fitzgerald owns a small stake in the NBA side, Phoenix Suns, which he purchased in January 2020. He has since assumed an ambassadorial role for the team; sat in on interviews for general manager position; and also canvassed for Suns public arena vote. Larry will, however, limit his role for now and assume more duties once his pro career is over. Given that the NBA is one of the most lucrative leagues in America as well as the entire world, there is no gainsaying the fact that this was a wise investment move by Larry.
Houses and Vintage Cars Collection
Meanwhile, Larry Fitzgerald is quite level headed when it comes to spending money but he does have a few indulgences. The NFL star is a collector of vintage vehicles and owns several exquisite mobiles including a 1970 Plymouth Cuda, a 1968 Chevy Chevelle, a 1968 Dodge Charger, an 833-horsepower RENNtech Mercedes SL and a turbo-charged Charger. All these cars find shade in their owner's 12-car garage mansion. Located in Paradise Valley and measuring 9,300 square feet, Larry's multi-million dollar home boasts of 12 bedrooms, two swimming pools, a home theatre, and a 1,200-bottle wine room.
On the flip side, Larry also dedicates a lot of his time and money to charity. The wide receiver has set up the Larry Fitzgerald First Down Fund which provides sports activities for youngsters during the summer months. The player also donates thousands of dollars to breast cancer-related charities during October each year. In 2015 alone, the figure was $5,000 for each touchdown he scored and $1,000 for each reception he was able to catch. All these are geared towards combating the scourge of a disease that took his beloved mother's life in 2003.
See Also:  Julian Edelman Isn't Married But These Are The Girlfriends He Has Dated
Coping With Two Baby Mamas
Larry Fitzgerald has made it to 11 Pro Bowls, as well as a Super Bowl, but he has never made it to the altar. The wide receiver was previously in a relationship with Angela Nazario, a cheerleader who was 13 years his junior, as far back as 2006. The romance deteriorated the next year and Nazario filed a paternity suit in 2007 to establish that the NFL star was the father of her child. Her claim eventually turned out to be true and she welcomed their son, Devine Fitzgerald, in January 2008.
Following the birth of the child, Larry and Nazario fell into a pattern of visitation and paying child support. They however disagreed over the visitation logistics in December 2008 and Nazario filed a suit, alleging that Larry had physically abused her during an argument. Some witnesses testified that the player grabbed her head and threw her across a room but the matter was later settled.
Following that debacle, Larry moved on with a lady named Melissa Blakesley and she gifted him his second son, Apollo Fitzgerald. The couple remained together for several years but split up around 2018/2019. It seems there was some cheating involved as Melissa has posted messages on her Instagram alluding to the fact that Larry was two-timing on her
The lady has also taunted her ex by pointing to the fact that he would never win the Super Bowl. Larry has never addressed these accusations and is moving on with his life. He is yet to get into any other relationship but is rather focusing his attention on raising his two sons well. The player is also brainstorming on what he will do upon the end of his professional career.