Lance Armstrong is an American retired/banned professional road racing cyclist, philanthropist, author, and public speaker. At the peak of his sporting career, Armstrong had his income upwards of $125 million. However, following his widely publicized and hugely disgraceful doping scandal, Armstrong has consequentially lost millions, bringing his current assets to an estimated $50 million. Here's more on the rise and fall of the "former" seven-time Tour de France champion.
Lance Armstrong: How He Started
Lance Edward Armstrong was born on September 18, 1971, in Plano, Texas. Armstrong showed athleticism at the early age of 10 when he began participating in competitive sports. At the age of 13, he became a triathlon, competing in swimming, bicycling and distance running. Throughout his teens, he continued as a professional triathlon and emerged twice as the national sprint-course champion.
However, of the three, Armstrong chose to focus on cycling which proved to be his forte. Eventually, the athlete who stands at 5 feet 10 inches (1.77 m) high joined the Motorola Cycling Team in 1992, marking the beginning of his professional cycling career.
Lance Armstrong's Wife, Kids, Girlfriend
Lance Armstrong has had a run in with many beautiful women almost like one of the medals he collects from time to time. He was first married to Kristin Richard in May 1998, just one year after they met in June the previous year. But they were divorced five years later in 2003. Later that same year, Armstrong began a relationship with singer and songwriter, Sheryl Crow and even though they were formally engaged in September 2005, they never made it to the altar as they went their separate ways six months later in February 2016. He also dated American fashion designer, Tory Burch in 2007 and the relationship suffered the same fate as the first, if not worse. It lasted just seven months and ended in October 2007.
On May 23, 2017, Armstrong shared on Instagram, an intimate post of himself and his current girlfriend of nine years (since 2008), Anna Hansen on a boat in Lake Austin, Texas, and captioned it "She said …. YES!!!!" That announcement indicates that the lovebirds are about to take their relationship to the next level after two kids together.
Armstrong has five children to date. He had three with his first wife, Kristin Richard – Luke Armstrong (b. October 12, 1999), and twin girls, Grace and Isabelle Armstrong (b. November 20, 2001). The children would not have been possible if Armstrong had not banked his sperm before his chemotherapy. His other two children – Max Armstrong (b. June 4, 2009) and Olivia Marie Armstrong (October 18, 2010) – were procreated quite naturally even though medically, it was thought to be impossible.
Cycling Success And Cancer Scare
Armstrong started out his professional career on a strong foot getting his breakthrough victory in 1993 at the World Road Race Championship in Norway. He continued with a handful of stage victories in Europe, and two Tour DuPont victories in 1995 and 1996, among others.
However, in 1996, Armstrong's blooming career was threatened by cancer. The 25-year-old was diagnosed with testicular cancer with 70% survival chance which was later reduced to 40% after traces of the disease were found in other organs including the brain, abdomen, and lungs.
Fortunately, the cancer scare turned out to be a blessing in disguise. After defeating the life-threatening disease, Armstrong began penning books and giving inspirational speeches on his survival. He also founded the Lance Armstrong Foundation (Now Livestrong Foundation) in 1997 to help other cancer survivors. Thanks to cancer survival, Armstrong's star status had skyrocketed opening the door to numerous endorsement partners.
Lance Armstrong Comeback Success, Career Earnings
and Net Worth
Armstrong returned to professional cycling in 1998 and signed a new racing contract with US Postal Service team. He won his first Tour de France in 1999 (becoming the second American to win the title) and went on to win the title for a record 7 consecutive years until 2005.
At this point, Armstrong became a regular on the world's highest-paid athlete list with annual earnings between $20 and $30 million. He bolstered his salary and prize money with income from book sales as well as speaking fees and endorsement bonuses. His major endorsement partners included Nike, SCA Promotions, Radio Shack, Trek Bicycle Corp., Annheuser-Busch, Oakley, FRS and Honey Stinger. His net worth is about $125 million.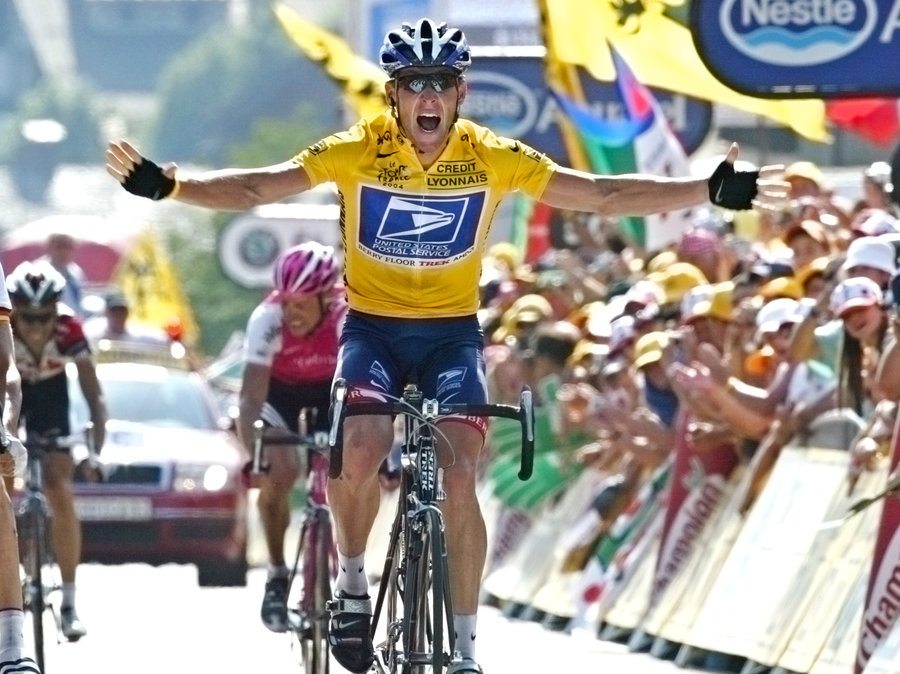 As a result of the compounding doping allegations, Armstrong was forced to retire twice, first in 2005 and after returning in 2009 retired again in 2011. Even after retiring, Armstrong earned $15 million in 2011 from endorsements alone. Throughout his active career, he earned about $218 million, about $180 million came from endorsements and speaking engagements.
See Also: Jeff Gordon Wife, Gay, Divorced, House, Family, Wiki, Bio
Effects of the Doping Scandal
Armstrong's doping allegations which began in 1999 shortly after he won his first Tour de France title ensued several lawsuits and counter lawsuits.
Armstrong strongly denied all allegations. However, in 2012 a US Anti-Doping Agency finally found him guilty and stripped him of all 7 Tour de France titles. Armstrong also received a lifetime ban on all sporting activities. The hearts of millions of fans were left shattered. The record-breaking, cancer surviving hero to millions had fallen! Armstrong was labeled the biggest cheater in sporting history after earning over $218 million from cycling.
Armstrong finally admitted to wrongdoing on the Oprah Winfrey show, in January 2013. As a result, all of his endorsement partners dropped him. Requesting a refund were; SCA Promotions who paid him $10 million in bonuses from 2002 to 2004; and Acceptance Insurance Company (AIC) who paid him $3 million from 1999 – 2001. Armstrong settled both parties for an undisclosed amount.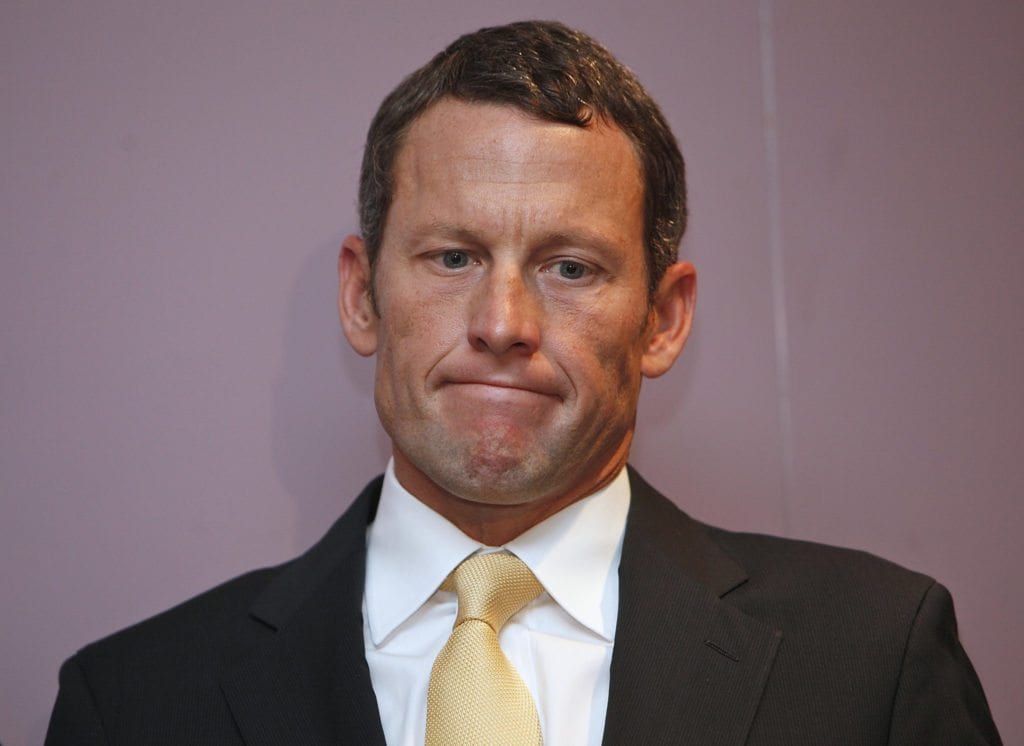 Others include Sunday Times; Lance before the "doping disgrace" filed a lawsuit and received damages payment from the British paper after it published that the cyclist had been on drugs.
Lance is expected to lose as much as $75 million from endorsement partners in the next few years.
The direst of the doping fiasco is the case with his former team sponsor US Postal with teammate Floyd Landis serving as the whistleblower. The US Postal as represented by the Federal Government claims it suffered damages as a result of his doping scandal and thus requests $100 million in triple damages under the False Claims Act. Armstrong, on the other hand, argues that US Postal benefited hundreds of millions from the publicity his wins brought to them. Armstrong can only wait in hope that the ongoing case ends in his favor.
Lance Armstrong House, Charity – Livestrong Foundation,
On the flip side, at least Lance used his fame to the benefit of others. His Livestrong Foundation has raised about $500 million to help over 2 million cancer survivors. Armstrong himself is the organization's largest private donor giving about $7 million. In collaboration with Nike, he sold over 70 million yellow Livestrong bracelets with all proceeds donated to the charity. He was ousted from the organization after the doping confirmation. Maybe Armstrong would turn his focus to his Juan Pelota Cafe, a coffee shop he owns in downtown Austin, Texas. Armstrong also owns a home and a ranch in the Texas Hill Country.