The Big Baller Brand has become one of the most identifiable brands in US Basketball. Apart from its leader, LaVar Ball, and its array of triple B merchandise, BBB has three sons groomed to become basketball superstars. While the eldest Lonzo Ball has already made his way into the big leagues in the NBA, the youngest son in the family, LaMelo Ball, is still well on his way to becoming a significant part of the Big Baller Brand.
Although he is still yet to play an NBA game, LaMelo has become one of the most popular young basketball players in the world. With a possible long future ahead of him in the NBA, it is worth learning about the life and career of one of the next superstars of the league, such as the fact that he began playing the game at the age of four.
LaMelo Ball Went to the Same High School with His Brothers
LaMelo Ball was born on the 22nd of August, 2001 in Chino Hills, California to LaVar and Tina Ball. His birth came as the third in the Ball family, and at the age of four, he joined the family business of Basketball. He was four years old when he began playing basketball with his brothers who all learned the game under the coaching tutelage of their father. He would later go on to play on the family-owned Big Ballers VXT team, a 17-and-under Amateur Athletic Union (AAU) side.
Like his brothers, LaMelo played high school basketball for Chino Hills High School. After having spent his formative years playing against older and bigger opponents, he was able to make a difference on his high school team despite being one of the youngest players. By the end of his freshman year, he earned MaxPreps National Freshman of the Year honors, which he shared with a teammate.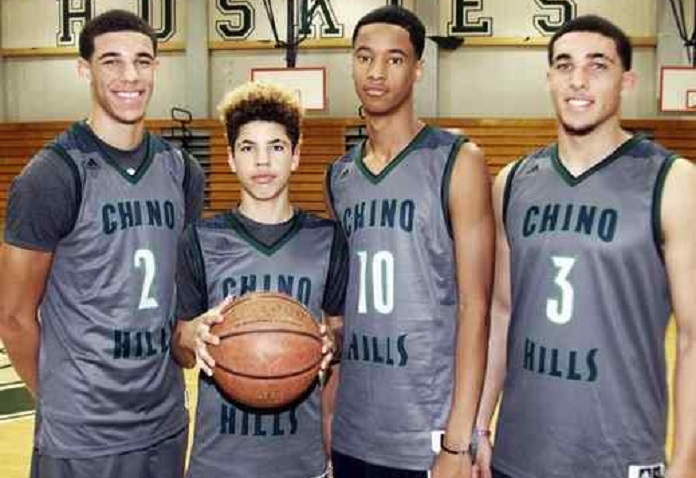 Throughout his high school career, LaMelo Ball received several other individual accolades, including setting a record as the second-highest scoring performance in California high school basketball history with 92 points in a game. He subsequently left high school for a brief period and competed at a professional level in countries like Lithuania and Japan. Following his return to complete his high school education, the athlete joined SPIRE Institute in Ohio where he eventually graduated in 2018.
LaMelo Ball's Journeyman Pro Career
LaMelo Ball's professional career has seen him play for teams like Prienai in Lithuania and the Los Angeles Ballers in California. He also played briefly for the Illawarra Hawks, a National Basketball League team in Australia he joined in June 2019.
While most basketball players today go to college before going pro, LaMelo is a part of the reducing minority that is doing just the opposite. Although he committed to play for the University of California, Los Angeles at age 13 to follow in his brother's footsteps, a shoe deal with the Big Baller Brand threatened his eligibility. So rather than debate his eligibility, he moved to Lithuania and began his professional career.
LaMelo Ball joined Prienai in December 2017, becoming the youngest American to sign a professional contract. Sadly, despite flashes of excellence, he was unable to improve his reputation with the team and left after just a season. He averaged a dismal 6.5 points and 2.4 assists per game.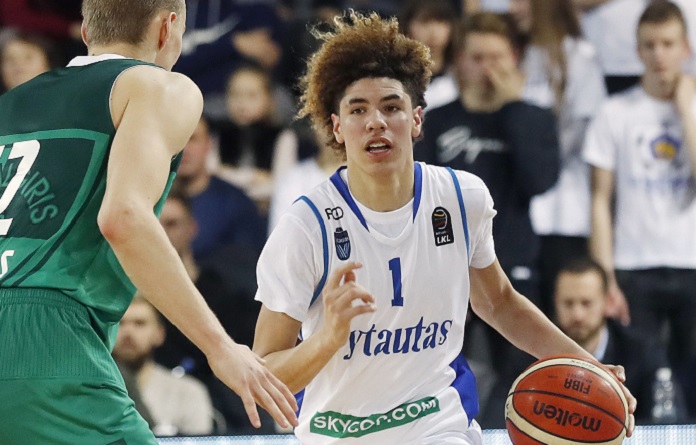 Playing for His Father's LA Team
After leaving Lithuania in 2018, LaMelo Ball joined the Los Angeles Ballers, a team in the Junior Basketball Association (JBA) created by his father as an alternative to traditional college basketball.
For LA Ballers, LaMelo was a star player, averaging 39.6 points, 14.6 rebounds, and 11.5 assists per game. His performances earned him a place in the All-Star Game and helped his team to the playoff finals. In the playoffs final game against Seattle, LaMelo, playing alongside his brother LiAngelo, helped the team to victory. His performance earned him a place in the league's select team.
Sharpening His Skills in Australia
After his JBA season came to an end, LaMelo Ball returned to high school to complete his senior year. By 2019, he signed a two-year contract with the Australian team, Illawarra Hawks, in the National Basketball League. The goal of the move was to develop his skills in readiness for the NBA Draft.
LaMelo had a strong start in Australia as he was named the league's top rookie and had excellent performances in the pre-season tournament. When the season began, the baller continued to impress, playing 12 games for the Hawks and averaging 17 points, 6.8 assists, and 7.4 rebounds per game. His performances earned him the NBL Rookie of the Year award.
At the end of the season, LaMelo returned to the US, continuing his preparation for the NBA Draft. All evidence points at an NBA career for LaMelo if scout reports and mock drafts are anything to go by.
A Small But Yet Significant Net Worth with a High Financial Ceiling
With the help of the Big Baller Brand and his income as a professional player, LaMelo Ball has been able to personally amass a significant amount of wealth despite his young age. While his exact earnings as a pro player are yet to be determined, public information puts the average salary of NBL players at $78,000.
Regardless, based on calculations by Celebrity Net Worth, LaMelo Ball is worth an estimated $400 thousand. Significant sources of his wealth are income from his pro career and contract with the Big Baller Brand. A part of that comes from earnings from his Big Baller Brand signature shoe, Melo Ball 1.
While that is significantly small in comparison with basketball players with similar levels of popularity, it is just a start of what's to come. Yet to appear in the NBA, he is already being courted by sneaker brands, one of whom offered him a $100 million deal.
LaMelo Ball's Popular and Controversial Basketball Family
Tina and LaVar Ball
Rarely do you have basketball players with famous parents, but LaMelo Ball is one of the few exceptions. His father is LaVar Ball while his mother is Tina Ball. Tina was a college basketball player who has since become a coach while LaVar is a media personality and businessman. Before he was either, he was a college basketball player and pro football player. As a football player, he played for the Carolina Panthers, London Monarchs, and New York Jets.
Both his parents are the owners of the Big Baller Brand, and together, they appear on the Facebook Watch reality show along with his siblings, Ball in the Family.
See Also: Myles Turner – Bio and Everything You Need To Know About His NBA Career
Lonzo Ball
Lonzo is LaMelo's oldest brother who already plies his trade in the NBA. He plays for the New Orleans Pelicans after having been traded to the team by the Los Angeles Lakers. Lonzo had played two seasons for the iconic NBA team but was unfortunately deemed surplus to requirements as the purple and yellow moved to acquire the services of Anthony Davis.
Unlike LaMelo, Lonzo had a traditional path to the NBA. He joined the league after spending one season as a college player for UCLA.
LiAngelo Ball
LaMelo shares a similar journeyman story with his older brother, LiAngelo. Yet to join the NBA, LiAngelo has played for Prienai, the Los Angeles Ballers, and most recently the Oklahoma City Blue in the NBA G League.
During his time in the JBA for Los Angeles Ballers, he was JBA Finals MVP, JBA All-Star Player, and JBA All-Star Game Co-MVP.