Lamar Odom is a former professional basketball player best known for his days with the Los Angeles Lakers where he won two consecutive NBA championships in 2009 and 2010. Lamar is also well known for his highly publicized relationship with reality TV star Khloe Kardashian which ended in 2015. In the wake of his divorce from Khloe and his addiction problems, Lamar's wealth has gradually dwindled. Once worth $30 million, Lamar's assets are now estimated at $12 million.
Lamar Odom Biography
Lamar Joseph Odom was born on November 6, 1979, in South Jamaica, Queens, New York City. Lamar had it rough while growing up; his father was a drug addict who left him in the sole care of his mother Cathy Mercer. Sadly when Lamar was 12 years old, he lost his mom to colon cancer. Afterwards, Lamar was raised by his grandparents.
Lamar attended Christ The King Regional High School in Middle Village, Queens where he played basketball on the varsity team. He had developed a passion for the game since he was 7 years old and remained focused as a way of escaping the frequent troubles that flooded his dangerous neighborhood. After three years at Christ The King, Lamar was transferred to Redemption Christian Academy in Troy, New York, due to poor grades. He was then again transferred to another high school in New Britain, Connecticut.
While Lamar didn't exactly excel in his academics, his physical stature and athleticism made him a whiz on the basketball courts which soon brought him national recognition. Lamar was named the Parade Player of the Year in 1997 among other honors.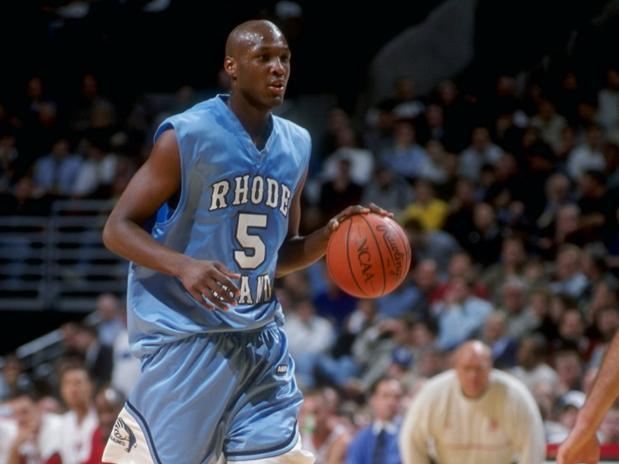 In doubt if his abilities were NBA worthy, Lamar decided to further hone his skills in college. He attended the University of Nevada at Las Vegas and later transferred to the University of Rhode Island, following a questionable ACT score. Lamar declared his NBA eligibility after playing one season at Rhode Island where he led the team to their first A-10 Tournament title.
Professional NBA Career And Earnings
Lamar was selected as the fourth overall pick in the 1999 NBA draft by Los Angeles Clippers and signed a $7.88 million three-year deal. After an impressive first season, he landed a berth in the 2000 NBA All-Rookie First Team.
Towards the end of another spectacular season, Lamar became his own undoing when he was suspended for drug use. However, the suspension only made matters worse as he continued smoking marijuana. After serving a second suspension, his performance greatly diminished. After his final third year with the Clippers, he was traded to Miami Heat. Odom played one season with the Heat before he was traded to Los Angeles Lakers in exchange for Shaq.
Lamar's career picked up with the Lakers as he completed the 6-year, $65 million deal he had previously inked with the Heat. His highest payout came in his penultimate year with the Clippers when he earned about $14.1 million in salary. Playing alongside Kobe Bryant, Lamar lead the LA Lakers to two consecutive NBA championships in 2009 and 2010. In 2009, he signed a four-year, $33 million contract with the Lakers.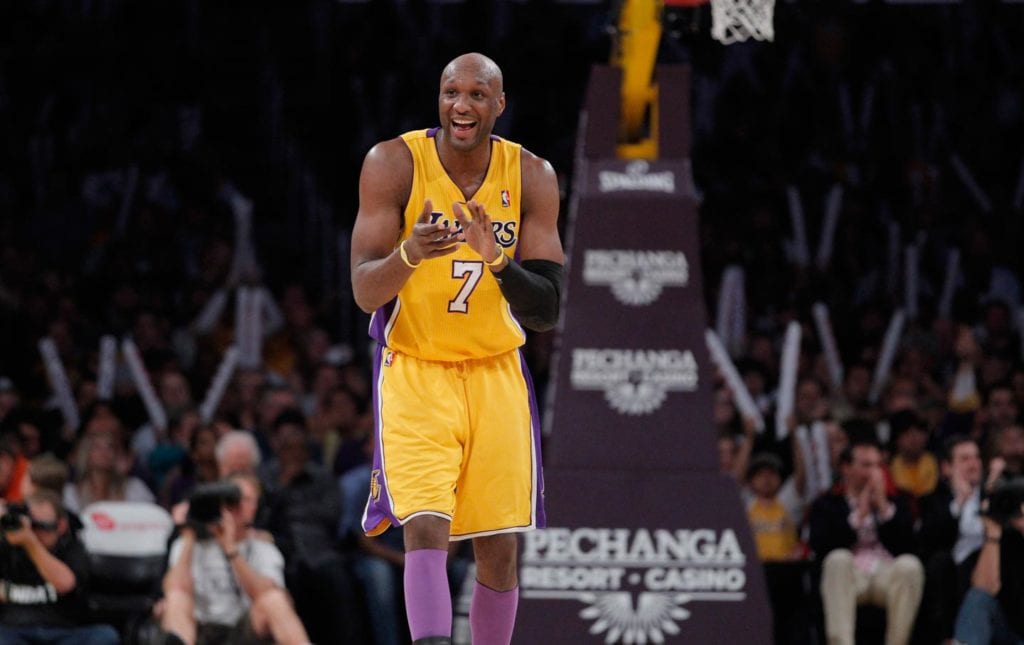 However, after the 2010/2011 season when he earned $8.2 million from the Lakers, his performance suffered yet again and he was traded to Mark Cuban's Dallas Mavericks. Lamar's NBA career only suffered ever since; his poor performance saw him play just one season for the Mavericks.
He returned to the Clippers with the hope of a comeback but failed. He then went to Europe where he managed just two games for Spanish Laboral Kutxa Baskonia in 2014. He returned to the US and signed with the New York Knicks but was dropped from the roster before he could play any game. Odom's NBA career ended shortly after.
Lamar has also had an impressive national career, he was part of the USA team to win gold at the 2004 Summer Olympics in Athens.
Throughout his 15 years playing career, Lamar Odom has managed to earn about $115 million in salary alone, averaging at about $10 million per year, bringing his net worth to an estimated $12 million. In his career, Lamar also endorsed brands like Taco Bell and Wrigley.
Does Lamar Odom Have A Girlfriend, Wife, Or Kids?
Lamar was in a serious relationship with sweetheart Liza Morales. Their relationship started when they were in grade school. The pair got engaged in 2000 but never officially got married. However, their relationship practically lasted over 10 years as they began dating in 1996. They both have had three kids together; a daughter "Destiny" born in 1998, two sons "Lamar Jr. (2002) and Jayden (2005-2006). Sadly their youngest son Jayden passed away just six months old from Sudden infant death syndrome (SIDS).
Lamar met the youngest Kardashian sister at a party of one of his Lakers teammate Artest. After a month of dating, the pair got married in a televised wedding that aired on E! reality TV show Keeping Up With The Kardashians. Lamar also became a regular on the show earning over $800,000 yearly. The couple also got their own spin-off Khloe & Lamar which focused on their personal lives.
However, Lamar soon became tired and worn out from the constant cameras and filming and as a result, the show was canceled after two seasons.
Addiction Problems And Divorce
Lamar's problems seemed to have begun shortly after his marriage to reality TV star Khloe Kardashian. The aftermath of the constant filming for the reality show (of which Khloe had reportedly previously warned him against) began to tell on his career.
Many including Lamar's estranged dad Joe Odom (who surfaced when his son began making millions) blamed, Lamar's NBA downfall on his involvement with reality TV and the Kardashians in general.
In 2013, Lamar was charged with DUI. Ensuing events led to speculations that he was abusing drugs as well. His relationship with Khloe also turned sour leading to a divorce filling in 2013 which was later finalized in October 2015.
In the same October 2015, Lamar was found unresponsive in a Nevada brothel called Love Ranch following different substance overdose. He suffered multiple strokes and kidney failure and was placed on life support. The incidence forced Khloe to withdraw the divorce filings in order to help him recover. Lamar completely recovered and was discharged in early 2016.
In an effort to get back to earning top bucks, Lamar placed his Miami mansion up for rent at $20,000 per month. Lamar owns Rich Soil Entertainment, a music, and film production company. Lamar now resides in his hometown, New York.
See Also: Rob Kardashian Weight Loss, Baby, Girlfriend, Wiki
From his previous relationship with Liza Morales, Lamar has 2 children. Sadly, that number would have been 3 had his last daughter, Jayden not died a year after her birth in 2006.
He is currently engaged to Sabrina Parr 3 months after he made the announcement that they were dating.
Is Lamar Odom Dead?
Following the Las Vegas brothel incident in 2015 where Odom had actually a near-death overdose, a false news alleging that the NBA star had died spread like wildfire after a fake social media account prematurely told the Kardashian-Jenner family of the false info, leaving them devastated.
But contrary to reports, it was soon discovered that Odom had survived the ordeal and was in a coma. Medical reports later revealed that the coma was induced by a dangerous combination of drugs, including herbal Viagra following a wild night of partying.
After suffering several strokes and kidney failure, spending four days in a coma, Odom was placed on life support as well as months of physical therapy and miraculously survived. He later checked into rehab.