| Age/Date of Birth: | November 06, 1979 |
| --- | --- |
| Height: | 6 ft 10 in or 208 cm |
| Ethnicity/Race: | African American |
| Nationality: | American |
| Net Worth: | $30 million |
| Wife or Girlfriend: | Sabrina Parr. He was formerly married to Khloé Kardashian (m. 2009–2016) |
| Parents: | Joe Odom and Cathy Mercer (dead) |
Lamar Odom is a former professional basketball player most popular for his days with the Los Angeles Lakers where he won the 2009 and 2010 NBA championships as well as the league's 2011 Sixth Man of the Year. Lamar is also very popular for his highly publicized relationship with reality TV star Khloe Kardashian which ended in 2015. As of 2020, he has an estimated net worth of $30 million.
Lamar Odom's Early Life and Career Breakthrough
He was born Lamar Joseph Odom on November 6, 1979, in South Jamaica, Queens, New York City, U.S.A. Lamar had it rough while growing up; his father was a drug addict and left him in the sole care of his mother, Cathy Mercer. Sadly, when he was 12 years old, he lost his mom to colon cancer. Afterwards, his grandparents raised him.
Lamar attended Christ The King Regional High School in Middle Village, Queens where he played basketball on the varsity team. He had developed a passion for the game since he was 7 years old and remained focused as a way of escaping the frequent troubles that flooded his dangerous neighbourhood. After three years at Christ The King, Lamar transferred to Redemption Christian Academy in Troy, New York due to poor grades. He then again transferred to another high school in New Britain, Connecticut.
While Lamar didn't exactly excel in his academics, his physical stature and athleticism made him a whiz in the basketball courts which soon brought him national recognition. Odom eventually emerged the Parade Player of the Year in 1997 among other honours.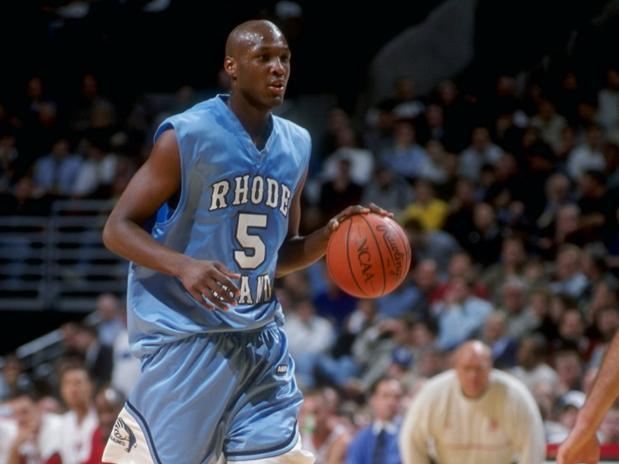 In doubt if his abilities were NBA worthy, Lamar Odom decided to further hone his skills in college. He attended the University of Nevada, Las Vegas and later transferred to the University of Rhode Island, following a questionable ACT score. Lamar declared his NBA eligibility after playing one season at Rhode Island where he led the team to their first A-10 Tournament title.
A Breakdown of How He Built His Net Worth
Lamar Odom built most of his wealth from his professional MBA career which spanned a decade and half (1999-2014). However, during his active years, he leveraged on his fame to venture into other lucrative businesses which also contributed to his financial worth. Among the income sources from which the NBA star built his wealth are:
Player salaries and bonuses
Endorsement contracts
Reality TV
Entrepreneurial ventures
How Much Did Lamar Odom Earn from His Basketball Career?
Lamar signed his first professional basketball contract with the Los Angeles Clippers who selected him as the fourth overall pick in the 1999 NBA draft. It was a three-year contract worth $7.88 million. After an impressive first season, he landed a berth in the 2000 NBA All-Rookie First Team.
Odom received his highest payout in his penultimate year with the Clippers when he earned about $14.1 million in salary. At the expiration of his contract, he penned an extra year with the club for $3.6 million. But despite his success records with the Clippers, Odom's stay was somewhat marred by substance abuse as he, on two occasions, earned a suspension for violating anti-drug rules.
In October 2003, Lamar Odom inked a 6-year, $65 million deal with Miami Heat. He however, played one season with the Heat before he was traded to Los Angeles Lakers in exchange for Shaq. Odom's career picked up with the Lakers as he completed the deal he had previously inked with the Heat. He subsequently signed a 4-year, $33 million contract with the Lakers in 2009. Playing alongside Kobe Bryant, Lamar lead the LA Lakers to two consecutive NBA championships in 2009 and 2010.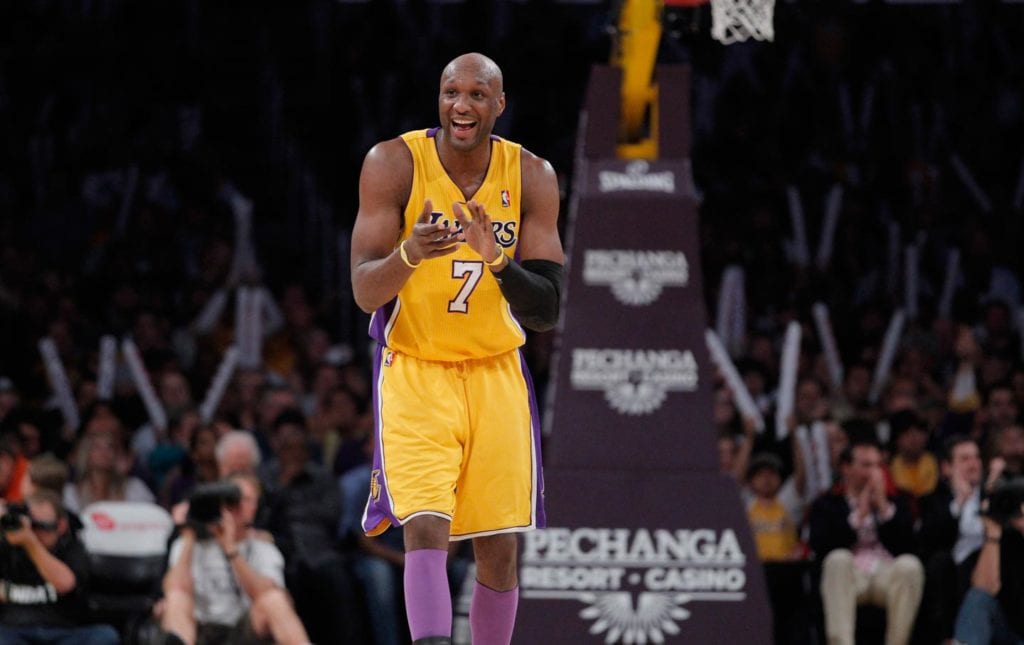 Odom's performance however, suffered yet again after the 2010/2011 season and he was traded to Mark Cuban's Dallas Mavericks. During that season, he earned $8.2 million from the Lakers. Lamar's NBA career has only suffered ever since; his poor performance saw him play just one season for the Mavericks.
After trying his luck with a couple of clubs both in Europe and the U.S, Lamar Odom ended his NBA career in 2014. The talented player however, had an impressive national career, having won a bronze medal in the 2004 Olympics and gold in the 2010 FIBA Championship.
Throughout his professional career that spanned fifteen years, Lamar Odom earned a total of approximately $116 million in salary alone, averaging about $10 million per year. Here's a breakdown of his pro career earnings per Celebrity Net Worth:
2012/13: $8,200,000 (LA Clippers)
2011/12: $8,900,000 (Dallas Mavericks)
2010/11: $8,200,000 (LA Lakers)
2009/10: $7,500,000 (LA Lakers)
2008/09: $14,148,596 (LA Lakers)

2007/08: $13,248,596 (LA Lakers)

2006/07: $12,348,596 (LA Lakers)
2005/06: $11,465,333 (LA Lakers)
2004/05: $10,548,596 (LA Lakers)
2003/04: $9,963,596 (LA Lakers)
2002/03: $3,557,585 (LA Clippers)
2001/02: $2,812,320 (LA Clippers)
2000/01: $2,628,960 (LA Clippers)
1999/00: $2,445,480 (LA Clippers)
Odom's Earnings from TV Appearances
Lamar Odom's appearances alongside Khloe Kardashian in E!'s reality show, Keeping Up With The Kardashians made a very significant impact on his fame and wealth. He reportedly pocketed a yearly salary of $800,000 from the reality series.
The duo went on to have their own show – Khloe and Lamar on the network. Lamar also appeared in another spinoff, Kourtney and Khloé Take Miami and a number of other reality tv shows.
Rich Soil and other Ventures
Lamar Odom counts among the rising number of celebrities that are venturing into cannabis business following the legalization of medical marijuana. In 2018, the former basketballer in collaboration with the organic cannabis company, Camp Green launched Rich Soil Organics, a line of CBD-based products.
https://www.instagram.com/p/BwwSU0RBZoc/?utm_source=ig_web_copy_link
Via his Rich Soil brand, Lamar has also launched a line of men's wear called Rich Soil Clothing. Meanwhile, the brand also includes the music and film production company, Rich Soil Entertainment which Lamar first founded back in the 2000s.
During his Kardashian years, Lamar alongside Khloe founded a production company called Khlomar, LLC whose value they shared equitably following their divorce. The duo also launched two fragrances – Unbreakable Bond and Unbreakable Love in 2011.
In May 2019, Odom released an expository memoir about his life and career titled, Darkness to Light. The book received wide commercial patronage, emerging a New York Times bestseller in just a month after its release.
Although he may not make it to the list of big celebrity endorsers, Lamar Odom has also made some bucks from that field. Some of the known brands the basketballer marketed during his career include Taco Bell and Wrigley.
Is Lamar Odom Still Rich – How Much Is He Worth Now?
Throughout his basketball career, Lamar Odom's addiction to drugs greatly impacted his performances and progress. On several occasions, the basketballer bagged sanctions for his unacceptable behaviors which in turn impacted his finance negatively. Odom however, reached the peak of his drug use in 2015 after an overdose which affected some of his major body organs sent him into life support.
In addition to Lamar's recurring substance abuse, his regular entanglement with the law also affected his financial standing. From tax issues and illegal endorsement, to assault and DUI, Odom has lost some quite decent amounts in a number of legal battles. In 2007, the basketballer parted with about $8,000 following his legal battle with the IRS over unpaid taxes.
In addition to these, Lamar's relationship and subsequent divorce with Khloe Kardashian also impacted his career net worth negatively. Once worth over $50 million, Odom's wealth gradually plunged to hit a reported $12 million as of 2018. The retired basketballer however, appears to have recovered a bit from the dip, thanks to his numerous businesses which are turning out lucrative. At the moment, his net worth stands at an estimated $30 million.
Meet Liza Morales, Lamar Odom's Ex-girlfriend and Babies Mama
Full Name: Liza Morales
Date of Birth: May 10, 1979
Occupation: Fashion Stylist, Reality Star
No. of Children: 2
Lamar was in a serious and long time relationship with Liza Morales, a lady with whom he became friends when they were both in grade 11. Morales is a fashion stylist. She has also featured in a number of TV shows including TLC's Starter Wives Confidential (2013).
Lamar and Liza began dating in 1996 and in 2000, they became engaged. Although the pair never proceeded from engagement to marriage, their relationship remains Lamar's longest and most serious to date. Their affair which lasted for over a decade produced three (but two surviving) children, namely:
Destiny
Full Name: Destiny Morales-Odom
Date of Birth: August 1998
Destiny is Lama Odom's oldest child and only daughter. She was born to him in 1999 by his now ex-girlfriend, Liza Morales. Destiny made several appearances on KUWTK and its spinoff, Khloe and Lamar alongside her dad and stepmother, Khloe.
Lamar Jr.
Full Name: Lamar Odom, Jr.
Date of Birth: 2002
Lamar is Odom's second child and only son whom he had with Morales. He was born in 2002. Just like his sister, Lamar Jr also featured in several episodes of Khloe & Lamar.
Lamar Odom and Liza Morale's third child, Jayden Odom was born in 2005. Jayden however, lived for just six months having died from Sudden Infant Death Syndrome (SIDS) on June 29, 2006. Not long after his death, Lamar and Liza ended their relationship. Following their split, Odom married Khloe Kardashian.
What Exactly Happened Between Lamar and Khloe Kardashian?
Lamar met the youngest Kardashian sister at a party of one of his Lakers teammate Artest. After a month of dating, the pair got married in a televised wedding that aired on E! reality TV show Keeping Up With The Kardashians.
Unfortunately, Lamar's problems seemed to have begun shortly after his marriage to Khloe. The aftermath of the constant filming for the reality show (of which Khloe had reportedly previously warned him against) began to tell on his career.
Many including Lamar's estranged dad Joe Odom (who surfaced when his son began making millions) blamed Lamar's NBA downfall on his involvement with reality TV and the Kardashians in general.
In 2013, Lamar was charged with DUI. Ensuing events led to speculations that he was abusing drugs as well. His relationship with Khloe also turned sour leading to the latter filing for a divorce in December in 2013.
Prior to concluding the divorce proceedings, Lamar was found unresponsive in a Nevada brothel called Love Ranch following different substance overdose. He suffered multiple strokes, heart attacks and kidney failure and was placed on life support. The incidence forced Khloe to withdraw the divorce filings in order to help him recover. Lamar completely recovered and was discharged in early 2016. Following this, Khloe refiled and they finally brought the divorce to a closure in December 2016.
Is Lamar Odom Married Now or Dating Someone?
About three years after ending his highly publicized relationhip and marriage with Kardashian, Odom began dating fitness/wellness enthusiast, Sabrina Parr (b. May 1, 1987). Just about three months after going public with their relationship, the duo became engaged. That was in November, 2019.
https://www.instagram.com/p/CE2Pph-gMcI/?utm_source=ig_web_copy_link
On November 5, 2020 and barely one year into their relationship, Sabrina confirmed (for undisclosed reasons) that they have called off their engagement. The pair however, got back together few weeks after. They actually celebrated the 2020 Thanksgiving Holiday (Nov. 26) together with Parr still sporting her engagement ring from Odom.
Profile Summary
First Name:
Lamar
Last Name:
Odom
Also Known As:

Lam, Lam-Lam, Lamy


Sex/Gender:

Male
Profession:

Professional basketball player
Famous For:
Winning two NBA championships with the Los Angeles Lakers in 2009 and 2010. He is also known for being NBA Sixth Man of the Year in 2011.
Colleges/Universities Attended:

The University of Nevada at Las Vegas, the University of Rhode Island
Educational Qualifications:

N/A
Religion:

Christianity
Birthday & Zodiac

Age/Date of Birth:

November 06, 1979
Zodiac Sign:
Scorpio
Birth Place:

Queens, New York City, New York, United States
Nationality:
American
Ethnicity/Race:

African American
Country of Residence:

USA
Physical Attributes

Height:

6 ft 10 in or 208 cm
Weight:

104 kg or 230 lbs
Eye Colour:

Dark Brown
Hair Color:

Bald
Other Body Measurements:

Chest – 49 in, Arms / Biceps – 17 in, Waist – 40 in
Relationships

Marital Status:

Engaged
Spouse/Partner:

Sabrina Parr. He was formerly married to Khloé Kardashian (m. 2009–2016)
Family and Relatives

Father:

Joe Odom
Mother:
Cathy Mercer (dead)
Children:

Lamar Odom Jr, Destiny Odom, Jayden Odom
Siblings:
N/A
Other Relatives:

Mildred Mercer (Maternal Grandmother)
Net Worth
Estimated Net Worth:

$30 million
Salary:
He earned a total salary of about $115 million through the first 15 years of his career
Source of Wealth:

Basketball