In recent years, YouTube has become one of the most used platforms for young and old people to express themselves in ways that they could not do before. Through this self-expression, many have become popular and notable personalities on the internet, while some have extended their popularity into the real world. One person who has attained popularity on both quarters is Kai Jackson, popularly known as Laineybot.
As a YouTuber, her videos often showcase collaborations, featuring herself and her husband, Onision, who is also a famous YouTuber. Aside from their collaborative works, she also publishes beauty videos, which include makeup tutorials and various How-To videos.
Laineybot Biography
Kai Jackson, who is known to the rest of the world as Laineybot, identifies as a non-binary person and goes by the "they' pronoun.
Laineybot was born on the 16th of October, 1994 in Las Cruces, New Mexico. Not much is known of their background, specifically their familial background, but they are known to have a sister named Lauren. The absence of background information about Laineybot and their unwillingness to share is part of their personality and character as an intactivist and emo, which has also defined the outlook of their YouTube channels, Laineybot and Beautybot.
Their first channel, Laineybot, through which they earned Their fame, was launched in February 2015. They launched the channel with the help of fellow YouTuber, Onision. The first video on the channel, Girlfriend Boyfriend Tag was a collaborative vlog video with Onision and it was well-received, with several thousand views.
At the beginning of their YouTube channel, Laineybot, who was a shy person and lacked the necessary confidence needed in front of the camera, worked in tandem with their husband, Onision in cultivating a following for the channel, during which they also developed the confidence and charisma to carry the channel on their own.
Over time, Laineybot eventually took control of the direction of their channel and has explored different content styles like vlogs and challenges. They still continue to work in collaboration with their husband, who makes occasional appearances on their channel.
As Laineybot grew, they decided to explore other content forms and created another channel, Beautybot. The channel, as the name, suggests, is focused on makeup and beauty. They developed the channel in tandem with their Laineybot channel, uploading a variety of beauty-themed videos about hair tutorials, makeup tutorials, and several How-to videos. Beautybot has grown to over 30 thousand subscribers since its creation while their primary channel, Laineybot has over 320 thousand subscribers.
Aside from their YouTube channels, Laineybot is also an active Twitter and Instagram user, where they have over 300 thousand followers combined on both platforms.
Laineybot's Relationship with Onision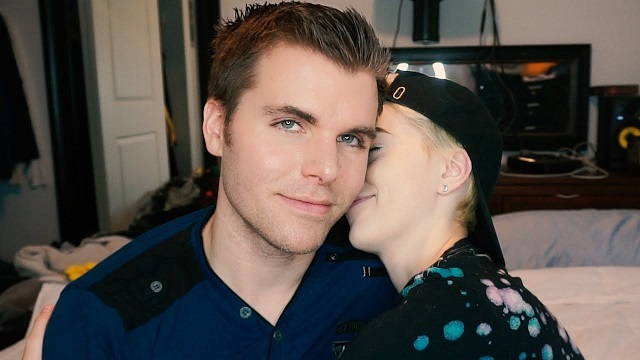 One of the factors that have cemented Kai Jackson, aka Laineybot as a YouTube star is their marriage to Gregory Jackson, aka Onision. The couple got married in 2012 and have remained married ever since. Since they got married, Laineybot and their husband have given birth and raised two children, whose identities they have managed to keep away from social media and the press as a whole. Every indication suggests Laineybot and Onision have a loving and caring relationship, especially their joint videos on their respective YouTube channels.
Prior to meeting Laineybot, Onision was married to Skye Tantaga between 2005 and 2011. He has also been known to be in a relationship with Adrienne Jourgenson and Shiloh Hoganson.
See Also: Faze Rug – Bio, Net Worth, and Girlfriend
Celebrity Facts About The YouTube Personality
They used to be known as Taylor Anderson, but they decided to change their name to Kai Elaine Avaroe. Aside from their real name, their popular moniker is Lainey.
Some of Laineybot's most popular videos include Husband Cuts My Hair, Turning My Husband Into A Girl (Gender Switch 20), Never Have I Ever (Husband Edition).
Although Their husband, Onision is mostly known for his work on YouTube, he has also served in the American Air Force.
Their net worth is yet unknown, although Their YouTube channel, Laineybot is believed to be earning an average of $19, 000 ad revenue income per year. Their husband, on the other hand, who is believed to be earning as much as $36 thousand per year in ad revenue, has a net worth of $2.3 million.
Prior to YouTube, Instagram and Twitter, Laineybot used to be on Myspace as TaylorXTrauma.