Best known for her recurring role as Madeline Wuntch in the police sitcom Brooklyn Nine-Nine, and for starring as Deputy Chief Brenda Leigh Johnson in the crime drama The Closer, the American actress Kyra Sedgwick is no new face in the woods of Hollywood. In fact, she is one Hollywood face that has remained recurrent on TVs and films and for that, she has earned multiple awards and accolades.
With a career that spans over three decades, the theatre and film actress found acting as her thing at the early age of 12. She became a professional actress when she was only 16 and like most actors who give credit to their parents for being supportive, Sedgwick recognizes her mother for leading her through the paths of success which she currently enjoys. Today, there is virtually no role you would call Kyra Sedgwick for that she wouldn't confidently execute well.
Who is Kyra Sedgwick and How Old is She?
Born on August 19, 1965, Kyra Sedgwick is a New York native with mixed ethnicity of Distant Dutch, English, Scottish, German and Ashkenazi Jewish. She is the daughter of a venture capitalist Henry Dwight Sedgwick and Patricia (née Rosenwald), an educational/family therapist and a speech teacher. The couple named their daughter Kyra Minturn Sedgwick Bacon.
She has a brother Robert Sedgwick, who is an actor; a half-brother Mike Stern, who is a jazz guitarist; and a half-sister Holly who is the mother of pop singer George Nozuka and songwriter Justin Nozuka. Sadly, her parents separated when she was just four years old. Their divorce was finalized when she was six and Sedgwick had to live with her mother who married Ben Heller, an art dealer.
Sedgwick had her high school education at Manhattan's Friends Seminary before moving on to attended the Sarah Lawrence College and then she moved on to the University of Southern California, where she had a degree in theatre.
Sedgwick began her acting journey at the age of 16 with a recurring role in the NBC-aired soap opera Another World. Her journey into being a professional actress was not without much encouragement from her mother who is an ardent lover of theatre and a strong fan of many Broadway celebrities. Sedgwick's role in Another World paved the way for her appearance in more Hollywood films like Heart and Souls, Phenomenon, Miss Rose White, Secondhand Lions, Singles, The Game Plan, Something to Talk About, and many more. Her most notable film, however, is the drama series The Closer which aired from 2005 to 2012 where she featured as Deputy Chief Brenda Leigh Johnson in its 109 episodes.
As a film producer, Sedgwick produced TNT's drama series Proof which premiered in 2015. The latest TV series she featured in as at 2018 is the popular ABC-aired drama series Ten Days in the Valley which premiered on October 1, 2017, and ran through January 6, 2018.
Kyra Sedgwick's Net Worth
Kyra Sedgwick has a net worth of $16 million, an amount she garnered from her roles in films and TV series. In 2007, the star actress began to earn roughly $300,000 per episode. Her huge salary earning followed her exceptional roles in films and TV series like The Closer. Within that period also, she earned most of her notable awards; a Golden Globe for Best Leading Actress in 2007 and in 2010, two Satellite Awards for Best Actress in 2005 and 2006 and a Primetime Emmy for Outstanding Lead Actress. She crowned it all with a People's Choice Award for Favorite TV Drama Diva in 2009.
Her recent earnings for starring in a single episode of any TV series stands at around $350,000. At a time, the actress and her husband lost part of their savings to a Ponzi scheme. Although the amount they lost to the infamous swindler Bernard Madoff is not known, there were rumours that it almost led to their separation.
Meet Kyra Sedgwick's Husband (Kevin Bacon)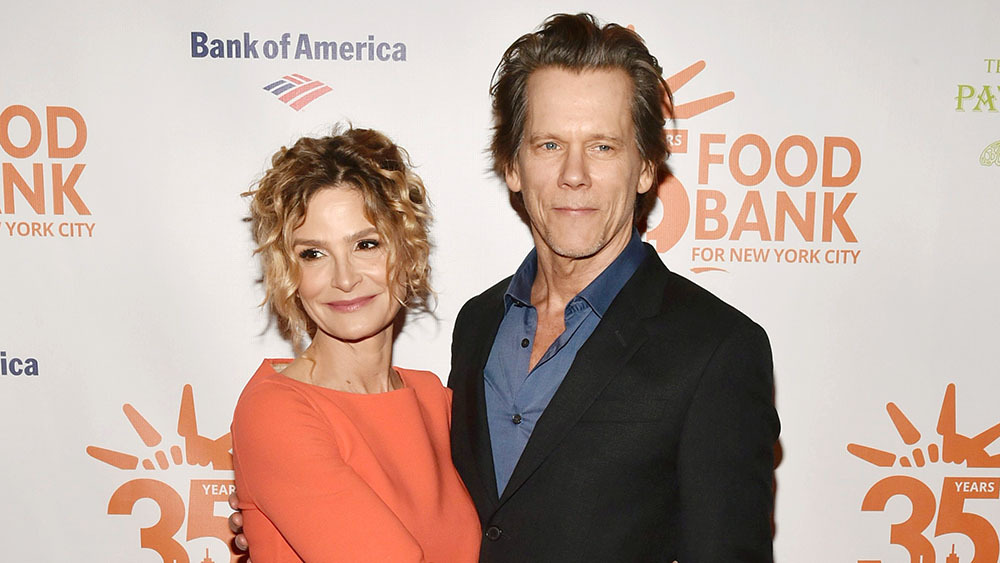 Kyra is married to an American actor and musician Kevin Bacon who she met in the late 1980s, while on set in the PBS version of the Lanford Wilson' play Lemon Sky. As at the time of their meeting, Bacon was already famous on his own for his roles in many notable films and series some of which include the musical drama, Footloose, Slab Boys, Friday the 13th, and lots more. He even won the Obie Award for his role in the 1982 drama film Forty Deuce.
Sedgwick and Bacon got married on September 4, 1988, and by June 23, 1989, they welcomed their first child, Travis Sedgwick Bacon. The two have also featured together.  in films like Murder in the First, Pyrates, The Woodsman, and Loverboy. The couple welcomed their second child Sosie Ruth Bacon on March 15, 1992 and currently live at the Upper West Side of Manhattan.