Since her introduction to the world as a member of the Jenner-Kardashian clan, Kylie's name has been on the tip of the tongue of pop culture fans. In many ways, we have watched Kylie Jenner grow from a teenager who appeared alongside her siblings and other family members in the popular Keeping Up with the Kardashians reality TV show become an entrepreneur who made the Forbes billionaire list.
This growth, however, is not limited to her life. It extends to her body, through what many consider a combination of natural and artificial forces. Alongside this is a few romantic relationships and a child, all of which are part of the fast-rising Kylie Jenner brand.
Kylie Jenner's Body Might Be All Natural
You don't have to be a hater to look at a picture of Kylie Jenner when she was a teen and her picture today for you to assume she has gone under the knife. You certainly won't be alone with that assumption, considering it is one shared by a majority of the internet. But, according to the media personality herself, that assumption might be wrong.
She Had Lip Fillers
One of the first noticeable differences in Kylie Jenner's body was her lips. Early pictures of her showed she had small lips. Today, the entrepreneur has fuller lips. Although she denied using lip fillers for years, saying it was all down to makeup, she eventually admitted that she got lip fillers.
Over the years, Kylie has gone through phases of removing and reinserting them, with the most recent procedure reported to be in October 2018 at Pawnta Cosmetic Dermatology in Beverly Hills. But other than this procedure, Ms. Jenner has insisted that medical procedures are not responsible for her stunning body.
She Insists Her Breast and Butt are Natural
Kylie Jenner wants us to believe that her body, particularly her breast and butt, are all-natural. This is despite the evident massive changes in her body shape; going from a skinny body to an hour-glass shaped body.
The socialite insists she has never gone under the knife. According to her, it is all down to good hair, makeup, and fillers. But that might not be so true, considering she has given different reasons for her body over the years. For instance, when rumors of her getting breast augmentation were all over the internet, she claimed it was down to Bombshell, a bra from Victoria Secret that made them look bigger.
Pictures of her when she isn't wearing a bra have proven this to be wrong as her breasts have maintained their remarkable proportions, suggesting Kylie might have secrets of her own.
The same can be said of her butt, and an Instagram photo that showed what appeared to be a scar on her backside seemed like a proof for a minute. It turned out later, however, that it was not a scar, but a tattoo. Conspiracy theorists suggest the tattoo exists to cover her scar. Sadly, until Ms. Jenner admits to getting some work done, or a doctor goes rogue, all we can do is donate our likes to every Instagram picture in begrudging appreciation of her body.
Kylie Jenner is the World's Youngest Billionaire
The extraordinary change in Kylie Jenner's body is not the only major change about her since she debuted on Keeping Up with the Kardashians. The media personality has gone from being the shy sister to the world's youngest billionaire with a net worth estimated at $1 billion by Forbes.
According to the business magazine, she built her enormous wealth through her company, Kylie Cosmetics. Kylie started the company with money raised from her modeling career, as well as endorsements from varying fashion and cosmetics products. With it, she launched the company in 2014, before later selling 51% of it to Coty Inc. for $600 million. The sale, along with the value of her remaining 49% stake, made her the world's youngest billionaire.
How Does She Spend Her Money?
Cars, mansions, private jets, and apparel are some of the major ways Kylie spends her money. The world's youngest billionaire has a significant car collection that includes luxury brands like Bentley, Mercedes, Range Rover, Rolls Royce, and Ferrari. Eye test estimates suggest her collection is worth more than $4 million.
In 2016, Kylie bought a mansion located in Hidden Hills, California that spans 1.4 acres, with the house itself taking a total of 13,000 square feet, for $12 million. In addition to her mansion, she has more than $40 million in real estate portfolio, including another mansion in Beverly Hills.
Other lavish expenses from the social media star include millions on private jets, luxurious vacations, and a wardrobe worth hundreds of thousands of dollars.
Kylie Jenner's Siblings are just as Famous as Her
You would be hard-pressed to find a pop culture fan that doesn't know any of Kylie Jenner's siblings. They are, after all, all part of one of the world's most famous families. The billionaire socialite is the child of Bruce (now Caitlyn) and Kris Jenner. She has a total of nine siblings; the Kardashians from her mother's previous marriage and the Jenners from their father's previous marriages.
The Kardashian Siblings
On the Kardashian side of her family, Kylie Jenner has four siblings; Kourtney, Kim, Khloe, and Rob. The quartet are children from her mother's former marriage to the late Robert Kardashian.
Like Kylie, all four of her older half-siblings are media personalities who reached fame via the Keeping Up with the Kardashians show. Her sister Kim is famously married to the only other billionaire in the family, multiple awards-winning rapper Kanye West.
The Jenner Siblings
From her father who has since become the most famous transgender woman in the world, Kylie Jenner has five siblings; biological sister Kendall and older half-siblings Burton, Cassandra, Brandon, and Sam Brody Jenner from Caitlyn's previous marriages to Chrystie Scott and Linda Thompson.
Her biological sibling, Kendall Jenner, was born in 1995, and she is supermodel, with a similar media presence to Kylie. The other Jenner siblings have some media presence of their own, however, it pales in comparison to that of her Kardashian siblings and biological sister.
Breakdown of Kylie's Past Relationships
Kylie Jenner has had a few notable exes, which comes as no surprise considering her body and the publicity that comes with dating the social media star. While not every one of her relationships caused heartbreak, they remain a part of the young billionaire's list of exes. Here is a quick rundown of her past relationships and the current one.
Ramsey IV – (2008-2011)
Before she became an internet darling, Kylie Jenner was in a relationship with a seventh-grade student named Ramsey IV. The two of them reportedly dated between 2008 and 2011. No one knows why it ended, but we presume they simply outgrew it.
Cody Simpson – (2011)
Although it seems more like a fling than a relationship, Kylie Jenner and Cody Simpson were a thing back in 2011. The two of them drew little public interest at the time. According to Cody, the branding that surrounded their relationship was the deal-breaker.
Jaden Smith – (2013)
Back in 2013, actor Will Smith's son Jaden dated Kylie. While their relationship was nothing groundbreaking, it later led to a significant event in pop culture –  the friendship and subsequent fight between Kylie and Jordyn Woods. Jaden reportedly introduced the former best friends to each other. The relationship later fizzled out but the duo remained friends over the years.
Tyga – (2014-2017)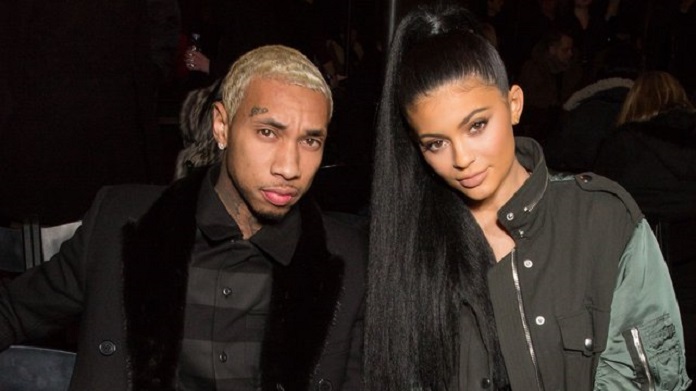 As far as exes go, rapper Tyga is Kylie Jenner's first significant one. He was certainly her first boyfriend after she became a media force in her own right. Despite the controversy that surrounded their relationship as a result of their age difference, the two remained a thing from 2014 to 2017. From 2016, they became off and on before deciding to end things entirely in April 2017.
Travis Scott – (2017-Present)
After saying goodbye to Tyga, Kylie said hello to Travis Scott. The duo started dating in April 2017, launching a whirlwind romance that saw them grab the headlines over cheating rumors, a possible engagement, a pregnancy, and a breakup.
Yet, the couple is still together, and are parents to a baby girl, Stormi Webster, who was born on February 1, 2018. Amidst all the drama surrounding their love life, the couple has remained together, famously throwing their daughter an amusement park-themed party for her first birthday.