Known for his dark humour and comical commentary/criticism on the society in which he lived, Kurt Vonnegut was one of America's foremost contemporary writers. While he is best known for penning the critically acclaimed sci-fi/anti-war novel, 'Slaughterhouse-Five' (1969), he published 14 novels in a career that spanned more than 50 years. Read on to find out more about the life and career of the American writer.
Personal Life
On the 11th of November, 1922, in Indianapolis, Indiana, Kurt Vonnegut Jr. was born to his parents; Edith (nee Lieber) and Kurt Vonnegut Sr. His mother was from a wealthy Indianapolis family that made their fortune from owning a successful brewery while his father was an influential architect who designed some of the most famous buildings in Indiana. He is of German descent and has two older siblings; Bernard and Alice.
Following the advent of Prohibition and the Great Depression, the Vonnegut family found themselves losing the financial security they once enjoyed. Because of this, they were unable to send their last child to a private school like the ones Kurt's older siblings had attended. He was instead enrolled at a public school called Public School No. 43. For his high school education, he attended Shortridge High School where he served as co-editor for the Tuesday edition of the school newspaper, The Shortridge Echo, and also played the clarinet in the school band.
After graduating from high school, he enrolled at Cornell University in Ithaca, New York in 1940 and majored in biochemistry. Kurt served as a staff writer and then editor of the university's independent newspaper, The Cornell Daily Sun. By 1942, Kurt Vonnegut was placed on academic probation due to his poor grades. He decided to drop out in the following year and enlist in the army. As a part of the Army Specialized Training Program (ASTP), he received instructions in mechanical engineering at the Carnegie Institute of Technology and the University of Tennessee. He was later sent to Europe as an intelligence scout with the 106th Infantry Division in 1944, spending about a year before returning to the US.
Upon his return in 1945, Kurt Vonnegut moved to Chicago, enrolled in the University of Chicago to study anthropology and found work as a reporter for the City News Bureau of Chicago. He later took up a job as a publicist for General Electric (GE). It was during his time with GE that he began writing and decided to become a full-time writer after having sold two pieces to Collier's Magazine.
What Is He Known For?
Kurt Vonnegut made a name for himself as a writer. He began by first writing different short stories for magazines like Collier's, The Saturday Evening Post, and Cosmopolitan. His first book, 'Player Piano', was published in 1952. While still continuing to write short stories for money, he followed up his first novel with 'The Sirens of Titan' (1959), 'Mother Night' (1961), 'Cat's Cradle' (1963), and 'God Bless You, Mr. Rosewater' (1965).
While he had become popular in literary circles, Vonnegut had still not caught his big break. This eventually came in 1969 when he wrote Slaughterhouse-Five, a science-fiction infused anti-war novel that shot him straight to the top of The New York Times Best Seller list and catapulted him to instant fame.
How Did He Die?
Kurt Vonnegut passed away in the late hours of April 11, 2007, in Manhattan, New York. His death was announced to the public by his wife Jill, who revealed that the cause of his death was as a result of brain injuries sustained from a fall a few weeks back at his brownstone New York home. He was 84 years of age when he died.
Read Also: Maggie Carey – Biography, Family, Facts About Bill Hader's Ex-Wife

Other Interesting Facts About Kurt Vonnegut
1. Kurt Vonnegut was married twice. His first marriage was to his high school girlfriend, Jane Marie Cox, on September 1, 1945. The couple had three children; Mark, Edith and Nanette, and also raised Vonnegut's sister's three young sons; James, Steven, and Kurt, following her and her husband's death.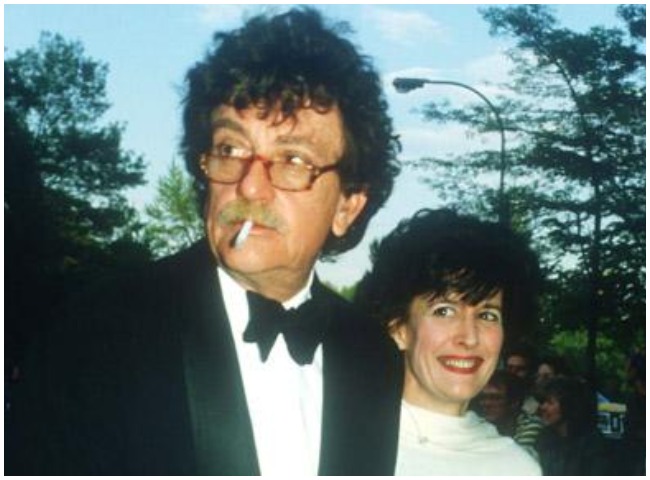 In the early 1970s, Vonnegut and Jane divorced. By 1979, he found love again as he exchanged vows with photographer Jill Krementz, with whom he adopted a daughter named Lily.
2. In a 1999 New York Time article, Vonnegut wrote that he had contemplated quitting writing in the mid-1960s. He noted that he was only able to continue to write after an admirer of his work offered him a teaching job at the writer's workshop at the University of Iowa.
3. In a 2006 interview with Rolling Stone magazine, Kurt Vonnegut, who was 83 years of age at the time, but his sense of humor on full display as he stated that he was planning to sue the tobacco company Brown & Williamson for false advertising. The writer jokingly called the company "lying bastards" because they had not kept their promise of killing him as stated on the cigarette pack, even though he had been smoking ever since he was in his early teenage years.
4. In honor of his achievements, the Kurt Vonnegut Society was created in 2008 while the Kurt Vonnegut Memorial Library in Indianapolis was opened two years later in November 2010.