Among other things, Kristine Leahy, as an American media personality, is most known for her endeavor as a television host. Apart from the attention she gained form co-hosting Fox Sports 1's The Herd With Colin CowHerd, a sports talk radio show which also air on Sirius and iHeart Radio, she gained vast admiration from hosting NBC's American Ninja Warrior, a sports entertainment competition that came from Sasuke, a Japanese television series. Even as it's as though Lady Leahy has been quiet of late, she has been busy with Fair Game With Kristine Leahy, a weekday show where she gets to converse and interview big shots in sports and the entertainment industry at large.
Given that Kristine isn't the most accomplished media personality out there, one can't deny the fact that she has come a long way in her career. Beyond being able to effortlessly transition from the role of a sports reporter to that of a television host, Kristine has picked up some coveted awards in the course of her career. For instance, the journalist received the Gracie Award sometime in 2016. The accolade which was meant to recognize, honor and celebrate women-oriented programme was awarded to Leahy under the Outstanding On-Air Talent: Sports Program category.
In addition to confirming Kristine Leahy's age, read about her upbringing, career journey, love life, and other facts worth knowing about her below.
Who is Kristine Leahy and How Old is She?
We have been able to authenticate that this former sports reporter and television host was born in 1986; precisely on the 16th of October. Her place of birth was in Chicago, Illinois and she was born to Sean Leahy, her father, who happens to be her only known parent. It is said that she was brought up with two younger brothers but like her mother, nothing is known about her siblings.
From what we learned, Kristine Leahy has always been in love with sports. Growing up in Chicago when Michael Jordan was pulling the feats that ultimately made him a legend hugely influenced Kristine who eventually got hooked on everything sports. She was a student of Prairie Ridge High School located in Crystal Lake, Illinois where she graduated from in 2005. Thereafter, she moved on to the private research institution in Boston, Massachusetts – Boston University. Here, she obtained her Bachelor of Science degree in Journalism.
Leahy started gathering practical experience for the career path she would later settle for while she was still in college. As the story goes, she worked with a team to create Boston University TV's (BUTV) first sports talk show. She would serve as a co-anchor for the show for 3 years before she joined WEEI where she worked as a host and reporter. Later on, Kristine Leahy served Boston Celtics and Celtics.com as an in-house team reporter and as a host.
It was in 2015 that Leahy joined FOX Sports. Initially, she only worked as a news desk anchor for the Colin Cowherd show but will later get to contribute to the coverage and reporting of a good number of other FOX Sports event. In October 2018, her own show (Fair Game With Kristine Leahy) was launched. She has also worked with other famous media outlets like NBC and CBS.
What is Her Net Worth?
Like other popular media personalities, people have always shown interest in knowing the total value of wealth that Kristine Leahy has been able to accumulate since she kicked off her career in 2012. In view of this, various sources have estimated that her net worth is somewhere around $2 million. While the quoted figure is reasonable, we haven't been able to authenticate it substantively.
 Is She Married, Who is The Husband or Boyfriend?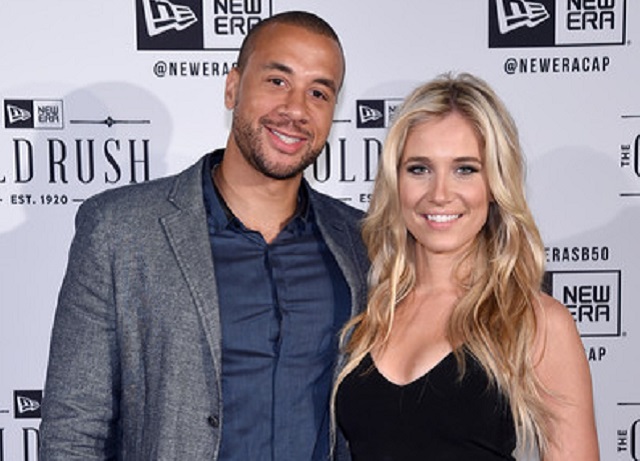 To a large extent, Kristine Leahy has been able to keep her personal life private. Nonetheless, it is not a secret that she has never been married just as it is known that she is dating Aaron Hines, a healthcare professional working as a personal trainer as well as the director of training and instructor at Cycle House.
It is difficult to tell when the two became lovers but they are having a good time together, judging by their pictures on the internet. Don't be surprised if they decide to make what they are having official in the nearest future.
Read Also: Allison Chinchar, Mike Bettes Wife – Bio, Age, Facts About The Meteorologist
How Tall is Kristine Leahy
It would be mischievous of anyone to assert that this television host isn't appealing to look at. Weighing 65 kg, Kristine Leahy is 5 feet 10 inches tall and has a body measurement of 34, 29, and 36 inches; respectively for her breast, waist, and hips. She's blond and her green eyes further accentuate her stunning looks.