Kristina Sunshine Jung, who is best known as just Kristina Jung, is one of the few people who have become a person of public interest because of their link to a famous individual. As the daughter of a former drug lord, Jung has become very popular on search engines as many people desire to know a thing or two about her and her relationship with her father. Many also seek information on other important figures in her life such as her mother. Here are a few things we have been able to uncover about her.
She Was Largely Raised By Extended Family Members
As earlier mentioned, Kristina Sunshine Jung is the daughter of a drug dealer. She was born to famous cocaine smuggler George Jacob Jung and his drug-addict wife, Mirtha, both of whom spent time in jail for drug-related crimes.
Jung was born on August 1, 1978. She had a very rough childhood as she was mostly raised by her addict mother following her parents' divorce. The little girl, however, experienced some touch of love from her paternal grandparents; Frederick and Ermine Jung, who were fond of sending her clothes and toys.
When her mother found herself facing jail time, Kristina Sunshine Jung's paternal grandparents handed her over to her paternal aunt, Marie Jung who then took care of her until she was 18 years of age. As per the young girl's education, it is a mystery where she attended either high school or college. There are, however, reports that she graduated from high school in 1996.
Kristina Sunshine Jung Featured in a Movie
Kristina appeared in the 2001 crime biopic, Blow, which was an adaptation of Bruce Porter's 1993 book titled Blow: How a Small Town Boy Made $100 Million with the Medellín Cocaine Cartel and Lost It All.
The movie largely focused on the tumultuous and emotional relationship between her and her father. It also incorporated elements of other infamous drug lords such as Pablo Escobar, Carlos Lehder Rivas, and the Medellín Cartel.
At the final edit of the movie, Jung's scenes were cut from the film and replaced with those portrayed by Emma Roberts. Her scenes, however, can still be found in the DVD extras. Blow meanwhile featured a star-studded cast that comprised of the likes of Johnny Depp, Penélope Cruz, and Cliff Curtis, who ended up playing characters like George Jung, Mirtha Jung, and Pablo Escobar, respectively.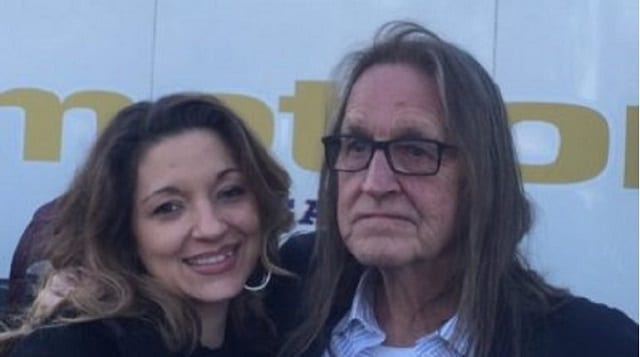 Kristina Jung has a Strained Relationship with Her Father
As depicted in the movie, Kristina Sunshine Jung had an unfriendly relationship with her father and this was due to his illicit activities. George Jacob Jung was a drug smuggler and former member of the powerful and highly-feared international drug-trafficking ring in Columbia, the Medellín Cartel. He was later arrested and convicted of drug smuggling before being sentenced to 60 years in jail by a federal court in the United States in 1994.
Kristina never visited her father during his time in jail. He was later released from prison in June 2014, after which he began making efforts to reconcile with his daughter. The reconciliation process was quite productive as the two spoke to each other on the phone. Several years down the line, the relationship between the duo has continued to improve even though it remains largely a work in progress.
Her Mother Has Since Turned a New Leaf
Much of the conversation on Kristina Sunshine Jung often leads back to her father and this does not come as a surprise given his infamous reputation. The fact, however, remains that Kristina's mother Mirtha also had a profound impact on her.
Mirtha Jung is originally from Cuba and was born in the year 1952. She grew up in Colombia and ran into her future husband George at a party in 1974. Mirtha was 24 years old at the time and they both hit it off, partly because they had a mutual love for using drugs. Mirtha and George Jung dated for roughly two years before getting married in 1977. They subsequently welcomed their daughter in 1978. Throughout this period, including during her pregnancy and after childbirth, Mirtha continued using drugs. She was, however, forced to have a rethink after she was busted for drug possession and sent to jail for three years.
During her incarceration, Mirtha decided to quit drugs and clean up her act. She also realized that she couldn't very well stay with a drug-dealing husband and as such, filed for divorce upon her release from jail. The divorce was finalized in 1984 and Mirtha has since maintained her drug-free status. She has also reconciled with her daughter.
Kristina Sunshine Jung Has a Net Worth of $150,000
Some children grow up following in their parent's bad footsteps while some others make a conscious decision to avoid turning out like their forebears. One person who belongs to the latter category is Kristina.
Following her rough childhood, complete with fears about her parents' fate, the young lady made a decision to be nothing like them. She instead decided that she would make her living through honest and legitimate sources. Kristina has so far stayed true to her convictions as she has turned out to be a very successful entrepreneur. She owns an apparel line known as BG Apparel and Merchandise and is working tirelessly to promote the brand.
BG Apparel carries both women's and men's clothing including customized t-shirts, jerseys, hats, and even sports equipment. Kristina established the business with the financial support that she received from her father shortly after his release in 2014. She has remained devoted to the cloth line and it now accounts for her estimated net worth of $150,000.
See Also:  A Look at Sebastián Marroquín's Net Worth, Sister and Family Legacies
Kristina is Happily Married 
Aside from being a successful businesswoman, Kristina Sunshine Jung is also successful in her personal life. The young lady is happily married to her husband, Romain Karan. It is not known when or how Kristina met her husband and when they tied the knot. One thing that is for sure is that they have welcomed a daughter whose name is Athena Romina Karan. The family of three makes their home in the US state of California.
Kristina is dedicated to making her nuptials work and avoiding the same outcome that her parents' marriage suffered. Her parents divorced when she was just three years old and life was quite difficult for her while growing up as she lacked the parental love and care every child her age deserved.