Kristin Fisher is an American journalist who has made a name for herself as a reporter and news presenter. She has established herself as one of the TV personalities of high repute in America and has been recognized for her stunning work on TV. She has even won an Emmy award for her journalistic work. A hard-working woman, Kristin has worked with different news media outfits and now works with Fox News, an American television news channel.
Apart from her work as a journalist, she has also ventured into other things. A very ambitious woman, Kristin Fisher has founded a documentary film company which is called Field Mouse Films. Over the years, her diligence to her work and her talent has endeared her to so many people who have come to admire her style of reporting.
Kristin Fisher Of Fox News – Bio & Age
Kristin Fisher was born on the 29th of July 29, 1983, in the city of Houston in the US State of Texas, where she was also raised by her parents. Kristin has a younger sister called Kara Lynne Fisher who was born on January 10, 1989. Kristin and Kara have been very fond of each other and remain very close today.
Kristin Fisher was born into an interesting home; her parents are important people in the United States. According to sources, her father, identified as Dr. William Frederick Fisher, and her mother, Dr. Anna Lee Fisher, were both were astronauts and emergency medical physicians. Her mother was the first mother in history to travel to space and won several awards and recognition for her work. Her father has also won several awards and honors. Growing up in this kind of home challenged Kristin and her sister, Kara, to do great things as they grew up to become adults.
Details about the high school where Kristin had her education are not available at the moment, however, we know that she attended Boston University's College of Communication from where she graduated with a B.A. in Broadcast Journalism. Apparently, Kristin had always wanted to become a journalist and this informed the choice of what she studied in school.
Following her graduation, she has since gone on to make a name for herself in the field of journalism as a reporter and news presenter.
Kristin Fisher's Career Achievements
Kristin Fisher kick-started her career as a journalist in 2004 when she landed a job with ABC KHOG TV in Fayetteville, a city in the US state of Arkansas. While with ABC KHOG TV, Kristin worked as a correspondent for the Democratic National Convention. Kristin did not stay too long with ABC KHOG TV; the next year in 2005, she joined affiliate KJCT-LP, an ABC-affiliated television station in Colorado where she worked as a reporter and weekend anchor.
In 2007, she Kristin joined KATV, an ABC-affiliated television station in Little Rock, Arkansas as a video journalist and reporter. During this time she also worked as a freelance contributor for Current TV. At this time, she was already a known face on TV who had garnered some fans for herself.
In the year 2009, Kristin moved away to Washington, D.C. to work as a freelance correspondent for ABC News/NewsOne. She then joined WUSA-TV, a CBS-affiliated television station also in Washington, D.C. also as a freelance correspondent.
In 2015, Kristin Fisher made a big move to Fox News Network to work as the general assignment reporter. Kristin served as the replacement for Molly Henneberg, the previous general assignment reporter in the network's Washington, D.C. bureau.
Over the years, her work on TV has won her a lot of recognition. In fact, in 2015, the journalist won an Emmy Award in recognition of her stunning bi-weekly segments on heroes in the greater Washington community.
A business-minded woman, Kristin has also founded a documentary film company named Field Mouse Films. She founded the Field Mouse Films to create films for corporate clients as well as for news outlets.
Personal Life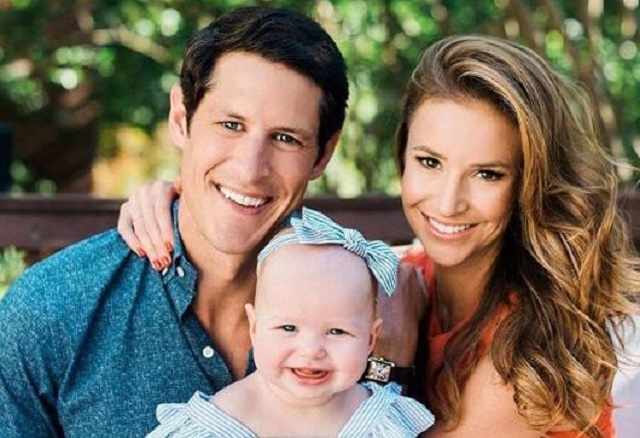 Kristin Fisher is a happily married woman. She married a man identified as Walker Harrison Forehand on 2nd April 2011, years after they met in 2003 in Athens, Greece while Kristin was studying abroad. The marriage has produced one daughter named Clara Fisher Forehand who was born on December 19, 2017.
Read Also: Lori Stokes Biography – 5 Facts To Know About The Journalist
Height
Kristin Fisher is a beautiful woman who has an enviable. The media personality stands at 5 feet 8 inches in height. In addition to this, she is reported to weigh about 124 pounds.
Her body measurements have been revealed to be 35 inches (chest), 24 inches (waist) and 35 inches (hips).