If you are a true fan and follower of the NBC series, Days of Our Lives, then you must know the American Actress, Kristian Alfonso. The beautiful actress, who is also a model and former figure skater, is best known for her role as  Hope Williams in the aforementioned TV show.
Before joining the entertainment industry, first as a model then as an actress, Alfonso was popular as a gold medalist in junior Figure Skating but an injury ended her skating career. The petite actress has achieved a lot for herself both in the entertainment industry and as a businesswoman. Here are facts to know about her.
Who is Kristian Alfonso and when was she born?
Born Kristian-Joy Alfonso on 5th September 1963, the star actress was raised in Brockton, Massachusetts by her father Gino Alfonso and her mother, Joanne Alfonso. Her career began quite early when she joined the Junior Olympic Figure Skating Championships and emerged winner with a gold medal. But sadly, that part of her career ended when she was involved in a severe accident at the age of 13.
Finding her modeling career as a better option, Kristian Alfonso began to make herself available for various modeling agencies and by the age of 15, she was already a popular face on the covers of many top magazines, including Harper's Bazaar, Vogue and Glamour.
Becoming more popular, the beautiful actress from Massachusetts added acting to her career list and she made her first screen appearance in the 1981 movie, The Starmaker. Her performance in the movie earned her a better role in the daytime soap opera, Days of Our Lives. When Alfonso first heard about auditioning for the series, she first turned down the opportunity because she knew it would move her out of her hometown to Los Angeles. Eventually, she agreed to take a role in the series in 1983. Her role earned her a better stance among upcoming stars of her time. Her character at that time was the wife of Bo Brady, played by a famous American actor, Peter Reckell.
Kristian Alfonso left the series in April 1987, to appear in the last two seasons of the prime time soap opera Falcon Crest. She returned briefly to NBC's Days Of Our Lives in 1990 before leaving again to star as a cop abducted by a convict on the run in the 1993 action film, Joshua Tree.
Kristian Alfonso returned for the third time to NBC's Days Of Our Lives in May 1994. While doing this, she also appeared in "The One That Could Have Been, Part 1" episode of David Crane and Marthe Kauffman's sitcom, Friends.
How much is she worth?
With over thirty years of experience as an actress, the Massachusetts native must have saved up for her future. Although her list of TV and movie appearances is still very small, her roles in shows like the Days Of Our Lives which she played for over three decades, have earned her quite a lot to stack as her net worth.
Aside from being a notable actress, Kristiana Alfonso is also a businesswoman. She owns a jewelry line which she named Faith Hope Miracles. The jewelry line was established in 2006 and it focused on pendants and earrings of her favorite design: The Maltese cross and Fleur de Lis. The actress is believed to have an estimated net worth of $5million.
Kristian Alfonso's Family Details including Husband & Children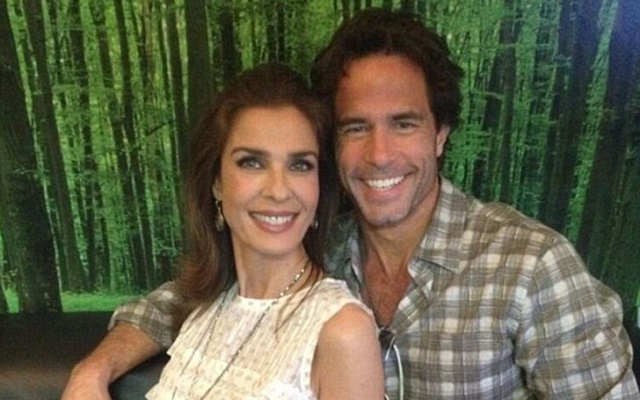 Kristian Alfonso is Italian-American; she can trace her heritage through her grandparents are from Sicily and Calabria. The actress also has a sister, Lisa Alfonso who is apparently one of her biggest fans.
Kristian is also a married woman; she has, in fact, been married twice with her first husband being Simon Macauley. Alfonso married Macauley in 1987 and they remained together as husband and wife until 1991. Before their separation, they had a son named Gino William.
On the 6th of October 2001, she entered her second marriage, with Danny Daggenhurst as her husband. The couple has been living peacefully since then with no rumor of separation coming between them. She had her second son, Jack, in 2002. Kristian also has a stepson, Spartan, who is the son of Daggenhurst from his previous marriage to Nabila Khashoggi. The family continues to live together happily.
Despite being a public figure Kristian Alfonso has managed to keep every information about her family away from the public view. Giving reasons for doing so, the star actress said her family is not part of her business, therefore, it should have nothing to do with the public.