Net Worth:
$45 million
Age/Date of Birth:

42 years old (April 18, 1979)
Height:

5 feet, 1 inch (1.55 meters)
Ethnicity/Race:

Multiracial
Nationality:
American
Husband or Boyfriend:


Younes Bendjima
Parents:
Father: Robert George Kardashian
Mother: Kristen "Kris" Mary Jenner
While some argue that they are just famous for nothing, that doesn't stop the Kardashians from raking in millions of dollars each year. While Kim may seem to be hogging all the limelight and fame, her eldest sister Kourtney aka Koutr, is not doing that bad either. The primary source of Kourt's wealth like the rest of her sisters is the family's reality television show "Keeping Up With The Kardashians". She also reportedly got paid $50,000 per episode of the spin-off "Kourtney And Khloe Take The Hamptons".
Her TV fame has opened the doors to other lucrative gigs. Kourtney is a model and serves as an ambassador for skincare, clothing, and jewellery brands. She has also managed to write a book called Kardashian Konfidential. She and her sisters also co-own a couple of boutique store brands including a clothing collection called the Kardashian Kollection. The eldest Kardashian also charges a pretty hefty $125,000 for personal appearances at events and inaugurations. All of these sources add up to her total wealth which only seems to be growing.
Born on 18 April 1976, Kourtney along with her siblings grew up in  Los Angeles, Califonia. As a young girl, she schooled in Marymount High School, an all-girls school owned by the  Roman Catholic Church. Her parents Robert and Kris later got divorced in 1991 with her mom getting married to Bruce Jenner who is now known as Caitlyn. She later moved to Dallas and finally to Arizona for her higher education.
Interesting Details About Her Former Boyfriend and Partner
Kourtney Kardashian has been publicly involved with a number of men, including film producer and founder of Girls Gone Wild, Joe Francis, whom she dated for a short while in 2005. By the following year, she began a romantic relationship with Scott Disick following their meeting at a friend's house party in Mexico. It turned out that this 'friend' was Joe Francis and in addition to the duo meeting at his house, he was also the one who introduced Kourtney to Scott.
Speaking with In Touch Weekly in 2014, Joe said "I introduced Kourtney and Scott at my house in Mexico. Scott came as the guest as a friend of mine, and they met in my master bedroom." Unlike some relationships that begin with love at first sight, Kourtney revealed in an episode of Keeping Up with the Kardashians (KUWTK) that she was not really drawn to Scott at first. According to her, she just thought he was so annoying, however, she obviously discovered that he was not all that annoying after all and as a result, they started dating not long after. For a number of reasons, their relationship became Kourtney's most memorable relationship.
Who Exactly Is Scott Disick?
Born Eastport, New York, U.S, on May 26, 1983, Scott is the only child of Bonnie and Jeffrey Disick, both of who died at the age of 63 in November 2013 and January 2014 respectively. He studied at a private K-12 school named The Ross School located in East Hampton, Long Island, New York, but never made it up to graduation. During his teen years, Disick earned money by appearing as a model on the cover of teenage romance novels, including the Heartland series.
Nevertheless, Scott eventually grew up to become a media personality and socialite most popular for appearing on every season of the reality television show Keeping Up with the Kardashians and its spinoffs, thanks to his involvement with Kourtney. Even though his popularity is tied to the fact that he was one of the main cast on the afore-mentioned reality show, he has since leveraged on the exposure he got through it to establish other sources of income for himself, growing his net worth to an estimated $25 million.
How Long Did Scott And Kourtney's Relationship Last?
Kardashian and Disick's love affair began in 2006 as was mentioned earlier. About a year after they became a pair, the show Keeping Up With The Kardashians premiered on E! and viewers were introduced to Disick as the stylish, sassy boyfriend of Kourtney Kardashian.
Thanks to the show, the duo moved from being not all that known to being international stars. However, their relationship was a troubled one from the onset and as a result, they were on and off for almost ten years as they parted ways and reconnected severally as documented on the show before finally calling it quits.
Their Relationship Ups And Downs
The first of these breakups happened in November 2008 after the Kardashian sisters found a text message on Scott's phone during an episode of Keeping Up With The Kardashians. The message partly read, "I loved looking into your eyes last night. I wish I could come to LA for a week and not tell Kourt." This raised suspicion of Scott cheating on Kourtney with his ex and consequently, the duo broke up. The split was, however, short-termed and they got back together in early 2009.
Some months later, Kourtney and Disick announced that they were pregnant with their first child on KUWTK. Not long after Kourtney got pregnant, Scott 'soaked' himself in alcohol during Kim Kardashian's 29th birthday, and after he had lost control of his faculties by drinking all day, he came for Kim's birthday dinner in his drunken state in front of business clients.
Seeing his already pathetic condition, Kourtney's mom, Kris Jenner instructed the waiter not to see him any more drinks and in reaction, Scott stuffed a $100 note into the waiter's mouth. This led to Kourtney breaking up with Scott a second time. This was the first of Scott's many crazy partying that strained his relationship with Kourtney.
Following the arrival of their baby in December 2009, the couple's joy knew no bounds, (Meanwhile, they were already back together by then) but that excitement was short-lived as Scott's excessive drinking became a major issue as chronicled on the reality spin-off show Kourtney And Khloé Take Miami, in which Kourtney was starring at the time.
Not knowing how else to deal with the issue, Kourtney, in a bid to make Scott understand the magnitude of the situation, threatened to cut him off from their child if he failed to do something about it. Scott eventually managed to give up drinking temporarily and attended counselling with Kourtney. Thankfully, their relationship managed to sail through those ups and downs after their short split in 2010.
With their relationship rooking good, Scott decided to ask Kourtney to marry him in 2011 but unfortunately, she rejected his proposal, telling him that she had no plans of getting married and that she was happy with the way things were between them.
Everything remained relatively okay until Scott lost both of his parents in a space of three months. This escalated his irresponsible partying and drinking lifestyle.
Scott's Attempts At Becoming A Better Man
In an episode of Kourtney & Khloé Take The Hamptons, Scott, while speaking with his friend Chris, admitted that his partying had become so intense that he was scared for himself. In an attempt to save himself and his family, Scott decided to check himself into rehab in Connecticut for "alcohol and drug-related issues", as reported by E! News.
Unfortunately, he cut his stay at the rehab short but speaking in a November 2014 episode of Kourtney & Khloé Take The Hamptons, he revealed that even though his stay there was short, the experience scared him and made him "realize how much is at stake." In March 2015, a source who spoke to E! News disclosed that Scott decided to get help again with his issues by checking into a rehab centre located in Costa Rica.
Surprisingly, he again made his way back home to California a few weeks after, but an undisclosed source told E! News at that time that it was expected that he would "return [to rehab] sometime soon as part of his ongoing therapy." Meanwhile, Kourtney remained supportive of her man all through the journey and gratefully, Scott's behaviour became better, but sadly not for long.
The Last Straw
Scott relapsed into his hard-partying habit and he was seen partying with unknown women on a yacht. While in Monaco, he was also pictured with Chloe Bartoli, a Los Angeles-based stylist who also happens to be his ex-girlfriend. He was photographed rubbing her back while sitting on a lounge chair with her.
According to E!, Kourtney finally dumped Scott over the Fourth of July 2015 holiday weekend after she saw the pictures "and he hasn't been home after a month-long party binge."
Moving On After Their Breakup
It's been years since the once admired couple went their separate ways and they have come to find ways of loving and supporting each other from afar and co-parenting their children. They have also moved on and gotten romantically involved with other people. Kourtney Kardashian was first linked to a younger male model named Younes Bendjima. The boxer-turned model was said to have met Kourt at Paris Fashion Week that October, days before Kim's robbery in 2016.
After their meeting, they spent the next two years travelling the world together. Their relationship was so serious that they met their siblings and kids. There were even speculations that Kourtney was pregnant for the Husky model Younes, but she debunked it saying she would have had a fourth child with Disick if things didn't go wrong. She added that people shouldn't expect her to be pregnant soon.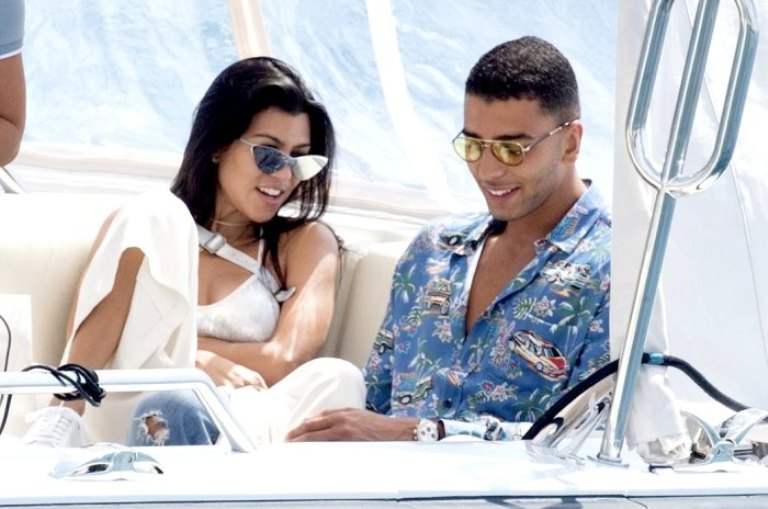 Kourt and Bendjima remained inseparable until August 2018 when they called it quits. According to an insider who spoke to US Weekly, Benjima's immaturity was a major reason for the breakup. "He'd have to grow up. There were a number of reasons it didn't work, but at the end of the day the main reason was a maturity issue," the source said.
Following her breakup with Younes Bendjima, there were reports that Kourt had moved on with actor and model Luka Sabbat, popular for playing the role of Luca Hall on Grown-ish. However, the young man told The Cut, "We're definitely not dating,".
How Many Kids Does Kourtney Kardashian Have and Who are They?
While the reality star has not had it all that rosy with relationships, her family and children have always been one of her biggest blessings. The petite star shares three children with her ex-beau, Scott Disick, and their separation has left her alone with them. But she seems to be handling it like a pro.
Mason Dash Disick
Kourtney and Disick announced that they were expecting their first child together in August 2009 on KUWTK. Also sharing the news of their coming child with radio host Ryan Seacrest, Kourtney said, "We were in the Everglades, and I kept feeling nauseous and sick, and I just kept thinking, like, something wasn't feeling right". The former couple eventually welcomed a son on December 14, 2009, in Los Angeles, California, and Kourtney's labor and delivery was featured on the fourth season of Keeping Up With The Kardashian. The little bundle of joy named Mason Dash Disick was born weighing 7 pounds, 6 ounces, and measuring 19.5 inches long.
Penelope Scotland Disick
In November 2011, Kardashian confirmed that she and Scott were expecting their second child after rumours of the pregnancy began making the rounds over the summer. In a statement to E! News, Kourt said, "Scott and I are so excited to announce that we are expecting our second child and are thrilled to be expanding the love in our family".
While rumours of the reality star being on her way to giving Mason a sibling circulated over the summer of 2011, she never took a test until around the ending of November, and of course, it came out positive. Unable to hold her excitement, she woke Scott up as early as 7 a.m to share the good news with him. On the morning of Sunday, July 8, 2012, the former couple welcomed their second child, a daughter named Penelope Scotland Disick.
Sharing the news of their daughter's arrival on E! News, the new mom said, "Scott and I are overjoyed to welcome our precious angel Penelope Scotland Disick into our lives. We are forever blessed. Mommy and baby are resting comfortably." Baby Penelope was born naturally at Cedars-Sinai Medical Center in Los Angeles, weighing 7 lbs., 14 oz.
A few months after the death of Scott's parents, it was announced that the former couple was expecting a third child. As reported by Us Weekly, a source close to the duo confirmed the news saying that the couple had planned it and that Kourtney wants a handful of children.
Reign Aston
Some months down the line, Kout had her second son, Reign Aston, precisely on December 14, 2014, and coincidentally, Mason was also born on the same day 5 years earlier.
Kourtney Kardashian's Net Worth and Career Earnings
When it comes to earning the big bucks, a huge portion of Kourtney's wealth comes from endorsement deals. She also amassed a lot of her wealth from KUWTK spin-offs Kourtney and Kim Take New York, Kourtney And Khloe Take The Hamptons, and Kourtney And Kim Take Miami. While her $50,000 per episode paycheck for these episodes fall short when compared to Kim's $80,000 it is still no chicken feed.
It may be hard to believe, but Kourtney also banks from tweeting. She earns an incredible $15,000 per tweet to endorse brands and products. She and her sister Kim also earn a lot from representing the skincare brand PerfectSkin which was developed by Perfect Science Lab.

Kourtney is one of the executive producers of Dash Dolls, a new reality TV show on E! network. The show is yet another spinoff of Keeping Up With The Kardashians and focuses on employees of the Kardashian-owned boutique store Dash.
For her role on "Keeping Up with the Kardashians," Kourtney is paid $4.5 million every season. The remaining of her salary and earnings comes from her Instagram endorsement deals where she makes up to $250,000 per sponsored post, she also made money from her now-defunct app and website, Kourtney with a K, and her website, Poosh.
Considering the amount of money Kourtney and her sisters have earned from the KUWTK franchise and her other personal business ventures,
Kourtney Kardashian's net worth is around $45 million. This is expected to grow in a matter of time given the numerous projects she is looking to take on.
A Quick Look at Her 12,000 sq ft Mansion 
Kourtney along with her 3 kids live in the 12,000 sq ft mansion built in Tuscan-style. She and her ex Scott bought the house in 2014 from former NFL player Keyshawn Johnson for $8.5 million. The house features 6 bedrooms, gym, pool and every other Hollywood essential.
Details of Kourtney Kardashian's Body Measurements: Feet and Height
Known as the shortest of the Kardashian sisters, Kourtney's height measures 5'0″ that is 1.52 cm. For her height, she was nicknamed Shorty. Most times, her short height go unnoticed due to the towering heels the E! star often walks in. Also, her well-proportioned body does a good job of hiding her short height. Kourtney weighs 48 kg which is about 102 pounds with body measurements placed at 32-24-34. The stunning petite star has managed to maintain this weight against all odds, professionally dealing with possible challenges that may alter the body size including pregnancy. Kourtney has nice-looking feet with a shoe size measuring 6.
Profile Summary
First Name:
Kourtney
Last Name:
Kardashian
Also Known As:

Shorty, Kourt
Sex/Gender:

Female
Profession:

Model, Media personality
Famous For:
Kourtney is famous for starring in the reality television series Keeping Up with the Kardashians.
Colleges/Universities Attended:

The University of Arizona, Southern Methodist University
Educational Qualifications:

Bachelor's degree in Theatre Arts
Religion:

Christianity
Birthday & Zodiac

Age/Date of Birth:

42 years old (April 18, 1979)
Zodiac Sign:
Aries
Birth Place:

Los Angeles, California, U.S.
Nationality:
American
Ethnicity/Race:

Multiracial
Country of Residence:

The United States of America
Physical Attributes

Height:

5 feet, 1 inch (1.55 meters)
Weight:

48 kg (106 lb)
Eye Colour:

Dark Brown
Hair Color:

Black
Other Body Measurements:

Bust: 34 inches
Hip: 24 inches
Wais: 36 inches
Relationships

Marital Status:

Single
Spouse/Partner:

Previously married to Scott Disick from 2007 to 2015. Currently dating Younes Bendjima
Family and Relatives

Father:

Robert George Kardashian
Mother:
Kristen "Kris" Mary Jenner
Children:

Kourtney Kardashian has three children in her previous marriage with Disick: son Mason Dash (born December 14, 2009), daughter Penelope Scotland (born July 8, 2012), and son Reign Aston (born December 14, 2014).
Siblings:
Kimberly Noel "Kim" Kardashian (Younger Sister), Khloé Alexandra (Younger Sister), Robert Arthur "Rob" Kardashian (Younger Brother), Kendall Nicole Jenner (Half Sister), Kylie Kristen Jenner (Half Sister), Burt Jenner (Stepbrother), Brandon Jenner (Stepbrother), Brody Jenner (Stepbrother)
Other Relatives:

Bruce Jenner (Stepfather),
Net Worth
Estimated Net Worth:

$45 million
Salary:
$4.5 million per season
Source of Wealth:

Keeping Up with The Kardashians
Trivia Questions and Answers
Kourtney Kardashian was previously married to Scott Disick and linked to several famous hotties — including Justin Bieber and Luka Sabbat. She is back in a relationship American model Younes Bendjima whom she briefly dated from 2016 to 2018. The two were spotted together at a nite club in December 2019.
Kourtney has three children with her longtime boyfriend and ex-husband Scott Disick. Her first child and son Mason Dash Disick was born on December 14, 2009, he made his first appearance in the family reality TV show Keeping Up With the Kardashians Season 4 finale. Her second child and first daughter Penelope Scotland Disick was born on July 8, 2012, while Reign Aston Disick, her last and second son was born on December 14, 2014.
Kourtney Kardashian pledged to the International Women's Fraternity during her college days. Graduating in 2002, she was welcomed by the University of Arizona's Beta Epsilon Chapter. Alpha Phi calls themselves "the Ivy [League] of Greek life" and their motto is "Alethia Orno Eteronis," which translates to "truth, honour, forever."