Net Worth:

$600 million
Salary:
$25 Million during his final year
Income Sources:
Basketball career, endorsement deals, business ventures Kobe Inc., a production company called Granity Studios, a venture capital firm called Bryant-Stibel, Mamba Sports Academy, sales of his books
Age/Date of Birth:

August 23, 1978 – January 26, 2020
Height:

In feet: 6 ft 6 in
In meters: 1.98 m
Nationality:
American
Last Updated:

2021
The year 2020 witnessed several momentous and tragic events and one that ranks right up there with the rest is the death of retired NBA star, Kobe Bryant, aka America's Black Mamba. A legend in the game of basketball, Kobe enjoyed a very successful career with the Los Angeles Lakers that spanned two decades.
During this time, he set several franchise and league records. He also rose to become one of the most respected and highest-paid basketball stars of his era. The shooting guard subsequently called time on his glorious playing days in the year 2016 and upon his retirement, maintained relevance through his various entrepreneurial and sports-related engagements while acquiring a net worth of $600 million in his lifetime.
Bryant also made his mark with his family foundation philanthropic initiatives. It was therefore with a shock that the word received news of his untimely death in January 2020. His demise pained America and indeed the rest of the world. It also led to an outpouring of tributes as many reflected on the life of a man who came, saw, and conquered.
Prior to his tragic death in 2020, the American professional basketball legend and NBA icon Kobe Bryant accumulated an incredible net worth of $600 million, according to
Forbes
This does not come as a surprise, considering not only how marvellous, great and competitive he was on the basketball court, but also, how marketable he was as a player
Going from the Skinny Lad to NBA Star
Kobe Bean Bryant was born on August 23, 1978, in Philadelphia, Pennsylvania, he died at age 41. He was the only son and the youngest of three children born to devout Roman Catholics namely father, Joe Bryant, who was also a basketball player in the NBA and mother, Pamela Cox Bryant. His sisters are Sharia Bryant (now Sharia Washington), who is the eldest sibling and the other is Shaya Bryant (now Shaya Bryant-Tabb).
An amazing fact about Kobe Bryant is that he was named after a beef – the popular Kobe beef which is found in Japan. His middle name, Bean, was meanwhile derived from his father's nickname 'Jellybean'. Kobe's father played for several NBA teams before joining the lower league in Italy. This prompted the family to move from the United States to Italy when Kobe was just six years old. The young boy spent about seven years in Italy during which he learned to speak the local language. He also picked interest in football and supported Italian football giants, AC Milan. The family later moved back to the US in 1991 when Bryant Sr. retired from basketball.
In the USA, Kobe continued his high school education and led his team to win the state championship, something that had not happened in 53 years. Foregoing college, he was drafted by the Charlotte Hornets who promptly traded him to the Los Angeles Lakers. It was a decision that the Hornets would come to regret as Kobe spent 20 glorious years with the Lakers during which he was simply brilliant. Together with Shaquille O'Neal, he helped the Lakers win the NBA championships for three consecutive years: 2000-2002. He would also lead them to further wins in 2009 and 2010 after O'Neal left.
A Breakdown of The Net Worth and Fortune He Built In His Lifetime
Kobe Bryant was not only a brilliant basketball player but also a skilled businessman, and in a 2016 interview with CNBC, he made it clear that he wanted to be remembered for his entrepreneurial exploits more than his basketball legacy. The Pennsylvania native more than achieved this goal and this helped him to build up a fortune which Forbes estimated at $600 million at the time of his death.
Pre-retirement Earnings: Salaries and Endorsements
When Kobe Bryant joined the NBA in 1996, he received about $1 million as his yearly salary. This figure lasted for the next two years and by 1999, the Lakers gave him a new contract which upped his annual take-home to $9 million. This steady increase continued from here on out and in 2008, Kobe's salary entered the $20 million bracket, specifically $21.262 million, for the very first time.
By 2011, the shooting guard received $25.244 million as his salary. This made him the highest-paid player in the NBA and he retained this position until his 2016 retirement. According to estimates, Bryant earned a total of $323 million in his NBA salaries, the 2nd highest in the league's history. The only person that surpassed him was legendary power forward, Kevin Garnett, with a total of $334 million.
All Kobe Bryant's NBA career earnings with the Los Angeles Lakers 
1996-97 Salary – $1,015,000
1997-98 Salary – $1,167,240
1998-99 Salary – $1,319,000
1999-00 Salary – $9,000,000
2000-01 Salary – $10,130,000
2001-02 Salary – $11,250,000
2002-03 Salary – $12,375,000
2003-04 Salary – $13,500,000
2004-05 Salary – $14,175,000
2005-06 Salary – $15,946,875
2006-07 Salary – $17,718,750
2007-08 Salary – $19,490,625
2008-09 Salary – $21,262,500
2009-10 Salary – $23,034,375
2010-11 Salary – $24,806,250
2011-12 Salary – $20,318,738
2012-13 Salary – $27,849,149
2013-14 Salary – $30,453,805
2014-15 Salary – $23,500,000
2015-16 Salary – $25,000,000
Total Earnings – $323,312,307

Kobe Bryant's exploits on the basketball courts did not only fetch him juicy paychecks from his employers. It also made him the cynosure of all eyes and as such, many brands courted him to be their ambassador. The shooting guard received endorsement deals from as much as 20 companies during his two-decade run in the NBA. One of his earliest deals was a six-year contract worth $48 million that he signed with Adidas in his rookie season. From thereon, he went on to pen contracts with Nike (worth $40 million in 2003) and MacDonald's (worth 10 million in 2001).
Asides these notable deals, Bryant also represented Turkish Airlines, Coca-Cola, Hublot, Mercedes Benz, Lenovo, Panini, Call of Duty: Black Ops, Nutella, and Upper Deck. These deals fetched him about $357 million thus bringing his total career earnings to $680 million; the most ever earned by a team player in their active career. The only three players to top this figure are all from individual sports namely; golfer, Tiger Woods; F1 legend, Michael Schumacher, and boxing great, Floyd Mayweather Jr.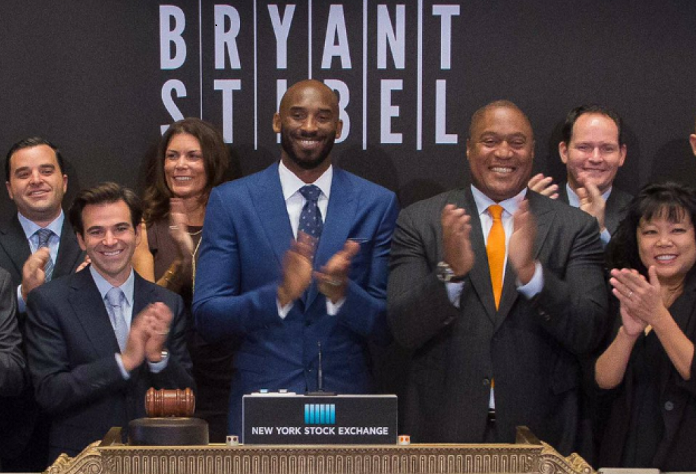 Post Retirement Business Ventures
Kobe Bryant ventured into the business world in 2013 when he established his Kobe Inc. The company has made several notable investments but the most remarkable is the purchase of a 10% stake in energy drink company, Bodyarmour, for $6 million in 2013. Bodyarmour was later bought by Coca-Cola for $2 billion in 2018 and this saw Kobe's stake grow to a whopping $200 million.
Kobe was also the co-founder of a $100 million venture-capital fund called Bryant Stibel. The Fund was a joint initiative with entrepreneur, Jeff Stibel, and was founded in 2016. The company invests in data companies, technology, and media. Some of the ventures they have invested in are Scopely (mobile game designer), The Players Tribune (sports media website), Alibaba Group, Legal Zoom (legal-services company), and The Honest Company (sustainable consumer products company).
Another thriving company that Kobe founded is a production company, named Granity Studios, in 2016. He released several YA books through the company. He also dropped his 2018 short animated film, titled Dear Basketball, via the organization. The film scored numerous awards including the Oscar for the best animated short film. It was a commercial success, contributing to the about $120 million that Bryant made from his business activities.
How The Late NBA Star Spent His Money
Kobe Bryant was never one for an ostentatious lifestyle but he still indulged in the finer things of life. The late NBA star was a connoisseur of luxury cars including a Lamborghini, a Ferrari 458 Italia, a Bentley as well as a Range Rover. He also owned a private jet which he used to get about in the busy L.A. traffic as well as undertake vacations to various parts of the world most especially Europe.
Bryant also splashed out millions on houses but the amount involved is relatively modest in comparison to other celebrities. The Lakers star and his family owned about three homes in Orange County, California, all of which were worth a combined $18 million. One of them was a Mediterranean-style four-bedroom house while the other is a 14,500 square feet three-storey Santa Barbara-style house with six bedrooms, 11 baths, a private pool and five-car garage.
Another thing that consumed Bryant's resources was charity. The NBA star donated his time and money to several charitable initiatives. He and his wife also founded the Kobe and Vanessa Bryant Family Foundation which is dedicated to helping at-risk and disadvantaged youths as well as less-privileged families through financial resources as well as unique programs. The foundation has provided scholarships to scores of students. It has also partnered with other non-profits, such as My friend's Place, targeted at helping homeless kids.
The Family that he Left Behind
Kobe Bryant was married with four daughters. His wife, Vanessa Laine Bryant is a Latino (specifically Mexican). She and the basketball star met while she was still in high school. They dated for six months before they were engaged. Due to Bryant's popularity at the time, the media hounded Vanessa constantly. She, therefore, completed her high school studies through a private arrangement.
Kobe and Vanessa got married at St. Edward the Confessor Catholic Church, California, just one year after being engaged. The groom's family, parents and siblings, were however absent from the wedding as they opposed the marriage on several grounds, one of which was the relatively young age of the couple then. They however reconciled with their son two years later and what made this possible was the birth of his children.
Kobe and his wife had four beautiful daughters namely Natalia Diamante Bryant (b. 19 January 2003), Gianna Maria-Onore Bryant (b. 1 May 2006 – now late), Bianka Bella Bryant (b. 5 December 2016), and Capri (b. June 2019). The NBA legend always maintained that he loved his princesses and wasn't worried about having a male child. He however revealed that he would love to have a fifth child during an appearance on the Ellen DeGeneres Show in 2019. That dream sadly never came to pass before his demise.
His Tragic and Untimely Death 
Kobe Bryant was a man who impacted the world in so many ways and was still set to do more in the future. All that dream however grounded a halt on the 26th of January 2020 after he died in a helicopter crash at age 41.
According to authorities, the player, fondly known as Black Mamba, was traveling with his beloved daughter, Gianna, as well as seven other persons when their chattered helicopter encountered extreme fog about 30 minutes into the flight. The pilot tried to deal with the situation but the helicopter eventually slammed into a Calabasas hillside resulting in the instant death of all the occupants from blunt trauma. The authorities later recovered dismembered body parts and identified the victims through DNA.
Bryant's death devastated the city of Los Angeles and the entire NBA community. It also led to an outpouring of tributes as fans, fellow NBA stars, celebrities, and political figures paid their respects. Many remembered him as a man who was unarguably the greatest basketball player of his generation (he had received multiple All-Star honors and was the only NBA player to have two jersey numbers retired to the rafters).
Others recalled his business acumen as well as inroads into Hollywood. Yet for some others, Kobe Bryant was a passionate philanthropist. He supported the After School All-Stars, a non-profit dedicated to providing after school programs for less privileged kids with. He also promoted the Stand Up To Cancer initiative as well as the National Museum of African American History and Culture.
The Lakers legend also joined hands with the Make A Wish Foundation to make the dreams of about 200 sick kids come true. Another fact that endeared Bryant to members of the public was his love for his daughters. He cherished his girls beyond words and many took to Instagram to acknowledge that with the hashtag #GirlDad.
Bryant and his beloved daughter were interred next to each other after a private funeral on the 7th of February. A public funeral was later held for them at the Staples Center on the 24th of February 2020 and witnessed about 20,000 attendees. Tributes were also dedicated to Kobe at several NBA games as well as the Grammy Awards that took place that same month. The NBA has meanwhile revealed that the NBA finals MVP award would be renamed after him and many expect that he would be inducted into the league's Hall of Fame in his first year of eligibility which is late 2020.
The Mind-blowing Lengths He Went to Keep Fit
Kobe Bryant entered into the NBA as a skinny lad and maintained this lanky frame all throughout his career. His height was 6 feet 6 inches (198 cm or 1.98 m) while his weight was 96 kg (212 pounds). Other body statistics were chest size – 43 inches, waist size – 35 inches, and biceps size – 15 inches. His hair color was black while his eye color was dark brown.
Bryant's lanky frame belied the deep strength that he harbored within and he grew up to become one of the toughest players in the league. This didn't really come as a surprise to his teammates given his fitness and workout regimen. The NBA star maintained an intensive workout routine and once went to the extent of swimming with great white sharks in order to prepare himself for the rigors of the NBA season. This awesome fact was disclosed by his former lakes teammate, Corey Maggette, in a 2020 interview.
Profile Summary
First Name:
Kobe
Last Name:
Bryant
Estimated Net Worth:

$600 million
Salary:
$25 Million during his final year
Source of Wealth:
Basketball career, endorsement deals, business ventures Kobe Inc., a production company called Granity Studios, a venture capital firm called Bryant-Stibel, Mamba Sports Academy, sales of his books
Last Updated:

2021
Also Known As:

The Black Mamba
Sex/Gender:

Male
Profession:

Professional basketball player
Famous For:
Winning 5 NBA Championships with the Los Angeles Lakers, and also for winning two Olympic Gold medals with the US National basketball team at Olympics 2008 and 2012
Colleges/Universities Attended:

Lower Merion High School in Ardmore, Philadelphia
Educational Qualifications:

Not available
Religion:

Catholic
Birthday & Zodiac

Age/Date of Birth:

August 23, 1978 – January 26, 2020
Zodiac Sign:
Leo
Birth Place:

Philadelphia
Nationality:
American
Ethnicity/Race:

African American
Country of Residence:

USA
Physical Attributes

Height:

In feet: 6 ft 6 in
In meters: 1.98 m

Weight:

In pounds: 212 lb
In kilograns: 96 kg
Eye Colour:

Dark Brown
Hair Color:

Black


Other Body Measurements:

Chest size: 42 inches, waist size: 35 inches
Relationships

Marital Status:

Married
Spouse/Partner:

Vanessa Cornejo Urbieta
Family and Relatives

Father:

Joe Bryant
Mother:
Pam Bryant
Children:

Natalia Diamante Bryant (born January 2003), Gianna Marie-Onore Bryant (May 2006-January 26, 2020), Bianka Bella Bryant (December 2016),  and Capri Kobe Bryant (June 2019)
Siblings:
haya Bryant (Older Sister), Sharia Bryant-Washington (Older Sister)
Other Relatives:

John "Chubby" Cox (Uncle)
Your Questions Answered: