Cillian Damien Murphy, popularly known by the alias, Killian Scott, is an Irish actor who is highly revered for his exemplary skills in front of the camera. Often recognized mostly for his role on the 2017 American period drama television series, Damnation, Scott is held in high esteem by fans and movie lovers.
One of the reasons he is revered is his utter distaste for involvements in scandals, unlike some of his acting cohorts who engage in a series of publicity stunts to remain on the news. There are many interesting things to know about Killian, including why he changed his name.
Killian Scott's Journey From Local Irish Actor to International Star
Killian Scott was born on July 6, 1985, to parents whose identities are very much unknown in Kilmallock, Limerick, Ireland. He possesses Irish nationality and belongs to the white ethnic group. Growing up, he was raised by his parents alongside his siblings – Eoghan Murphy (who is a successful politician today) and Colin Murphy (who happens to be a playwright) in the affluent coastal suburbs of Sandy Mount, Dublin.
There is no information, whatsoever, regarding this actor's early educational background. Nevertheless, it's not a secret that he is an alumnus of the University College Dublin, where he received a degree in English and Philosophy. Despite going through the rigorous years required to become a graduate in the fields, his one true passion has always been acting. He proved this by relocating to London where he joined the Drama Center upon completion of his college education.
After successfully learning the intricacies of modern-day acting at the Drama Centre, he delved into the profession in 2007 by making his debut in the movie Creatures of Knowledge in which he played the role of Matt. The following year, he scored another part – this time as a guard in a low budget film that received massive criticism from viewers.
For the next six years, Killian Scott would feature in many movies and TV shows, but none was able to hand him the breakthrough that he was looking for. Not until 2014, when he was cast to play the role of Milo Herlihy in the Irish black comedy-drama, Calvary, alongside established acts like Brendan Gleeson, Aidan Gillen, Isaach de Bankolé, and Dylan Moran.
The movie became an instant hit upon its release, grossing $16.9 million overall at the box office. Following the success of the film and his character, Killian went on to feature in several other high-profile movies and TV shows, thereby establishing himself as a force to reckon with in the movie industry.
He is an Actor with an Impressive, Yet Growing Filmography
Following Killian Scott's breakthrough role in 2014 through the movie Calvary, there has been a renewed interest in the filmography of the famous Irish actor, with most fans and movie lovers eager to know about his past, as well as present acting credits.
It might interest you to know that this popular Irishman has over 24 acting credits on his résumé and that they are mainly movies and TV shows. Since he made his debut in 2007, he has been a part of several films, most notably, The Rise of the Bricks, The Rafters, The Tragedy of Macbeth, Black Ice, 71, Good Vibrations, Trespass against Us, and the 2018 thriller, The Commuter, in which he played the role of Dylan.
When it comes to TV shows, Killian Scott isn't so prolific in scoring roles. But that doesn't stop him from making notable appearances in some of them, which include Love/Hate, Jack Taylor, Call the Midwife, Siblings, Single-Handed, Ripper Street, Strike, and most recently, Damnation, in which he appears as Seth Davenport.
His role as Tommy in Love/Hate is one of his most popular so far. He began appearing in the role in 2010 and starred in 27 episodes between 2010 and 2014. He was part of the show's main cast, helping it to 21 award nominations and 19 award wins, including Best Drama TV Series by the Monte-Carlo TV Festival.
While all of these shows and movies made Killian Scott a recognizable face onscreen, none cemented his place as an international star as his role in Dublin Murders. Playing the lead character, Detective Rob Reilly, across eight episodes in the miniseries, Killian Scott established himself as a talented actor to fans around the world, particularly in the US. And though he hasn't appeared in plenty projects since the show ended, he is poised to emerge in many more over the years.
He Changed His Name Because of Acting Rules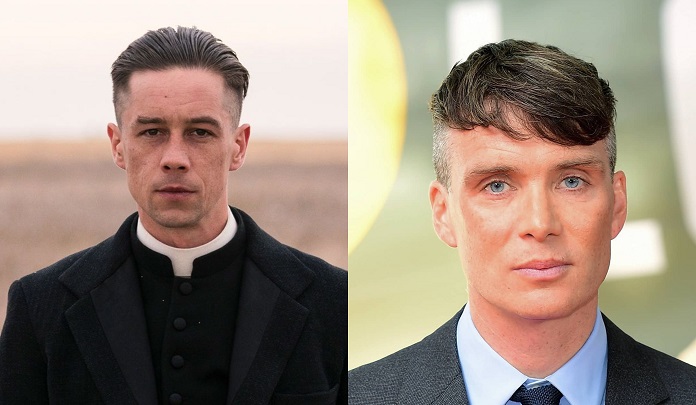 His real name is Cillian Murphy but he is known all over the world today as Killian Scott. The name change is a result of rules by the Screen Actors Guild and British Actors Equity Association. According to the rule, no two actors can have identical names, and his real name was already registered by the Peaky Blinders actor, Cillian Murphy, who shares the same name.
As a result, he adopted Scott as his last name. The name was suggested to him by his mother, because of its connection to his father's Argentina-based extended family. To further deviate from the name, he changed the C in Cillian to K, to give it a distinct pronunciation.
Read Also: Channing Tatum – Bio, Wife, Daughter, Kids, Family, Wiki, Is He Gay?
Killian Scott Appears to Be Single
By virtue of being tall, handsome, rich, and famous, much emphasis is often placed on the love life of Killian Scott, mostly by his female fans who often play around the idea of being his lover or just curious to know who he's seeing. Whoever falls into the former category will be delighted to know that the 5 feet 10 inches tall Irish actor is currently single.
https://www.instagram.com/p/B-3QdlsqeMp/?utm_source=ig_web_copy_link
During a recent interview with Irish Mirror, he revealed that he hadn't been the luckiest of guys when it comes to finding love before going on to reiterate his desire to focus on building his acting career instead of looking for a girlfriend.